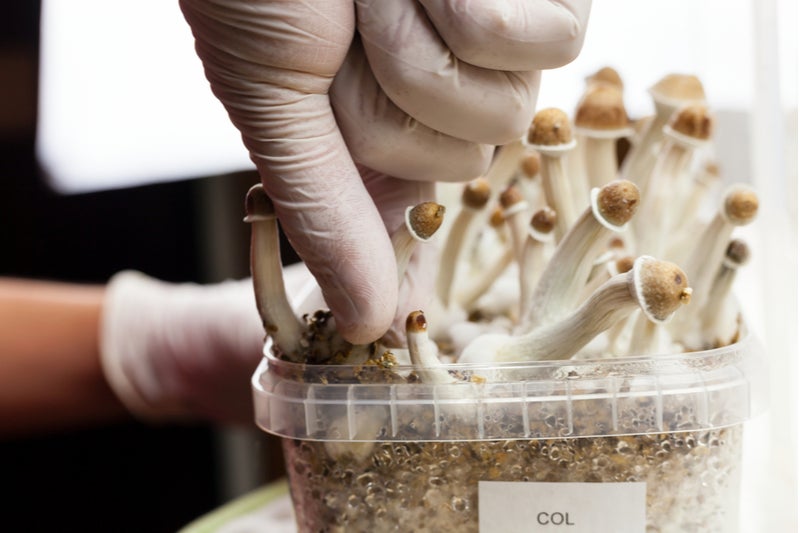 The main psychoactive component in magic mushrooms, psilocybin, has passed its first clinical safety trial.  The drug is now closer to becoming a licensed treatment for depression.
Should this happen, it will be difficult for the big pharma to prevail in a potential battle of drugs. Research shows that psilocybin is as effective as traditional antidepressants in mood regulation. In addition it works without negative impact in cognitive function or addictive properties.
This is likely to cause a shakeup in the antidepressant market that was reportedly worth around $15bn this year.
Compass Pathways, the VC-backed mental health start-up, has already patented the chemical procedure to manufacture synthetic psilocybin.
The patent doesn't grant exclusivity to the start-up, because the molecule can be found in nature. However, it gives them the impetus to market the psychedelic as a treatment for treatment-resistant depression and major depressive disorder (MDD), once fully cleared by authorities.
It should not take long until this happens. Although the drug would be brand-new, research exhibiting the properties of psychedelics for the treatment of psychological disorders date back over 50 years.
The FDA (Food and Drug Administration) recently granted the drug Breakthrough Therapy status. This is a clear sign of commitment to develop psilocybin as a treatment for MDD. With the FDA on board, psilocybin could reach the US pharmaceutical market as soon as 2021.
Decriminalization and pharma lobbying might get in the way of psilocybin rollout.
Among psychologists there is not a consensus on the effectiveness of psilocybin as a treatment for MDD. This is due to the small amount of clinical trials. However, the biggest challenges for the rollout of the future drug will come from law and lobbying.
As a psychedelic, psilocybin is illegal in most countries due to its hallucinogenic effects. Because of this it is widely considered to be a recreational drug. Although a dose under 5mg would not cause hallucinations, it is unclear if that would be enough to legalize it for therapeutic use.
Furthermore, the pressure that the big pharma companies can exercise on legal institutions, insurance companies and medical services, may be the main obstacle to overcome by any company trying to commercialize a psilocybin-based treatment for MDD.
Nevertheless, the entry of psychedelic drugs into the antidepressant market will certainly disrupt a market that has been stable since the appearance in the market of selective serotonin reuptake inhibitors in 1988.