Drug discovery and development is a time-consuming, extremely expensive and high-risk process. The research and development (R&D) for a new drug may take 12–18 years with an average cost of $1–3bn. The high attrition rate is one of the biggest challenges associated with the drug discovery and development process—thousands of compounds are subject to early preclinical testing, but only a handful of viable candidates eventually move from clinical trials to commercialisation. Most pharma companies are now focusing on leveraging technologies such as artificial intelligence (AI) to improve the odds of drug discovery and development success.
While AI is already being used to enhance drug discovery and development, it is still in the infancy stage. According to a poll completed by the readers of Pharmaceutical Technology from 27 January to 13 June this year, more than 30% of 294 total respondents believed that it would take more than nine years for AI to peak in the drug discovery and development process (Figure 1). This indicates that AI applications need considerable polishing, and it will take time for the technology to be fully integrated into R&D processes.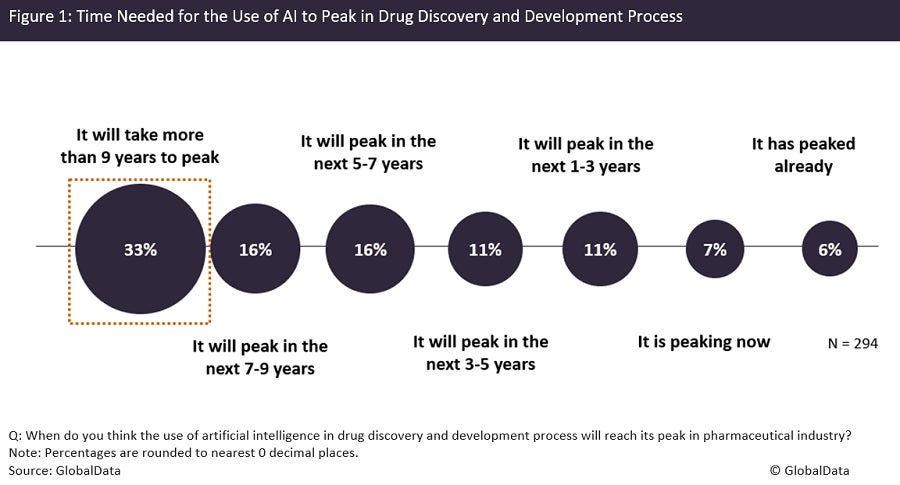 Most novel active compounds identified with the help of AI are still in discovery or preclinical stages of development. Analysis of GlobalData's Drug Database identified more than 250 unique active drugs with the terms 'artificial intelligence' or 'machine learning' in their Drug Description (Figure 2). But despite increasing numbers of drugs discovered with the help of these innovative technologies, AI-discovered compounds do not guarantee success in clinical trials.
For example, in 2020, the collaboration between Exscientia—an AI-driven pharmatech company—and Sumitomo Dainippon produced DSP-1181 to treat obsessive-compulsive disorder. By the end of 2020, this drug had entered a Phase I clinical trial. A year later, it was discontinued for development in Japan since the Phase I study did not reach its expected criteria. Despite this, last year, the collaboration between Exscientia and Sumitomo Dainippon produced two more compounds, DSP-0038 and EXS-21546, which entered clinical trials during the same year.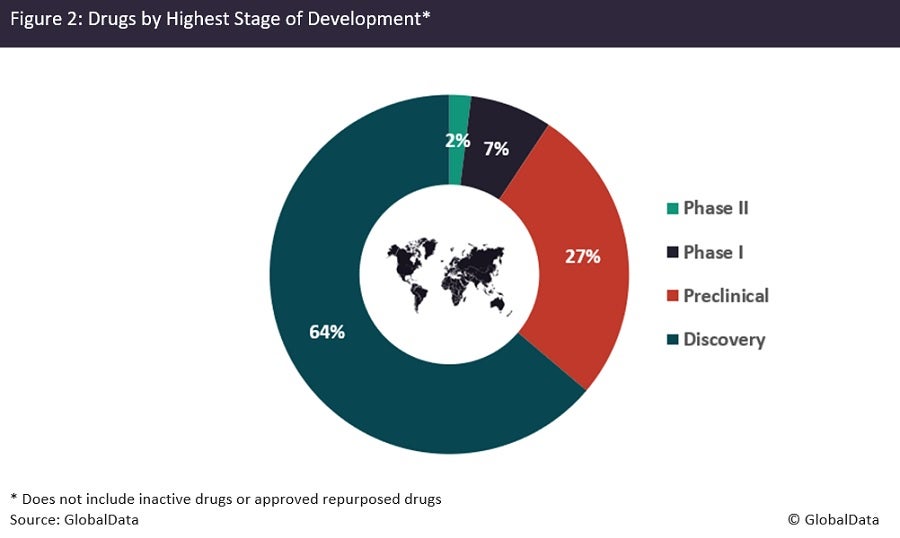 So far this year, pharmaceutical industry players have continued to forge partnerships in the AI space. Many of these partnerships have been aimed at improving R&D activities. For example, Pfizer extended its collaboration with CytoReason with the aim to leverage machine learning in the drug development process. Sanofi and Exscientia agreed on a $5.3bn deal to accelerate drug discovery and improve clinical access. PathAI and GlaxoSmithKline signed a multi-year agreement to accelerate AI-enhanced research and drug development programmes focusing on oncology and non-alcoholic steatohepatitis. AI startup Owkin received $80m from Bristol-Myers Squibb to work towards the enhancement of its clinical trials.
While the application of AI in R&D is gaining prominence, AI is limited by the quality of the data it has to process. The technology does hold the promise to improve the drug discovery and development process by making it faster and more cost-effective; however, AI needs good-quality data to produce meaningful results.