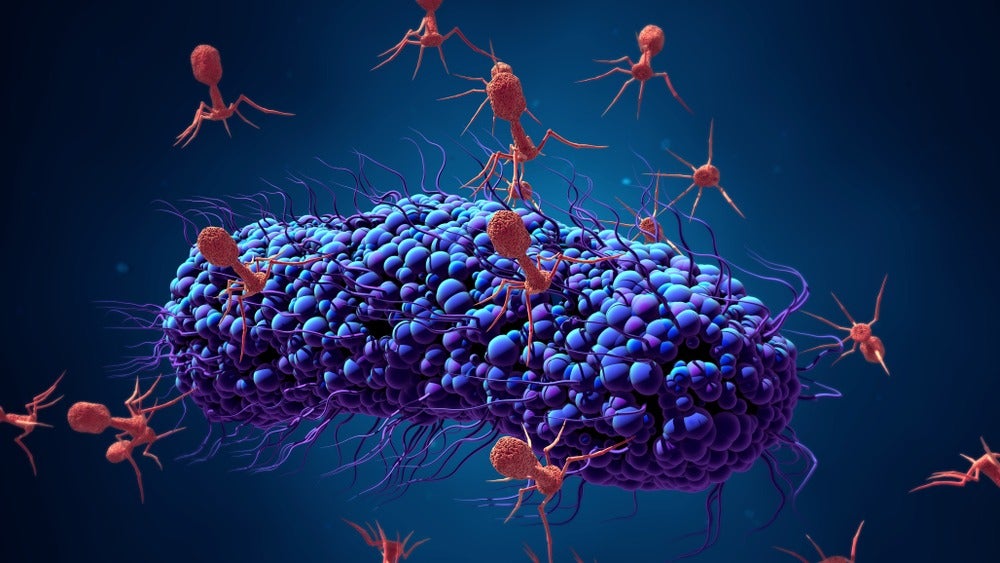 A recent article published in Nature Medicine reported for the first time that engineered bacteriophages, viruses that attack bacteria, were successfully used to treat a human patient with a multidrug-resistant (MDR) mycobacterial infection. Although not a clinical study, this treatment is a promising approach to fight so-called superbugs, especially in an era where drug resistance is rising while new antibiotic development remains sparse.
Bacteriophage therapy
In the report, a British girl with cystic fibrosis received a bilateral lung transplant, and the administration of immune-suppressant drugs after the transplantation allowed a chronic Mycobacterium abscessus infection to flare up and become life-threatening, spreading to her liver and lungs. The infection did not respond to more than 20 different commonly used antibiotics, so clinicians turned to a vast library of bacteriophages from the laboratory of Graham Hatfull at the Department of Biological Sciences at the University of Pittsburgh.
Three types of phages that could infect Mycobacterium abscessus were identified and then genetically modified to improve their ability to destroy the bacteria. Intravenous infusion of billions of phages over a course of weeks eventually led to a decrease of the bacterial load and saved the girl's life.
Due to the specificity of the phages to attack only a single strain of Mycobacterium abscessus, there was no danger that the phages could attack human cells or the patient's microbiome. At the same time, this specificity makes it much harder to develop broadly effective therapeutics with this approach. However, a combination of multiple phages could be a promising strategy to fight the related Mycobacterium tuberculosis, which poses a serious global health-threat due to widespread drug-resistance. Overabundant use of antibiotics in humans and animals over the past decades has led to the emergence of so-called "superbugs" that don't respond to any antibiotic treatment.
According to the Centers for Disease Control and Prevention in the US, more than 2 million people develop antibiotic-resistant infections in the US each year, with at least 23,000 deaths associated with these superbugs.
Despite an urgent need to develop new antibiotics, commercial success in the antibiotics market has been limited due to low profits and high development costs.
Achaogen developed Zemdri (plazomicin) for the treatment of complicated urinary tract infections (cUTIs), but announced bankruptcy less than one year after winning approval from the US Food and Drug Administration (FDA). Two weeks ago, another new experimental antibiotic to treat cUTIs, Nabriva Therapeutics' Contepo (fosfomycin), was rejected by the FDA due to manufacturing deficiencies, but promising clinical data may still bring eventual FDA approval. A combination of old and new antibiotics, phage therapy, and the use of novel techniques like CRISPR will likely be the future approach to combat MDR infections.
Locus Biosciences is developing a novel, very early-stage approach against multi-drug resistance through CRISPR-Cas3 bacteriophages to fight respiratory tract infections and the company entered a licensing agreement with Janssen Pharmaceuticals earlier this year.
Despite these developments, GlobalData believes that public and private stakeholders must work together to create more incentives for companies to develop novel antibiotics or alternative therapies to mitigate this growing public health threat.
Related reports:
GlobalData (2019). Facing a Tough Antibiotics Market, Nabriva Can Little Afford Further Setbacks after FDA Rejects Contepo, GDHC2412EI
GlobalData (2018). Is the GAIN Act Stimulating Antibiotic R&D? The Approval Numbers Paint an Encouraging Picture, November 2018, GDHC2116EI