International companies investing in the emerging market of Brazilian pharmaceutical manufacturing will see a higher return on investment than from developed market equivalents, if they choose to compete with local manufacturers to supply Brazil's growing market and the greater South American region.
Brazil has a unified healthcare system known as Sistema Único de Saúde (SUS), the largest government-run public healthcare system in the world by number of beneficiaries. SUS provides full, free and universal access to healthcare for the country's entire population (215 million), which spends around 10% of its gross domestic product (GDP) on healthcare. Only a limited number of international pharma companies, however, operate manufacturing sites in the country.
Brazil has an ageing population, which will increase demand for age-related disease treatments such as those related to oncology and hypertension. It also has large wealth inequality as 25% of the population lives in poverty, which reduces the amount these households can spend on pharmaceuticals, although the country's middle class is growing. Mosquito-borne diseases such as Zika, dengue and chikungunya have disproportionately affected the poorer population and have significant unmet medical needs.
Manufacturing agreements for infectious diseases
Brazilian pharma production sites are involved in Covid-19 vaccine and therapy manufacture. On 9 May this year, Merck & Co (Kenilworth, New Jersey) entered an agreement with Oswaldo Cruz Foundation (Fiocruz) (Rio de Janeiro, Brazil) for the manufacturing of the Covid-19 antiviral molnupiravir. Oswaldo Cruz Foundation will package the drug in its facility in Rio de Janeiro before supplying it to the Brazilian public health system; the company is also involved in clinical trials for the drug's possible use as Covid-19 prophylaxis.
Large Brazilian pharma companies already play a major role in distributing Covid-19 vaccines to all of Latin America. On 26 August last year, BioNTech (Mainz, Germany) outsourced dose manufacturing of the Covid-19 vaccine it markets with Pfizer (New York, New York), tozinameran, to Eurofarma Laboratorios (Sao Paulo, Brazil). Eurofarma will obtain the drug product from facilities in the US. At full operational capacity, annual production is expected to exceed 100 million finished doses and all doses will be distributed within Latin America.
Last January, the Russian Direct Investment Fund (RDIF) entered an agreement with Uniao Quimica Farmaceutica Nacional (Sao Paulo, Brazil) for the manufacture of ten million doses of the Gamaleya Federal Research Centre's (Moscow, Russia) Sputnik V vaccine for Covid-19 for the Brazilian market. Local production of Sputnik V in Brazil was started in January 2021. By July last year, Brazil planned to cancel a contract signed in March for ten million doses of Sputnik V due to lapsed deadlines in the registration process with the Brazilian Health Regulatory Agency (ANVISA). Last October, the health authority rejected importing Russia's Sputnik V vaccine due to problems regarding the vaccine's development, safety and manufacturing.
Apart from Covid-19, other infectious diseases such as dengue fever represent a considerable threat to Brazilian public health. The mosquito-borne virus is now the leading cause of death in some Latin American and Asian countries. There is considerable unmet need for dengue fever as no antiviral treatment is marketed, and there is only one approved vaccine—Sanofi's (Paris, France) Dengvaxia.
Potential to acquire sites to supply South American markets
Brazil is the largest country in South America and the fifth largest globally, with the world's sixth largest population. Approximately 66% of companies with Brazilian manufacturing sites are domestically owned. There are three US-based companies with a manufacturing presence in Brazil: Catalent (Somerset, New Jersey), Thermo Fisher Scientific's (Waltham, Massachusetts) subsidiary Patheon (Durham, North Carolina), and Merieux NutriSciences (Chicago, Illinois), all contract manufacturing organisations (CMOs).
French and Italian manufacturers have two companies in Brazil. There are comparatively few large international pharma companies based in Brazil, but other well-known names include Ajinomoto (Tokyo, Japan) and Novo Nordisk (Bagsvaerd, Denmark). Despite the country's large geographic and economic size, FDA and EMA-approved sites are only present in Brazil's eastern states such as Rio de Janeiro and Sao Paulo.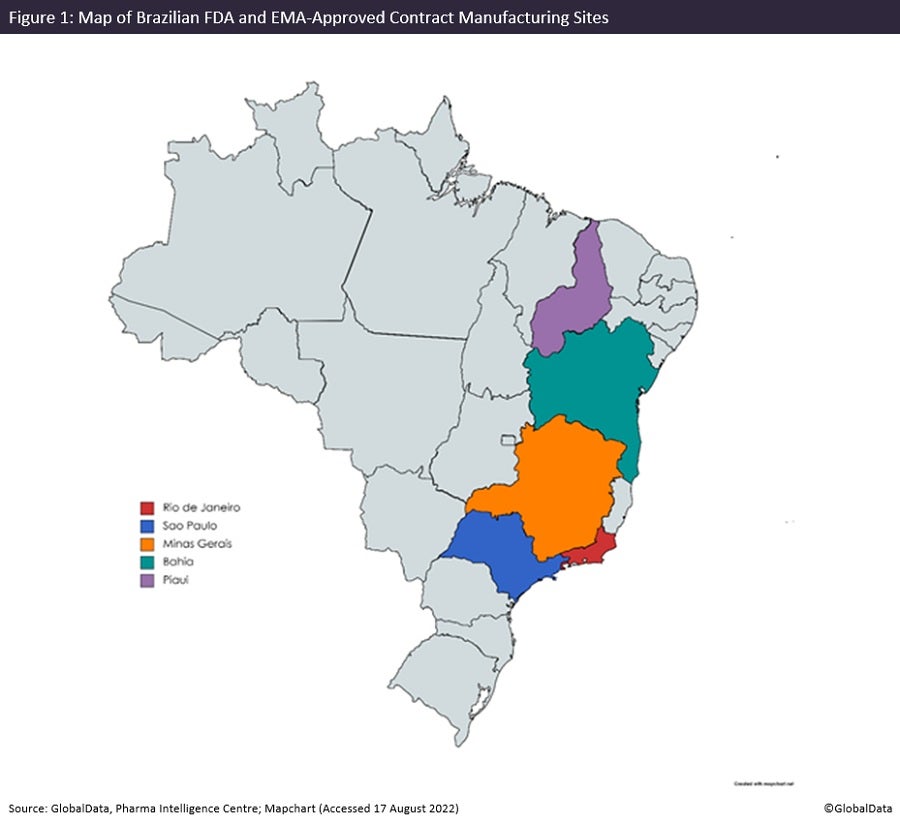 There are a total of 43 manufacturing sites, most of which have approval from the Brazilian regulator ANVISA, but only 13 sites have FDA and/or EMA approval, showing an emphasis on domestic and regional production. Uniao Quimica Farmaceutica Nacional and Eurofarma Laboratorios own four and three facilities respectively in Brazil, the most of any pharma company. For both FDA/EMA and domestic production, manufacturing facilities are concentrated in Sao Paulo, which is considered a leading industrial centre in Latin America. Most facilities in Brazil belong to companies with a single site in the country, which indicates the large merger and acquisition (M&A) potential of its pharma industry.
Brazil's pharma industry has grown significantly over the last decade, driven by increasing household incomes, and it is well-placed to provide medicines to other emerging markets in South America. Although the rising number of middle-class citizens in Brazil will fuel growing domestic pharma production, there will be limits to the fast pharma growth, and diversifying the countries they supply to (including North America and Europe) would reduce the risks associated with domestic/regional markets and increase sales.