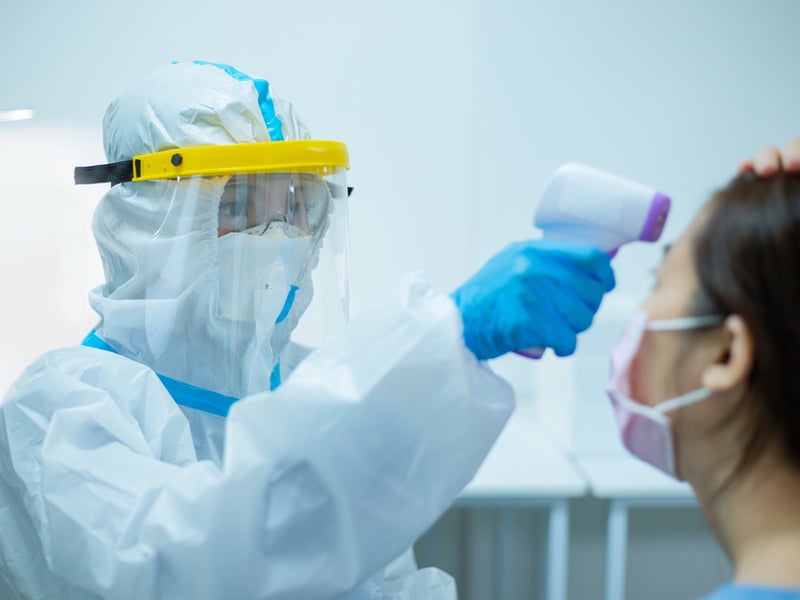 Pharma Technology lists ten of the most popular tweets on infectious diseases in Q2 2020, based on data from GlobalData's Influencer Platform. The top tweets were chosen from influencers as tracked by GlobalData's Influencer Platform, which is based on a scientific process that works on pre-defined parameters. Influencers are selected after a deep analysis of the influencer's relevance, network strength, engagement, and leading discussions on new and emerging trends.
Top tweets on infectious diseases in Q2 2020
1. Laurie Garrett's tweet on the Covid-19 pandemic response shifting to the State Department
Laurie Garrett, a science journalist and author, shared an article on the Trump administration consolidating the entire Covid-19 pandemic response at the State Department. Expected to be termed as the President's Response to Outbreaks, or PRO, the proposal will establish an alternative mechanism to the way the World Health Organization (WHO) operates, whose US funding has already been threatened.
The discussion has led to a tussle between the State Department and the U.S. Agency for International Development (USAID), which could cause them to lose significant funds and control. Global vaccine and therapeutics distribution, and the development of modern safety protocols are part of the agenda of the new proposal.
Jaw-drop. The @WhiteHouse plans to move the entire #COVID19 #pandemic response into the @StateDept , putting #DeborahBirx in charge, and creating a pseudo-#WHO alternative. It's to be dubbed the President's Response to Outbreaks, or PRO.

— Laurie Garrett (@Laurie_Garrett) May 23, 2020

How well do you really know your competitors?

Access the most comprehensive Company Profiles on the market, powered by GlobalData. Save hours of research. Gain competitive edge.

Company Profile – free sample

Thank you!

Your download email will arrive shortly

Not ready to buy yet? Download a free sample

We are confident about the unique quality of our Company Profiles. However, we want you to make the most beneficial decision for your business, so we offer a free sample that you can download by submitting the below form

By GlobalData
Username: Laurie Garrett
Twitter handle: @Laurie_Garrett
Retweets: 2,866
Likes: 2,983
2. Dr Muge Cevik's tweet on Covid-19 transmission dynamics
Dr Muge Cevik, a physician and infectious diseases researcher, tweeted on how a lot of discussions were going around the transmission dynamics of the Covid-19 virus, most of which were concluded based on viral loads and estimates. She further added that contact testing and community testing data were revealing further patterns of the infection rate, high risk environments, age, and more.
A lot of discussion recently about transmission dynamics, most of which are extrapolated from viral loads & estimates. What does contact tracing/community testing data tell us about actual probability of #COVID19 transmission(infection rate), high risk environments/age?
[thread]

— Dr Muge Cevik (@mugecevik) May 4, 2020
Username: Dr Muge Cevik
Twitter handle: @mugecevik
Retweets: 2,639
Likes: 5,049
3. Gregg Gonsalves' tweet on the way out of the Covid-19 crisis
Gregg Gonsalves, a global health activist and epidemiologist, tweeted on the global coronavirus pandemic not having to lead to a global economic crisis or mass genocide. He stated that there is a way out and it is through stringent health protocols, social distancing norms, massive scaling up of testing, contact tracing, quarantine measures, use of personal protective equipment, and increased hospital capacity.
There is path out of #COVID19 that doesn't end in maximum carnage (deaths, economy). It's strong social distancing now, massive scaleup of testing, contact tracing, isolation, PPE, hospital capacity. Yet, we're back to "when can we open" as if there is a short-cut that will work.

— Gregg Gonsalves (@gregggonsalves) April 15, 2020
Username: Gregg Gonsalves
Twitter handle: @gregggonsalves
Retweets: 1,619
Likes: 4,383
4. Prof Peter Hotez's tweet on new cases for each county in the Houston region
Prof Peter Hotez, a vaccine scientist, paediatrician and author, shared an article on the latest Covid-19 cases for each county in the Houston region. According to the data shared, he added that Houston was likely to become the worst affected city in the US, next to even Brazil. He further added that wearing masks is preventive, but not enough to curb the virus's spread, and an emergency red alert scenario was essential.
Latest #COVID19 for Harris County, my observations if this trajectory persists: 1) Houston would become the worst affected city in the US, maybe rival what we're seeing now in Brazil 2) The masks = good 1st step but simply won't be enough 3) We would need to proceed to red alert pic.twitter.com/RruxTItNYU

— Prof Peter Hotez MD PhD (@PeterHotez) June 20, 2020
Username: Prof Peter Hotez
Twitter handle: @PeterHotez
Retweets: 1,427
Likes: 1,820
5. Ian Mackay's tweet on the role of cloth masks in risk reduction
Ian M Mackay, a virologist and scientist, tweeted on cloth masks being effective (not as much as N95 respirators and surgical masks) in reducing the risk of inhaling potentially infectious aerosols, and protecting the mouth and nose from wet droplets.
Yes. Cloth masks (less so than surgical masks & less again than N95 respirators) *can* reduce risk of inhaling potentially (an as yet unproven, but possible route of SARS-CoV-2 infection) infectious aerosols & can protect mouth/nose from impact of larger propelled wet droplets 1/

— ɪᴀɴ ᴍ. ᴍᴀᴄᴋᴀʏ, ᴘʜᴅ 🦠🤧🧬🥼🦟🧻 (@MackayIM) April 4, 2020
Username: Ian M Mackay
Twitter handle: @MackayIM
Retweets: 1,347
Likes: 2,347
6. Francis Collins' tweet on quantifying undetected cases or prior infection
Francis S Collins, a physician-geneticist and the NIH director, shared an article on an NIH study to determine undetected cases of coronavirus infection in the US. An NIH study comprising 10,000 volunteers without any confirmed history of the infection will identify if they have the SARS-CoV-2 antibodies, implying prior infection.
The study aims to establish not just the magnitude of the pandemic, but also to determine why these cases were less severe than those that required hospitalisation, the article noted.
To help us get an better understanding of how much #COVID19 has spread undetected in the US, #NIH will study ~10K volunteers without a confirmed history of infection to see if they have SARS-CoV-2 antibodies in their system, indicating prior infection https://t.co/QWVzkJiVfn

— Francis S. Collins (@NIHDirector) April 10, 2020
Username: Francis S Collins
Twitter handle: @NIHDirector
Retweets: 1,140
Likes: 2,577
7. Marc Lipsitch's tweet on SARS survivors retaining neutralising antibodies 9–17 years after initial infection
Marc Lipsitch, an infectious disease epidemiologist and microbiologist, shared an article on survivors of SARS1 from 2003 retaining neutralising antibody 9-17 years later. He further added that this established that functional antibody to a coronavirus persisted longer than previously shown.
The study notified a close relatedness of the SARS-CoV and SARS-CoV-2 viruses, which will help in developing serological tests and vaccine candidates, while the presence of neutralising antibodies in SARS survivors 9-17 years after the initial infection is significant in assessing the longevity of protective immunity for SARS-related coronaviruses, the study highlighted.
A little good news. Survivors of SARS1 from 2003 retain neutralizing antibody 9-17 years later. So it is possible for functional antibody to a coronavirus to persist for longer than previously shown. https://t.co/9KyMeKTog8

— Marc Lipsitch (@mlipsitch) May 19, 2020
Username: Marc Lipsitch
Twitter handle: @mlipsitch
Retweets: 900
Likes: 2,389
8. Helen Branswell's tweet on remdesivir's efficacy for treating coronavirus patients
Helen Branswell, an infectious diseases and global health reporter, shared an article on Covid-19 patients responding quickly to the remdesivir drug in a Chicago hospital. Gilead Sciences' antiviral medicine saw rapid recoveries in fever and respiratory systems, the article noted.
As many as 125 people with Covid-19 were recruited by the University of Chicago Medicine in into Gilead's two Phase 3 clinical trials. All the patients were treated with daily infusions of remdesivir. If safe and effective, this could be the first approved drug for the disease, the article highlighted.
In a year of grim news, here's something hopeful: A Chicago hospital is reporting good results with remdesivir. #Covid19 patients responding quickly. Need to read with caution, though: there was no control arm here. https://t.co/K15oCz0wAg

— Helen Branswell (@HelenBranswell) April 16, 2020
Username: Helen Branswell
Twitter handle: @HelenBranswell
Retweets: 777
Likes: 1,696
9. Dr Tara Smith's tweet on vaccine preparedness
Dr Tara C Smith, an infectious diseases epidemiologist and writer, shared an article on the real challenge arriving when a coronavirus vaccine was found. The article noted that the US was nowhere near to close to meeting this challenge, and that once a vaccine was approved and ready to be marketed, it would require massive amounts of coordination between governments, drug makers, and scientists.
Therefore, the nation should focus on ramping up its abilities to manufacture, distribute, package, store, an administer vaccines, and not just figuring the science of it to avert shortages once it arrives.
I don't think this aspect of vaccination has gotten enough attention. A vaccine will still need to be manufactured, packaged, stored, delivered, & administered. We need to ramp up those abilities while we're figuring out the science. https://t.co/4wbJcTNEeX

— Dr. Tara C. Smith (@aetiology) May 12, 2020
Username: Dr Tara C Smith
Twitter handle: @aetiology
Retweets: 610
Likes: 1,721
10. Amesh Adalja's tweet on a previously hidden spread of the virus in New York area
Amesh Adalja, an expert on emerging infectious diseases, pandemic preparedness, and biosecurity, shared an article on New York being affected by the coronavirus as early as in mid-February. The research also found that most of the cases came from Europe and not from Asia.
The silent spread of the virus could have been detected if aggressive testing programs had been in place, rather than having testing restricted to those who travelled to China, the article further noted.
"The research revealed a previously hidden spread of the virus that might have been detected if aggressive testing programs had been put in place." — this is why having testing restricted to those who traveled to China was wrong https://t.co/n5RVFAxjGw

— Amesh Adalja (@AmeshAA) April 9, 2020
Username: Amesh Adalja
Twitter handle: @AmeshAA
Retweets: 517
Likes: 721