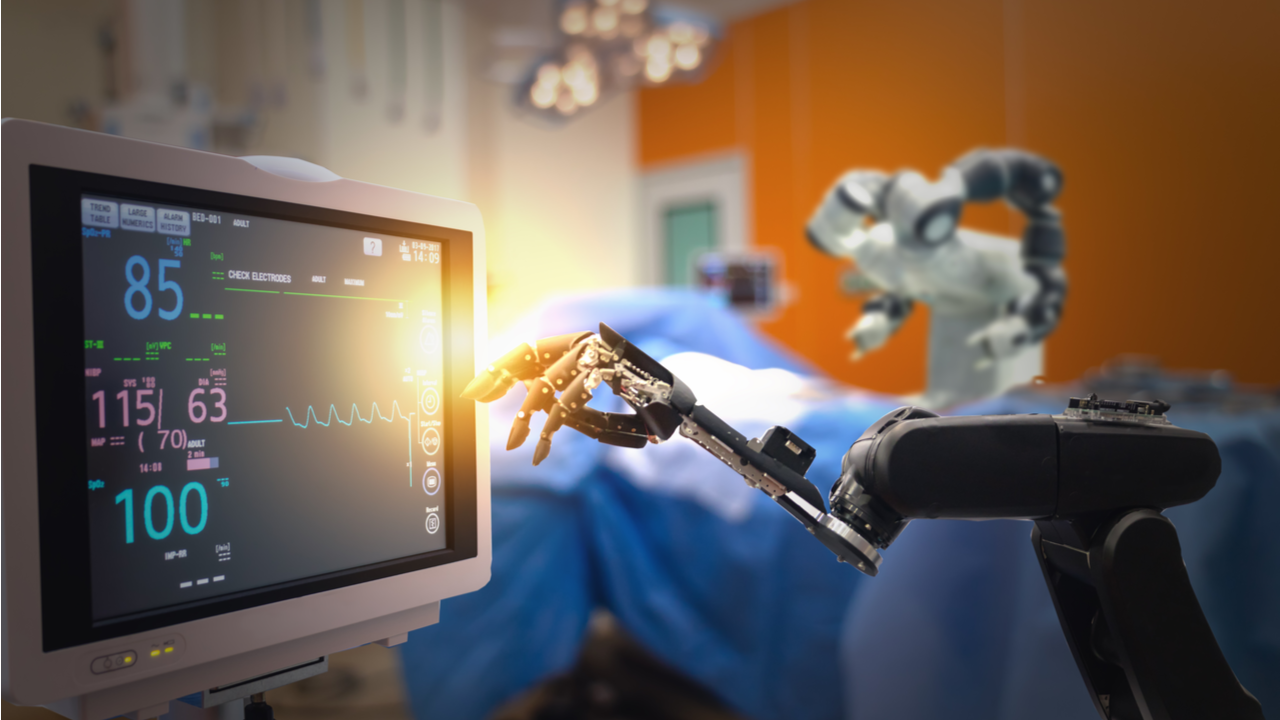 The top tweeted terms are the trending industry discussions happening on Twitter by key individuals (influencers) as tracked by the platform.
1. Artificial intelligence – 737 mentions
The applications of artificial intelligence (AI) in medicine, Google's partnership with Mayo Clinic and how AI can be used to detect cancer were popular topics discussed in Q1 2021. According to an article shared by John Nosta, founder of NostaLab, a digital health think tank, AI has the potential to unlock medical data that may be available via digital health devices and hospital sensors.
Currently only 20-25 AI applications for healthcare have been approved by the US Food and Drug Administration (FDA), which are directly accessible to consumers in the form of digital devices. Some of these devices can detect low-risk conditions, while others are being used along with portable X-ray machines to detect heart or lung anomalies, the article detailed. Although AI is unlikely to replace doctors and clinicians, it can help in making more informed clinical decisions.
Discussions around AI also focused on how Google is establishing a new facility in Minnesota, US to enable employees to work more closely with the Mayo Clinic, a healthcare company, on a variety of ongoing cloud and AI projects, according to an article shared by Christine Jacob, a digital strategist. The ten-year partnership between Google and Mayo Clinic will evaluate various operational use cases of the technologies in imaging, developing new treatments for Covid-19 and public health.
AI also trended with reference to how it can be used to detect cancer using a urine test, according to an article shared by Gary Monk, a digital health influencer. The Korea Institute of Science and Technology (KIST) in association with experts from the Biomaterials Research Center and Asan Medical Center developed a technique that can detect prostate cancer using a urine test with 100% accuracy.
The technique uses smart AI algorithm and an ultrasensitive biosensor to diagnose prostate cancer. The AI algorithm was trained to understand the corelation between four cancer factors and used to identify those corresponding to prostate cancer. The AI was able to detect cancer in 76 samples with 100% accuracy. The technique has the potential to reduce the need for surgery as well as unnecessary biopsies, the article added.
AI Will Give Your Doctor Superpowers https://t.co/nXdY1saH57 #medicine #Digitalhealth #AI

— John Nosta (@JohnNosta) February 22, 2021
2. Covid-19 – 614 mentions
Digital devices capable of diagnosing Covid-19, digital tools being used to manage the pandemic, and vaccination delays were popularly discussed during the quarter. According to an article shared by Rafael Grossmann, a study conducted by researchers at Icahn School of Medicine at Mount Sinai found that the Apple Watch can predict Covid-19 up to a week before testing via a PCR nasal swab test.
The Warrior Watch Study monitored the volunteers' heart rate variability (HRV), a key indicator of strain on the nervous system, along with other factors and symptoms such as fever, dry cough, aches, and loss of taste and smell. The study was able to predict infections a week before PCR test and also found the HRV patterns to stabilise one or two weeks before testing positive for the infection, the article highlighted.
Berci Meskó, director of The Medical Futurist Institute, a digital health specialist, further tweeted on how hospitals across the US and UK utilised digital tools during the Covid-19 pandemic. The largest trend was about using digital health tools such as Capacity Planning Tool that can help predict patient capacity. Hospitals also sought digital tools that can integrate, automate and analyse electronic health records (EHRs) to improve their supply chains, the article noted.
Covid-19 also trended with respect to vaccination delays caused due to EHRs, according to an article shared by Dirk Stanley, a board-certified hospitalist and informaticist. Covid-19 vaccination delays may be caused as different EHRs of patients are not connected. The EHRs vary from hospitals and clinics and these disconnected systems are hindering the vaccination process.
Keeping track of the side effects and complications of vaccines and ensuring that they are equitably distributed has, therefore, become a cumbersome task for healthcare workers. In addition, disconnected systems often require patients to formally approve their medical information to be shared between one clinic to another causing further delay, the article detailed.
Mount Sinai study finds @Apple Watch can predict #COVID19 diagnosis up to a week before testing – TechCrunch https://t.co/TGWyqpv2Xc excellent start proving the power of #wearable #BigData #AI in #healthcare / Predicting & Preventing rather than doing #SickCare / #DigitalHealth

— Rafael Grossmann,MD, FACS 🇻🇪🇺🇸 (@ZGJR) February 10, 2021
3. Telehealth and telemedicine – 1,086 mentions
The surge in use of telehealth services in the US during the pandemic, telehealth helping in vaccine rollouts, and majority of primary care being delivered out of office were some widely discussed topics in Q1. According to an article shared by James Edwards, president of UpHealth, a digital health services company, telehealth usage in US broadband households jumped from 15% in Q2 2019 to 41% in Q2 2020 during the Covid-19 lockdowns.
Together with the telehealth trend, consumer health devices have become more essential rather than being elective. For instance, the Apple Watch can read cardiac rhythms and blood oxygen levels and the Amazon tailor band tracks body mass and monitors the voice for health trends. Although telehealth services along with health devices are enabling patients to easily access healthcare services, they are unlikely to replace in-person evaluation conducted by doctors, the article added.
Telehealth was also discussed with reference to Covid-19 vaccine rollouts, according to an article shared by Jane Sarasohn-Kahn, a health economist. She listed five reasons how telemedicine will help address vaccine rollouts including patient education, supporting high-risk patients, addressing women's health, ensuring patient follow-ups, and increasing compliance to improve health outcomes.
Another discussion on telehealth was shared by Vince Kuraitis, a digital transformation strategist, on how nearly half of primary care was delivered out of office in the last three years, in the form of telemedicine video visits, remote patient monitoring, AI, and other digital tools. Technologies are closing the gaps in long-term care with 40%-50% of it shifting towards virtual in the next few years. As a result, many tools are likely to become a routine part of care, monitoring and diagnostics, the article highlighted.
"Over this past year of #COVID19 lockdowns, #telehealth saw usage by US #broadband households jump from 15% to 41%."

Digital #Healthcare: Better than the Doctor's Office?https://t.co/585ZZxAvo0@CNET #CES2021 #DigitalHealth #Telemedicine#HCLDR #TelemedNow #HITsm #HCIT pic.twitter.com/NBnnaGr4lZ

— Jamey Edwards (@jameyedwards) January 8, 2021
4. Innovation – 512 mentions
Augmented reality (AR) being used to train doctors and Nanox's innovations in imaging were popular topics of discussion during the quarter. According to a video shared by Fred Steube, 3D4Medical, a medical software producer, has embarked on a latest project called the Complete Anatomy that allows users to study and analyse human anatomy through its AR interface in three dimensions. A complete anatomy allows medical students to practice slicing open different parts and getting a closer look on how they may be connected. The technology also comes with a labelling feature.
John Nosta, on the other hand, discussed how Nanox is working on its digital source X-ray technology, which enables a new generation of imaging devices to be developed that can significantly reduce the costs of medical imaging. The technology enables multi-source scanning due to low cost of the X-ray source.
3D AR Anatomy Lesson #AugmentedReality #AR #innovation #AI #Teacher #education #DataScience #IoT #futuretech #IIoT #DEVCommunity #MedTech #mi #EmergingTech #future #VR #MR #FutureofWork #HealthTech #anatomy via @futurism MT @HaroldSinnott pic.twitter.com/TcWxRaYKCU

— Fred Steube (@steube) February 27, 2021
5. Machine learning – 247 mentions
Machine learning (ML) tools for Covid-19 screening, use of AI and ML automation in healthcare, and the role of ML in determining whether coffee can reduce heart failure were widely discussed topics in the first quarter. Gary Monk shared an article on the US Food and Drug Administration (FDA) granting emergency use authorisation (EUA) to the first ML-based non-diagnostic screening tool for Covid-19 named Tiger Tech Covid Plus Monitor.
The tool is to be used by trained personnel to prevent transmission of the Covid-19 disease. It identifies certain biomarkers that will indicate the presence of the SARS-CoV-2 virus as well as any kind of cancer, sepsis or hyper-inflammatory conditions such as severe allergic reactions among asymptomatic individuals older than five years.
The term was also discussed with reference to massive amounts of data now being available in the healthcare industry making it a primary area for AI and ML automation, according to an article shared by Heather Staples Lavoie, the CEO of Geneia, a healthcare analytics company. For instance, the influx of data from alternative sources such as wearable devices and remote patient monitoring will help build better solutions through the adoption of AI and ML technologies that can help advance preventative care and deliver better patient outcomes.
Another discussion on ML was shared by Eric Topol, a cardiologist and scientist, on how ML approach to data analysis revealed whether coffee can reduce heart failure. According to studies published in the British Medical Journal, there is a definite link between coffee and a lower risk of cancer and cardiovascular disease. A new analysis further explains that two to three or more cups of coffee taken daily reduces the risk of heart failure. Experts state that further studies are needed to determine the role, causality, and consumption pattern of coffee as a potential modifiable risk for heart failure.
FDA Approves Machine Learning Tool for COVID-19 Screening
The screening device leverages machine learning to identify certain biomarkers that may be indicative of COVID-19 https://t.co/Jk1ClQqOfo #DigitalHealth #Mhealth #HealthTech #COVID19 pic.twitter.com/STGks4z0UC

— Gary Monk (@GaryMonk) March 24, 2021