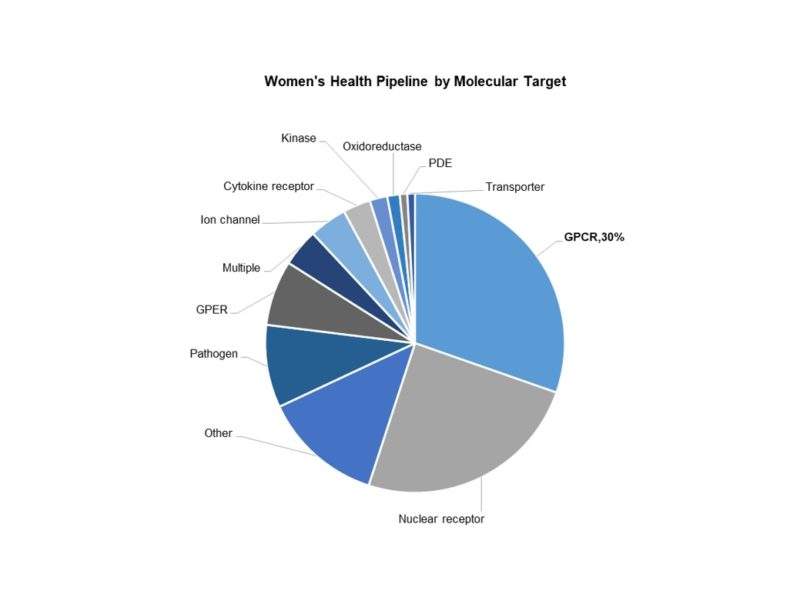 Health disorders in women can be caused by many abnormalities in the body and represent a broad therapy area.
As women's health disorders are common, there has not been a need in the market for expensive treatments to be developed in the pharmaceutical industry.
In addition, the majority of products already have an established market presence, as women's health products are indicated to treat multiple disorders in male and female populations around the globe.
Drug development for women's health disorders has lagged behind other therapy areas, and few new therapies have been approved in recent years.
The marketed pharmacotherapeutic treatments for diseases affecting women typically focus on controlling the risk factors and complications in infertility.
G-protein coupled receptor molecular targets have revolutionized women's health therapies in recent years.
This partially reflects the market landscape for women's health, which has a strong commercial presence of GCPR signaling molecules for women's infertility and endometriosis.
GPCRs represent the most significant targets in modern pharmacology due to the diverse functions mediated.
Endometriosis, menopausal disorders and infertility are dominated by GCPR molecules and nuclear receptors, which comprise 55% of the pipeline.
As this is still an emerging class of therapy, this can be expected, and it may take more time for the pipeline size to reflect the commercial dominance.
However, despite the relatively small pipeline size, there are opportunities for growth within this group.
Related reports
http://www.gbiresearch.com/report-store/market-reports/frontier-pharma/frontier-pharma-womens-health-an-expanding-therapy-area-with-endometriosis-therapies-prominent-among-the- – firstinclass pipelin