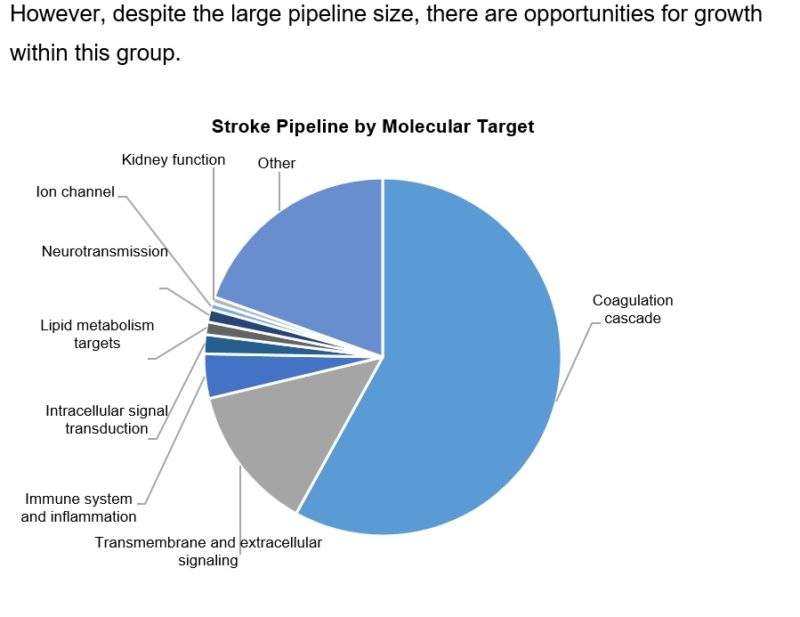 Cardiovascular disease (CVD) is a general term for a variety of different diseases and conditions affecting the heart or blood vessels.
Stroke is expected to remain a major burden across the US and EU, even though the mortality attributable to stroke continues to decline.
The marketed pharmacotherapeutic treatments for diseases affecting people with CVD focuses on controlling the risk factors and complications in stroke.
Coagulation cascade targets have become increasingly prevalent in CVD therapies recently.
This partially reflects the stroke pipeline for CVD, which shows an increasing commercial presence of these targets, as illustrated in the chart below.
In terms of target, coagulation cascades account for 58% of the pipeline, due to the diverse functions that they mediate.
As it is still an emerging class of therapy, this can be expected, but it may take more time for its pipeline size to translate into commercial dominance.
However, despite the large pipeline size, there are opportunities for growth within this group.
Related reports:
Global Cardiovascular Disease Drugs Market to 2023 – Expiries, Acquisitions and New Products for Deep Vein Thrombosis, Pulmonary Arterial Hypertension and Dyslipidemia to Shake-Up the Competitive Landscape