Novartis (Basel, Switzerland) has announced plans for a spin-off of its underperforming subsidiary, Sandoz, and will focus on innovative treatment approaches for haematology, solid tumours, immunology, neuroscience and cardiovascular-related diseases. The company told GlobalData PharmSource: "The biosimilar facilities in Austria and Slovenia would continue to manufacture biosimilars for Sandoz under a contractual agreement with Novartis. The plan is for Sandoz to continue [to] supply key products to Novartis for distribution in certain key global health markets, primarily in sub-Saharan Africa."  
At the time of publishing, Swedish investment group EQT (Stockholm, Sweden) and the German Struengmann family are rumoured to be considering a joint purchase of Sandoz for $21.6bn, according to German newspaper Handelsblatt.
On 25 August this year, Novartis confirmed its intention to separate its generics and biosimilars business to create a standalone company by way of a 100% spin-off. This came after an attempted sell-off starting last October was met with no formal offers from a buyer.
A Sandoz strategic review concluded that 'a separation of Sandoz by way of a 100% spin-off is in the best interest of shareholders, creating the number one European generics company and a global leader in biosimilars, and a more focused Novartis.' The standalone Sandoz would remain headquartered in Switzerland and be listed on the SIX Swiss Exchange, with an American Depositary Receipt (ADR) programme in the US. ADR is a form of equity security created to simplify foreign investing for American investors. Novartis is currently listed on the London Stock Exchange.
Joerg Reinhardt, chair of Novartis' Board of Directors, said: "A spin-off would allow our shareholders to benefit from the potential future successes of a more focused Novartis and a standalone Sandoz, and would offer differentiated and clear investment theses for the individual businesses."
Vas Narasimhan, CEO of Novartis, said: "For Novartis, the separation of Sandoz would further support our strategy of building a focused innovative medicines company, with depth in five core therapeutic areas, and strength in technology platforms. In addition, both companies would be able to focus on maximising value creation for their shareholders by prioritising capital and resource allocation, employing separate capital structure policies, and increasing management focus on their respective business needs."
Production facilities highlight differences in drug focus
Both Sandoz and Novartis are internationally renowned pharma companies, with a combined 34 production facilities worldwide. GlobalData's Contract Service Provider database shows that Novartis has 25 manufacturing sites in the US, Europe and China, including five API biologics (cell, gene, vaccine and virus) facilities in the US, France and Switzerland. These highlight the parent company's focus on innovative and high-value drug development.
Sandoz owns nine sites that are based in the US, Europe and India; most of the brand's sites offer commercial solid dose capabilities. These solid dose sites are based in Austria, Germany, Poland and India. According to GlobalData's Drugs database, Sandoz and its subsidiaries sponsor 1,029 drugs, with 869 of these drugs being currently marketed; the vast majority of these are generics (831) rather than biosimilars.
In terms of Sandoz's opportunities following the spin-out, Novartis told GlobalData PharmSource: "Sandoz has established leadership in Europe and a unique top five position across all three regions (Europe, US and selected rest-of-world markets). It has an exciting biosimilars pipeline of 15+ molecules, which is planned [to] lead the next wave of growth and an ambition to achieve sustainable biosimilar leadership. This would be supported by the continued efforts to grow its global generics business. Sandoz has a strong global brand and a unique heritage in areas ranging from generic antibiotics to biosimilars; it is also determined to differentiate itself as the off-patent company with the greatest focus on identifying and meeting patient needs."
Novartis said in August that it intended to shut down its Sandoz oral solid dosage plant in Wilson, North Carolina, which provides tablets to Canada and the US, next year. Novartis said the decision to shut down the North Carolina plant predated its decision to spin off Sandoz as an independent entity. The site employs around 250 people.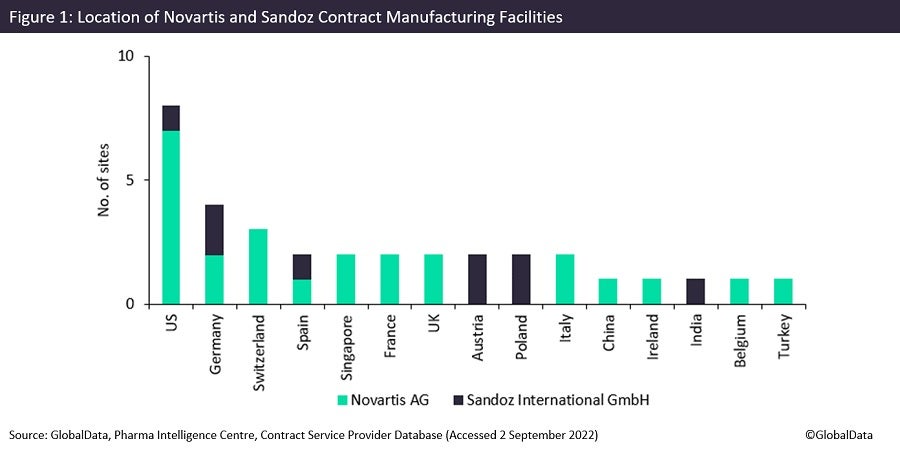 Strong competition limits Sandoz's growth
Sandoz has faced and may in the future face strong competition from other generic and biosimilar pharmaceutical companies, which aggressively compete for market share, including through significant price competition. The company had revenues of $9.6bn both in 2020 and last year.
Innovative drug development can be costly and risky due to clinical trial attrition of unproven drugs, but can provide a high return on investment when successful. Generics and biosimilars are easier to gain regulatory approval for but offer a limited return, given there are often multiple sponsors for a single drug, which limits drug pricing. Generics and biosimilar companies' growth opportunities also depend highly on patent expiries. Both approaches have their advantages and disadvantages, but both are viable and there would be inherent risks in not diversifying the types of drugs being sold, especially at the current time, when government and healthcare providers are seeking to reduce costs.
The Sandoz spin-off is a continuation of Novartis' shedding of non-core businesses and reinvestment into its pipeline drugs in development, attempting to deliver approximately $1.5bn in selling, general and administrative expenses savings by 2024.
On 27 March 2018, GlaxoSmithKline (GSK) (Brentford, UK) announced that it had reached an agreement with Novartis for the buyout of Novartis' 36.5% stake in their consumer healthcare joint venture for $13bn.
On 30 September 2015, GSK agreed to pay $5.25bn for Novartis's vaccines business, while Novartis purchased GSK's oncology division for $16bn.
While Novartis would have preferred another sale for Sandoz, it continues on its march towards solely concentrating on innovative drug development and sales.