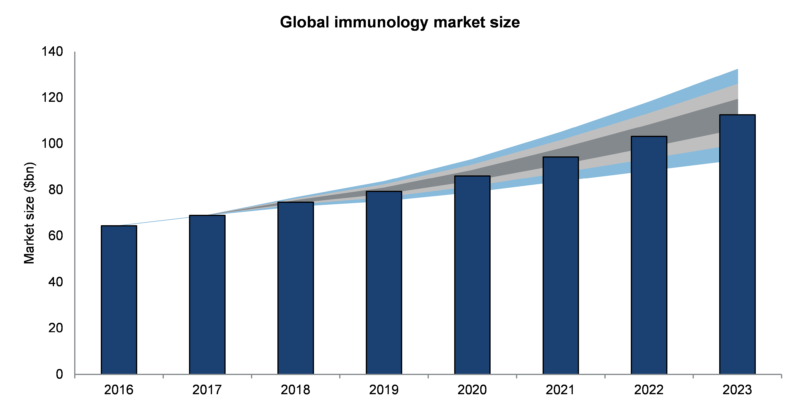 Immune-mediated inflammatory diseases are a common set of chronic disorders that affect 5–7% of people in Western populations.
Although they are often disparate in terms of their symptoms and key patient demographics, they are pathophysiologically linked, being characterised by dysregulation of immune pathways and an inappropriate immune response.
The immunology drugs market is projected to grow from $65.1bn in 2016 to $113bn in 2023, at a compound annual growth rate (CAGR) of 8.2%.
The market size in the US is expected to increase from $38.3bn in 2016 to $59.8bn in 2023 at a CAGR of 6.58%, accounting for half of the global immunology market.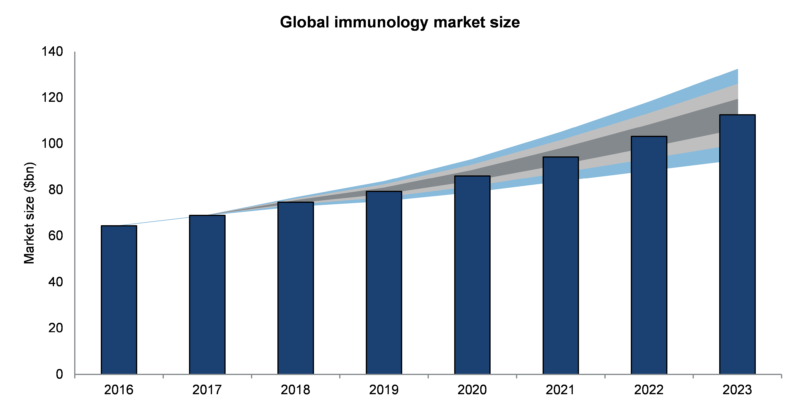 Source: GBI Research
Drivers of market growth
The prevalence populations of many indications within immunology are increasing, which is one of the major drivers of growth in the market.
For example, the prevalence population of rheumatoid arthritis across the seven major markets is expected to increase from 6.11 million in 2016 to 6.66 million in 2023.
There are several drugs that have recently been approved, including Cosentyx and Otezla, that are expected to become blockbuster drugs over the forecast period, generating market growth within immunology.
There are also several drugs in late-stage development that are expected to act as strong growth drivers within the immunology market, with each being forecast to become a blockbuster drug by the end of the forecast period.
These include the sphingosine-1-phosphate receptor agonist ozanimod hydrochloride, Janus kinase inhibitor filgotinib and peanut allergy immunotherapy AR-101.
These drugs are forecast to do well in the market as they have novel targets for the therapy area allowing them to compete and find a niche in an already competitive market space.
All this means that by 2022 the immunology market size will have grown to more than $100bn.
Related reports
http://www.gbiresearch.com/report-store/market-reports/therapy-analysis/global-immunology-drugs-market-to-2023-shifting-landscape-as-uptake-of-interleukin-receptor-inhibitors-offsets-losses-for-top
For more insight and data, visit the GBI Research report store.