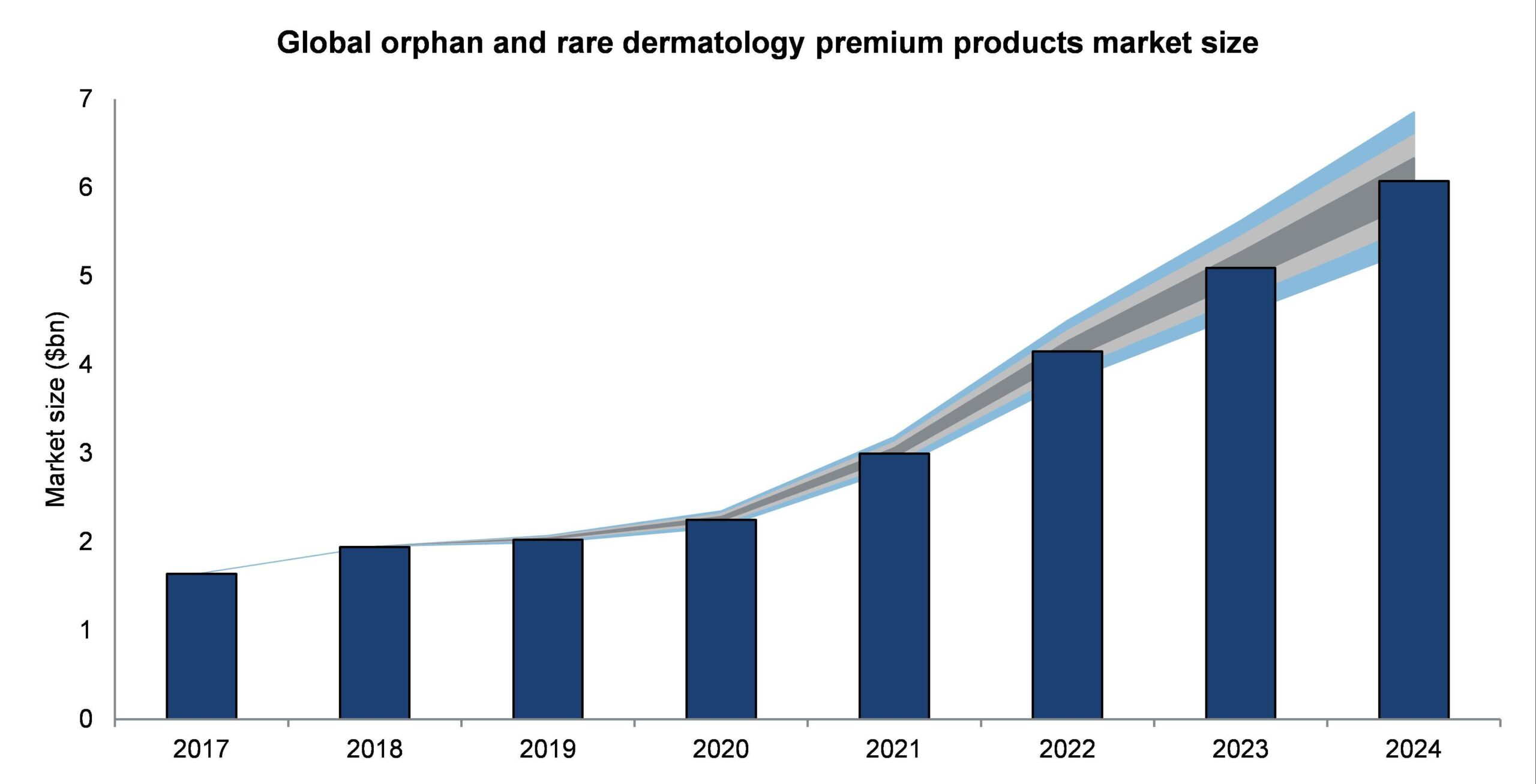 The current orphan and rare dermatology therapeutics market is a highly genericised therapy area, which accounts for its small premium product market size. There exists a significant unmet need for more efficacious and safer treatment options that treat the underlying cause of disease as opposed to managing the symptoms.
There are also some orphan and rare dermatology diseases that do not have any effective treatments on the market, including epidermolysis bullosa.
This disease is characterised by skin fragility and blistering, and the only treatment options are pain relief and effective management of blisters in order to prevent worsening of the disease.
Strong premium product market growth expected
The orphan and rare dermatology premium products market is projected to grow rapidly from $1.64bn in 2017 to $6.07bn in 2024, at a compound annual growth rate (CAGR) of 20.54%.
The premium products market size in the US is expected to increase from $794m in 2017 to $2.73bn in 2024, at a CAGR of 19.3%. Therefore, the US market accounts for just under half of the global orphan and rare dermatology market.
Drivers of market growth
Pipeline innovation for disease-modifying drugs will see new product approvals in this therapy area allowing rapid premium product market growth over the second half of the forecast period.These include the first treatments for epidermolysis bullosa, Episalvan, KB-103, EB-101 and FCX-007, which are expected to reach the market during the forecast period and see strong uptake.
Approval of new drugs is the strongest driver of market growth, as demonstrated by the approval of Epidiolex in 2019 for the treatment of seizures associated with tuberous sclerosis complex. By 2024, this drug will be generating the most revenue of any drug in the therapy area.