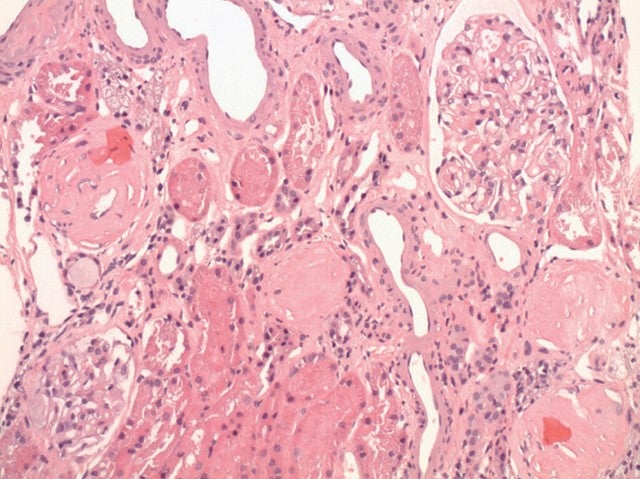 Rare or orphan diseases are defined as those affecting less than five in 10,000 people in Europe, and fewer than 200,000 people at any time in the US. There are examples across different disease types; some of the most well-known are cystic fibrosis and rare cancers like Hodgkin's lymphoma.
There are approximately 6,000 known rare diseases and approximately 30 million people across Europe are affected by a rare disease at some point in their lives, according to Rare Disease UK.
Observed on the last day of February for the last 12 years, Rare Disease Day aims to raise awareness of orphan diseases. The day is coordinated by non-governmental alliance Rare Disease Europe.
One of the challenges facing rare disease patients is a lack of therapeutic options; this explains why research has been the theme of the two previous Rare Disease Days.
Calliditas Therapeutics: developing new therapeutic options for rare diseases
Sweden-based Calliditas Therapeutics is a late-stage biopharma company focusing on bringing a treatment for rare, autoimmune kidney disease IgA nephropathy first to the US market, and potentially later to Europe. IgA nephropathy affects approximately 200,000 people across Europe and 150,000 in the US.
There are currently no approved treatments for the condition in Europe or the US. Beyond drugs to control blood pressure and suppress the immune system, the standard of treatment for IgA nephropathy is dialysis over many years, since it is commonly diagnosed early in life, or a kidney transplant.
However, as Calliditas CEO Renee Aguiar-Lucander explains, "Although it is a kidney disease, the condition doesn't actually start in the kidney. So even if patients have a kidney transplant, it is a recurring problem for them."
IgA is a type of antibody produced to fight infection. In patients with IgA nephropathy the antibodies get tangled into a chain while in the Peyer's patches in the gut. They then travel around in the blood before being deposited in the kidney's filters, called glomeruli, where they cause an inflammatory reaction and destroy filtering membranes.
FDA endpoint collaboration in studying Nefecon
Calliditas' lead product is Nefecon (budesonide), an oral, once-daily drug, which aims to treat the origin of IgA nephropathy, rather than the symptoms.
The company carried out a Phase IIb trial looking at the safety and efficacy of Nefecon for IgA nephropathy patients at risk of progressing to end-stage renal disease across ten European countries.
The endpoint of the trial was mean change in baseline in urine protein creatinine ratio (UPCR), which is indicative of a reduced risk of progression to end-stage renal disease.
"This has never been an acceptable endpoint before," says Aguiar-Lucander. However, based on clinical evidence the US Food and Drug Administration (FDA) agreed for it to be an approvable one. Usual endpoints for nephrology trials are time to dialysis or time to organ failure, which require long and expensive studies, which slow down pharmaceutical innovation.
Results at nine months, which were published in the Lancet in 2017, showed mean UPCR decreased by 27.3% in 48 patients who receive a daily 16mg dose of Nefecon and 21.5% for the 8mg dosing group, compared to 2.7% for the placebo group. Adverse event incidence was similar across all groups, with only two of 13 serious events linked with the drug.
Aguiar-Lucander explains Calliditas' aim is to "keep these patients out of dialysis forever".
Due to the success of the Phase IIb trial, Calliditas has just started running a global Phase III that is very similar. Results are expected in the second half of 2020.
Looking beyond IgA nephropathy
Following on from Nefecon's success to date in IgA nephropathy, Calliditas recently secured orphan drug designation from the FDA in two further indications, autoimmune hepatitis (AIH) and primary biliary cholangitis (PBC).
AIH is a rarer orphan disease resulting from the immune system attacking liver cells and causing inflammation. There is also nothing approved for its treatment, and "patients are often prescribed systemic steroids; most patients cannot sustain these systemic steroids forever," according to Aguiar-Lucander.
PBC is similarly an autoimmune disease of the liver, which affects approximately one in 3,000 people. Aguiar-Lucander notes the condition "has had a huge resurgence because of non-alcoholic steatohepatitis [NASH], for which it is being used as a stepping stone. There is a lot of research going on in that area."
However, in these inflammatory liver conditions, "we haven't seen anything that is coming from this autoimmunity, anti-inflammatory approach," Aguiar-Lucander says. Calliditas believes that it is possible that Nefecon could be part of a combination therapy for PBC.
As noted by Aguiar-Lucander, the company is also "open to looking at other compounds…with some proof in patients".
"We are looking to have a general orphan focus," she says. "I think if we can find something in the kidney, that is an obvious focus for us, but there is a limited amount in terms of products that are late-stage and de-risked."