Kugelmeiers contributes to and provides accessibility to regenerative medicine, believing it to be a potential for future medical therapies that everyone should have the opportunity to commit towards.
Our technology allows us to make an impact on islet, liver and many other cell therapies that rely on 3D spheroids that need a medical quality platform.
Exploration of 3D cell culturing with technological solutions
Through the exploration of 3D multicellular spheroids, it is possible to investigate in vivo-like functionality in conditions where cells are grown similarly to in real tissue, which contrasts to classical 2D cell culturing. Applications for this approach, however, are currently limited, due to lack of reliable throughput methods, which generate complex and well-defined co-culture 3D structures.
The Sphericalplate 5D represents a technological solution to these issues, consisting of 12 functionalised wells with 750 round-bottomed microwells for each well, as well as a medical-grade ultra-low attachment coating. Furthermore, it is compatible and integrated with CELLviewer workflow (and many others), as it generates a wide, homogeneous spheroids population of approximately 9,000 spheroids per plate, which is appropriate for CELLviewer 3D culture and time-lapse analysis, adding reliability and reproducibility to test results.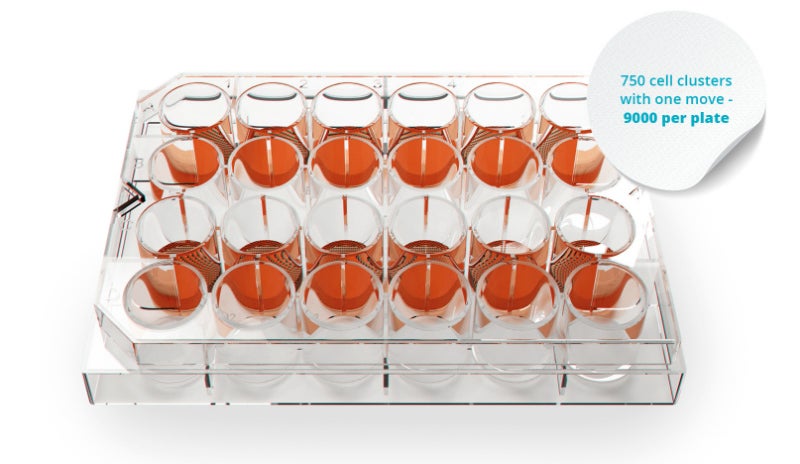 Turn pipetting into publishing with the Sphericalplate 5D.
Kugelmeiers believes everyone should have the opportunity to commit towards regenerative medicine.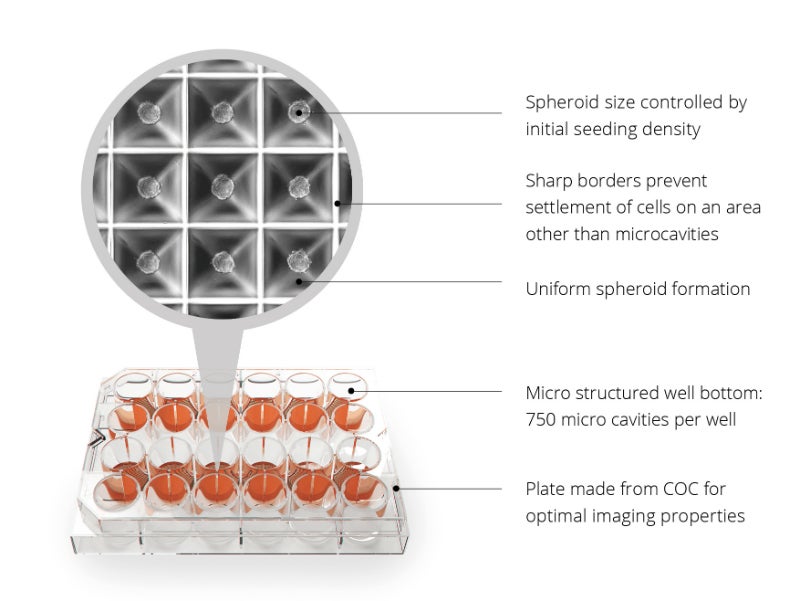 Sphericalplate 5D is designed for clinical cells therapy in regenerative medicine.
Sphericalplate 5D for cell culturing
Stable gene expression requires regular clusters in 3D, which the Sphericalplate 5D provides effortlessly. Stem cell quality clustering is achievable on a large scale and without adhesion as a result of patented geometry and medical grade ultra-low attachment coating.
Due to the fusion of biology with geometry, every cell finds its position from the physiological environment of rounded bottoms. Furthermore, 750 cell clusters can be obtained from one single pipet movement, which is at least 60 times faster than single spheroid platforms even with the fastest multichannel repeaters.
Sphericalplate 5D for stem cell applications
The Sphericalplate 5D has a wide range of uses across the medical and pharmaceutical industries. This includes maintenance and differentiation of stem cells on a 3D level, as well as any somatic 3D cell-type application, such as drug and toxicity screening and cancer research.
Furthermore, it also has uses in a wide range of analyses where a multitude of regular clusters are required such as clonal expansion, histology, mutation analysis and protein analysis.
In the future, our product will become cGMP-compliant, for use in somatic and stem cell cluster transplantation.
About Kugelmeiers Ltd
Our company was founded in 2015 as a spin-off from the University of Zurich in Switzerland. We are a team of 22 specialists who develop and market cutting-edge 3D cell culture technologies.
In 2020, we plan to begin the first human trial, together with four leading European transplant centres.