AlpVision is the world's leader in invisible technologies for product authentication and counterfeit protection. In 2001 the company invented a breakthrough authentication technology which is widely used by Forbes 2000 companies, including many in the pharmaceutical industry. AlpVision reached profitability in 2003 and has grown steadily ever since.
Cryptoglyph® is the patented on-packaging protection solution and Fingerprint™ is the patented on-dosage protection solution commercialised worldwide under licence agreements and turnkey IT systems.
On-packaging invisible anti-counterfeit solution
Primary packaging, such as blister packs, and secondary packaging, such as folding boxes and labels, are protected against counterfeiting with AlpVision's proprietary Cryptoglyph technology. Cryptoglyph is the only security process in the world that provides an invisible marking with standard ink and standard printing processes (offset, rotogravure, flexography, laser, inkjet, etc.).
Cryptoglyph is easily integrated into any current packaging and labelling production line with no incremental production cost. The Cryptoglyph covert on-packaging security feature is produced without any change in the production process and without alteration of the production speed.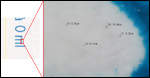 Microscopic detail of Cryptoglyph invisible micro dots printed on the packaging by offset printing.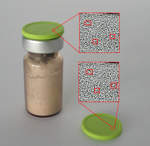 Fingerprint of two flip-off top dosage showing identical microscopic surface irregularities created by the mould cavity.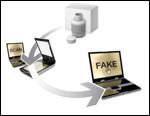 A simple standard office flatbed scanner is used to capture an image of part of the packaging or the dosage container in order to carry out an automated 'genuine-or-fake' verification.
On-dosage protection for vials, moulded containers and medical parts
The Fingerprint process detects and records the unique 'fingerprint' of microscopic surface irregularities created by the tooling or mould cavities used for producing the parts. The process only requires the recording of a digital reference image or 'template' of each mould cavity used in the production of the moulded parts. It follows that only a limited number of templates are necessary to authenticate the entire production of moulded containers or other plastic parts.
Local and remote product authentication via standard office flatbed scanners
Both on-packaging and on-dosage authentication solutions are performed locally or remotely.
For a local authentication, simply scan the product using a computer installed with the AlpVision exclusive authentication application. Your product is authenticated immediately and your local computer displays a genuine or fake message on the screen.
For a remote authentication, scan the product with an office scanner and send the scanned image file to your secured remote server via the Internet. The server will return a genuine or fake message immediately.
To some extent a camera phone can be used instead of an office scanner.