Eagle MHC
Material Handling Equipment for Healthcare and Cleanroom Facilities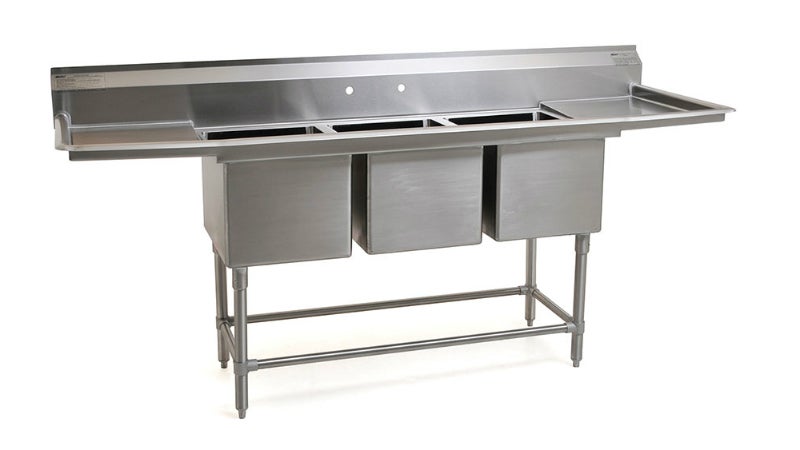 Eagle MHC provides a range of apparatus for the protection, storage, transport, and control of materials in cleanrooms, laboratories, and life science facilities.
The company also manufactures plumbing equipment such as hand, scullery, and mop sinks, which are available with a number of accessories.
Eagle utilises the Pro/Engineering® solid modelling software to develop its products, which facilitates the design process and helps ensure high-quality manufacturing standards.
Cleanroom and laboratory high-density material storage equipment
Eagle MHC manufactures a wide variety of material handling equipment for cleanrooms, laboratories, and other medical facilities. The range includes wire shelving, workstations, tables, and storage racks.
The company's secure solutions are suitable for laboratories in every size. The wall-mountable gowning rack comes with hangar slots or tubes, as well as hooks, and Eagle's wire shelf shoe racks include foot plates for easy storage.
Eagle also has an enclosed cabinet range, with flat or slanted top varieties. Both versions feature three adjustable shelves that are 48in long and 24in deep.
The company's roll bag dispensers provide a simple way to store rolls, bags, film, and tube stock, while conforming to safe chemical storage protocols. These units include two wire shelves, eight removable dispenser bars, four posts, and a three-sided channel frame.
Eagle's storage equipment is customisable to meet specific client requirements and each solution is engineered to exceed class requirements in critical environments.
Transport carts for the medical and research industry
Eagle provides customisable transportation equipment for the life sciences, medical device, pharmaceutical, and healthcare research industries. The range includes tray carts, tote box carriers, and angled-shelf carts.
Constructed of chrome or stainless-steel, the Quadtruss® design mobile computer workstation includes a keyboard drawer, a worktop, and a wire undershelf, with an optional mouse platform. It has a working height of 38in, with an overall height of 53in.
The Proofing Panco Transport Cabinet is an enclosed, transportable unit for storing temperature-sensitive materials that require a humid and warm environment. These units are available at full; half; or under-counter sizes, featuring a digital control system with an easy-touch front control panel. The cabinet can maintain humidity levels for up to four hours and a maximum internal air temperature of 93°C.
Sink systems to prevent spread of bacteria
Eagle MHC offers a wide range of sink systems, including hand basins, countertop or free-standing units, and portable sinks with storage units.
They are suitable for a variety of healthcare applications, ranging from surgical operating theatres to laboratory workstations and sterile processing.
Design software for optimised quality control
The Pro/Engineering® software enables Eagle to maintain key quality control (QC) practices in production, resulting in value-added solutions that lower costs for customers. Eagle MHC's manufacturing operations utilise computer-controlled metal cutting, punch press, and steam welding solutions to provide high-quality equipment.
About Eagle MHC
Eagle MHC offers storage, transport, and plumbing equipment to meet the needs of medical laboratories, surgical services, sterile processing, and biomedical engineering companies.
A division of the Eagle Group, the company assists clients to find a suitable solution from its wide range of durable, flexible equipment and utilises a network of well-stocked distribution centres to ensure quick and efficient delivery.