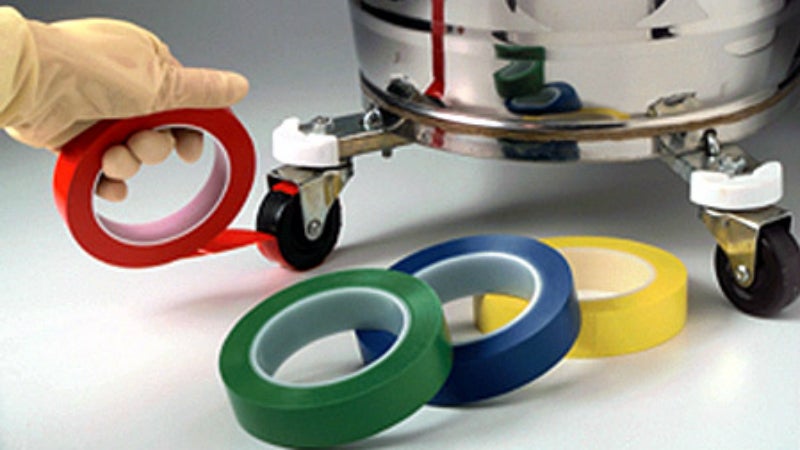 Micronova designs and manufactures wipers, soaps and mop systems for aseptic processing, pharmaceutical production and controlled environments.
Micronova was established in Torrance, California in 1984. The design team focused originally on the development of non-ionic cleaners, low-residue tape and super-absorbent mops for the wafer manufacture and integrated circuit industry. This early awareness of contamination control issues, in controlled environments, has allowed the company to develop fully integrated mop systems that address the many challenges in pharmaceutical production – from cleaning applications in R&D labs to disinfection and contamination control of aseptic processing areas.
Mopping systems for sterile processing, pharmaceutical production, and controlled environments
Micronova is foremost in the design and manufacture of specialized mops for critical environments. All mop materials used are selected for their durability, when used with strong disinfectants and compatibility with sterilization methods.
Because of their sturdy construction, mop heads have the option of being used more than once. With a selection of styles, sizes and fabrics they offer the optimum in surface wetting and application of disinfectant. Designs include small hand held mops for cleaning isolators, biohazard hoods and cabinets to larger handles and sterile mop heads for disinfecting large surface areas. Support hardware is engineered from electropolished stainless steel.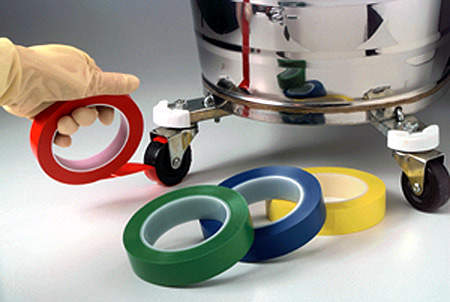 Cleanroom tapes - wheel taping.
Mops - PolyGen with bucket in background.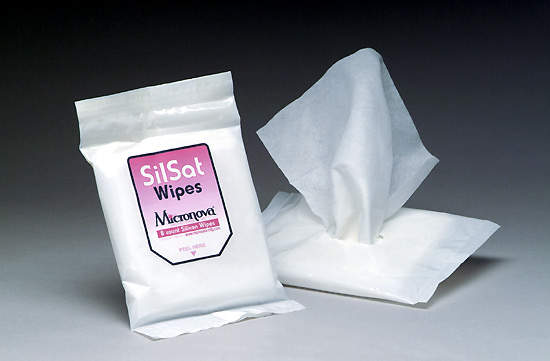 Wipes - Silsat.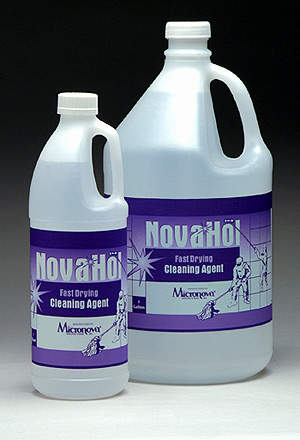 Detergents and cleaners - NovaHol.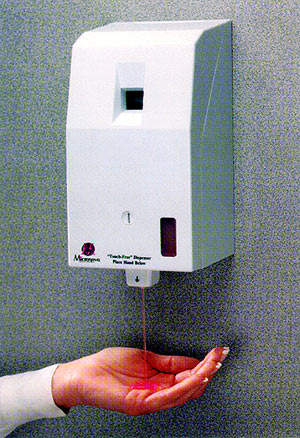 Touch Free Dispenser - TFD.
Cleanroom and controlled environment and irradiated tapes for color-coding, glassware, and sealing
CR100PC and EGV vinyl tapes are conformable and offer the 'clean-peel', low-residue characteristics important to lab applications. The range of colors allows the tape to be used for glassware labeling, sealing and color-coding containers such as autoclave bags and autoclave wrap.
Perforated, lo-tack MicroSeal tape can be used for stacking and securing plates for incubation/environmental monitoring. The lo-tack properties also make the MicroSeal an ideal choice for cuff sealing and gowning tape. Polyethylene and Polyamide tapes are also available where low-outgassing or heat or freeze-resistance is a consideration.
Touch-free dispenser and soaps
The patented Touch Free Dispenser effectively eliminates the risk of cross-contamination and waste in pharmaceutical production areas, R&D Labs and support areas. The dispenser delivers a consistent pre-measured dose of soap, sanitizer or lotion into the palm of the hand, making it simpler for personnel to follow hand washing protocols, witness plating and de-gowning procedures.
Available soaps include NovaClenz Ethyl Alcohol hand sanitizer, Hy-G-Clenz anti-bacterial lotion soap with Triclosan, AquaHol 70/30 irradiated IPA in WFI for use over hands or gloves, BioClenz CHG hand cleanser in 2% or 4% formulations and NovaDerm barrier cream.
Low linting sponges and irradiated wipes
Micronova's sponges and wipes includes a selection of sterile swabs, spill pillows and pre-saturated wipers for use within sterile and support environments.
The irradiated silicon SilSat wiper offers high grade silicon on a pre-saturated wipe for servicing equipment, gears and fill lines in sterile areas – a cleaner alternative to spray lubricants. The PolyMitt is a wiper/glove that fits over the operator's gloved hand to clean tanks, tubing and hard to access areas.
Lo-ionic cleaners and detergents
All Micronova detergents are filtered to 0.1 microns – offering the purest choice for cleaning in controlled environments. Although the company does not make any disinfectant claims on the cleaners they fit applications for neutral cleaning such as glass cleaning, curtain cleaning and adhesive removal within pharmaceutical processing areas.
NovaClean is a concentrate for general wall and floor cleaning. No mobile ions mean it will not generate a static charge. The NovaHol formulation is blended with alcohol offering fast drying, non-streaking properties important for cleaning glass surfaces and vinyl curtains. MegaClean is for removing adhesive and label residues and heavy soils.
Please also see Hospital Management – Micronova – Cleaning Kits, and Irradiated Tapes and Wipes