Estima Pharma Solutions provides regulatory consulting services to the pharmaceutical industry on Good Manufacturing Practice (GMP) in adherence to international regulatory guidelines in areas of Total Quality Management and Regulatory services.
The company's team comprises experts in quality control, quality assurance (QA), analytical development, regulatory affairs, and formulation development.
Estima Pharma Solutions works to meet the guidelines of regulatory agencies worldwide, including the US Food and Drug Administration (FDA), Medicines and Health Regulatory Agency (MHRA), EU GMP, Therapeutic Goods Administration (TGA), the Health Products and Food Branch Inspectorate, and the Medicines Control Council (MCC).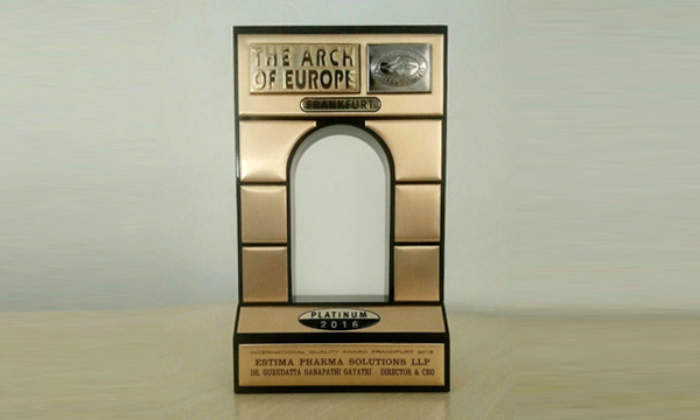 The company was awarded the International Arch of Europe, Frankfurt 2016, by Business Initiative Directors, Spain.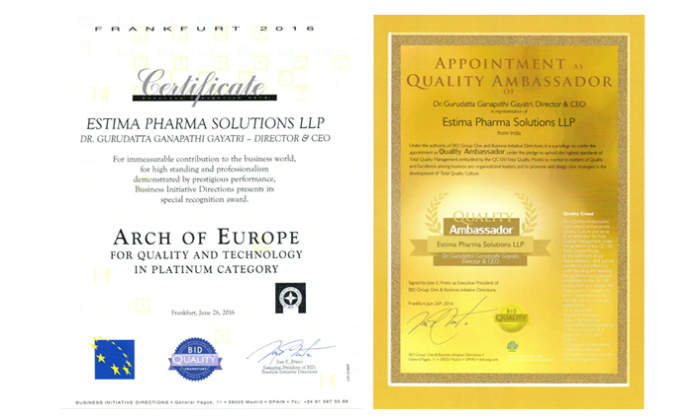 The Quality Ambassador and Arch of Europe Certificate, Frankfurt 2016, awarded by Business Initiative Directions, Spain.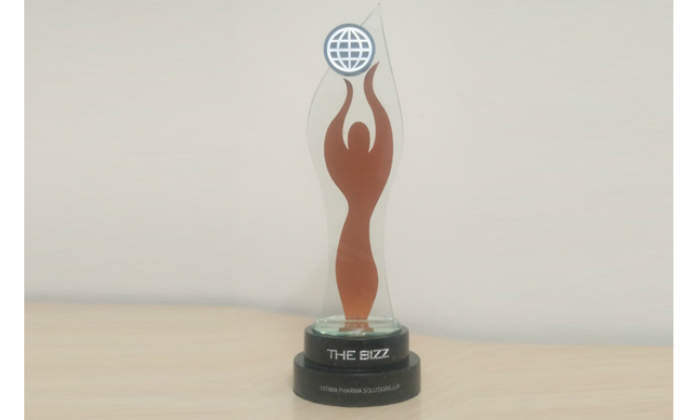 The European Society for Quality Research in Switzerland awarded Estima Pharma Solutions the International Diamond Prize for Excellence in Quality, 2017.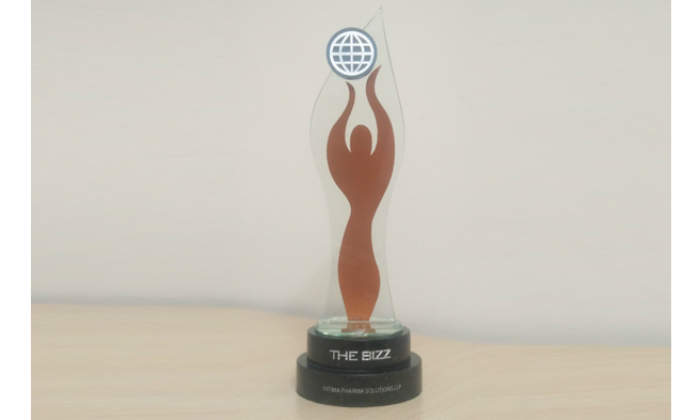 The World Confederation of Business in the US awarded Estima Pharma Solutions the BIZZ ARABIC award in 2015.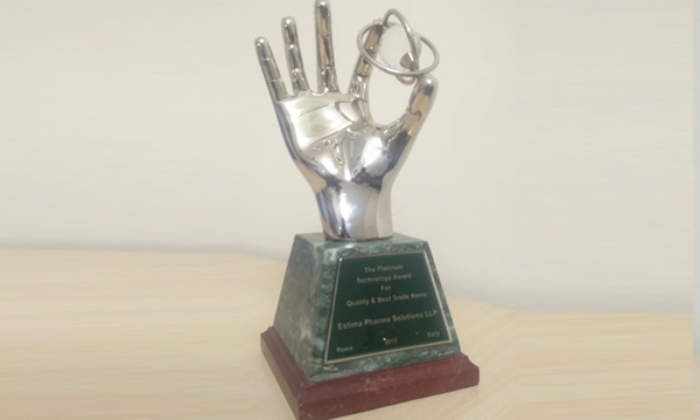 Estima Pharma Solutions received The Platinum Technology Award for Quality and Best Trade Name 2015 by The OtherWays Management and Consulting, France.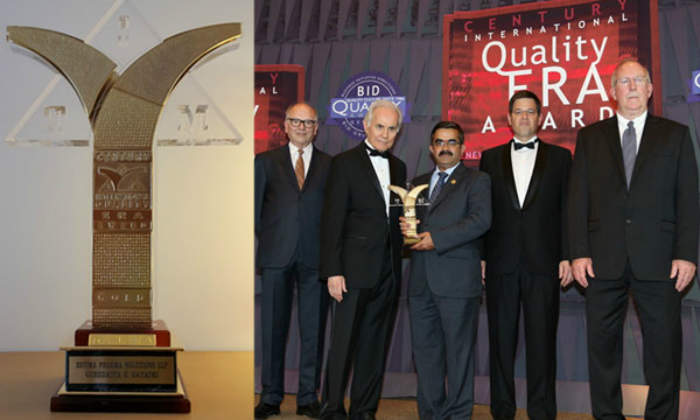 Business Initiative Directions awarded the company the Century International Quality Era Award at The International Quality Convention in Geneva, which took place on 21 March and 22 March 2015.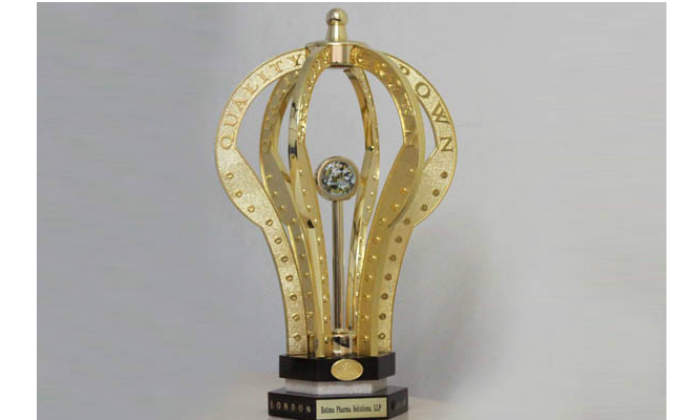 The International Quality Crown Award Under Gold Category was received by Estima Pharma Solutions in 2014 for pharmaceutical consultancy at International Quality Convention, London, which took place on 29 and 30 November.
International regulatory approval service
Estima Pharma Solutions globally shares its expertise with pharmaceutical drug manufacturers on strict compliance and adherence to regulatory guidelines across geographies including South Korea, Vietnam, China, South East Asia, Taiwan, Africa, and South Africa.
The company has an extensive knowledge of the pharmaceutical industry, having successfully cleared international regulatory audits for active pharmaceutical ingredients (API), oncology drugs, soft-gelatin capsules, small volume / large volume Parenterals, solid oral dosage forms, vaccines, and dietary supplements.
Estima Pharma delivers high-quality services to foster long-term partnerships, cost-effectively and efficiently, assisting emerging pharmaceutical, biotechnology, and virtual companies with regulatory approval.
Comprehensive engineering solutions for the drug industry
Estima Pharma Solutions provides a broad spectrum of engineering solutions for drug development companies, including new facility designs, plant renovations to meet regulatory requirements of World Health Organization (WHO) and the FDA, and conducting feasibility studies and auditing applications.
The company also offers consultation on:
Formulation and product development
Technology transfer of patent and off patent products
Dossier preparation and submission
Establishment and implementation of quality management systems
Gap analysis with respect to all international regulatory requirements
Triggering of any international regulatory audits
Training and development
Data integrity Solutions
GxP consultation for pharmaceutical manufacturing
Estima Pharma offers auditing consultation services, including reviewing and upgrading quality management systems, as well as preparation for regulatory inspections.
It assists pharmaceutical companies with GMP requirements, guidance on QA and regulatory compliance, and qualification of facilities, equipment, and utilities, offering a holistic approach with respect to in-depth understanding of international requirements with reliable and practical insight to establish effective systems.
About Estima Pharma Solutions
Estima Pharma Solutions LLP offers innovative capital solutions in terms of profit sharing, fixed-cost variable, and regulatory audits.
Based in India, the company has cleared 39 international regulatory audits globally for various pharmaceutical companies.
Director and CEO of Estima Pharma Solutions Dr. Gurudatta G. Gayatri shares his expertise as panel advisor for reputed investment bankers in India holding equity with leading pharmaceutical companies,  providing expert consultations on USFDA-483 observations, warning letters analysis and implications.