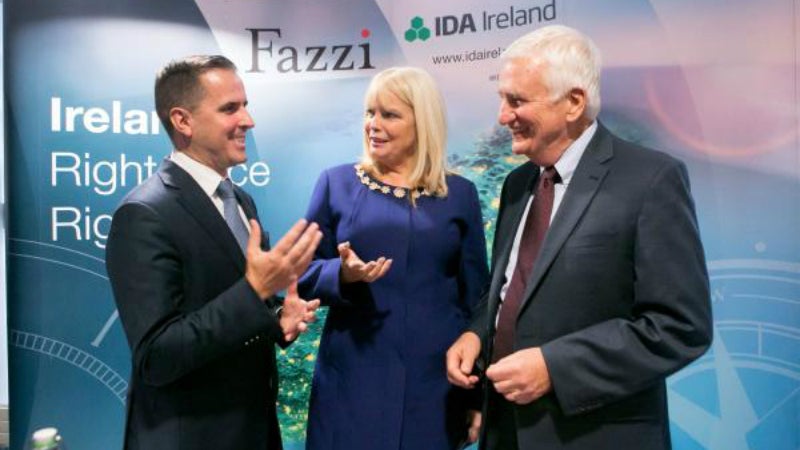 Minister for Jobs, Enterprise, Innovation Mary Mitchell O'Connor has announced that US-based Fazzi Healthcare Services has established a new coding and healthcare services company in Limerick, which is estimated to create 300 jobs over the next five years.
The project is supported by the Department of Jobs, Enterprise, and Innovation through IDA Ireland.
Medical coding is the transformation of healthcare diagnoses, treatments, procedures, outcomes, and services into universal medical alphanumeric codes, known as the International Classification of Diseases (ICD). It is the international standard used for health information purposes in primary, secondary, tertiary, and public health settings. The process is overseen by the World Health Organisation (WHO).
Most countries, including Ireland, utilise the ICD process, with the majority using the current ICD-10 edition. This latest edition contains codes for diseases, signs, and symptoms, as well as abnormal findings, complaints, social circumstances, and external causes of injury or disease.
The new Irish company has already begun providing ICD-10 coding services to the US homecare and hospice sector. In addition, expansion plans are in the works to add billing and distance learning offerings for international insurance companies and governmental healthcare entities.
Founded in 1978, parent company Fazzi Associates is headquartered in Northampton, Massachusetts. The company also operates in the areas of consulting, education, benchmarking, and research. It operates through two additional sites in India.
Mary Mitchell O'Connor said: "This is a very significant announcement for Limerick with the creation of 300 new jobs in a new and emerging business activity for the medical sector.
"I am very keen to pursue opportunities for investment and job creation in new sectors, these are increasingly possible with our infrastructure and talented workforce which enables companies like Fazzi to undertake work for customers in different parts of the world.
"It is also very heartening that such a large project has been secured for a regional centre, which represents the ongoing success of the government's Action Plan for Jobs initiative, particularly the new Regional Action Plan for the Mid West".
Minister for Finance Michael Noonan TD said "It's great to see Fazzi Healthcare Services grow their presence in Limerick, which is proud to be host to such an innovative company that combines healthcare and software.
"There will be many more opportunities now to join this company, which places great value in its employees. I'm sure that many people from Limerick will become valuable members of the team at Fazzi.
"This is further evidence that the Regional Action Plan for the Mid West is delivering for the people of Limerick."
IDA's chief executive officer (CEO) Martin Shanahan said "This is terrific news for Limerick and for the entire region as the creation of 300 jobs is substantial and will spread the benefit over a wide area.
"There is a growing number of healthcare services located here and Fazzi, as the first company to engage in medical coding services in Ireland, is a positive addition to the life sciences profile of the Mid West. I wish Dennis and his team every success."