SciNote provides electronic notebook solutions for government, industrial and academic research laboratories.
Our electronic laboratory notebook is recognised by the US Food and Drug Administration (FDA) and used by more than 80,000 researchers worldwide. The software is suitable for laboratories working in the pharmaceutical, healthcare, biotech, life sciences and chemistry sectors among others.
We pride ourselves on our quality and trustworthiness, maintaining lasting relationships with our client base and providing effective customer support, continuous development and execution.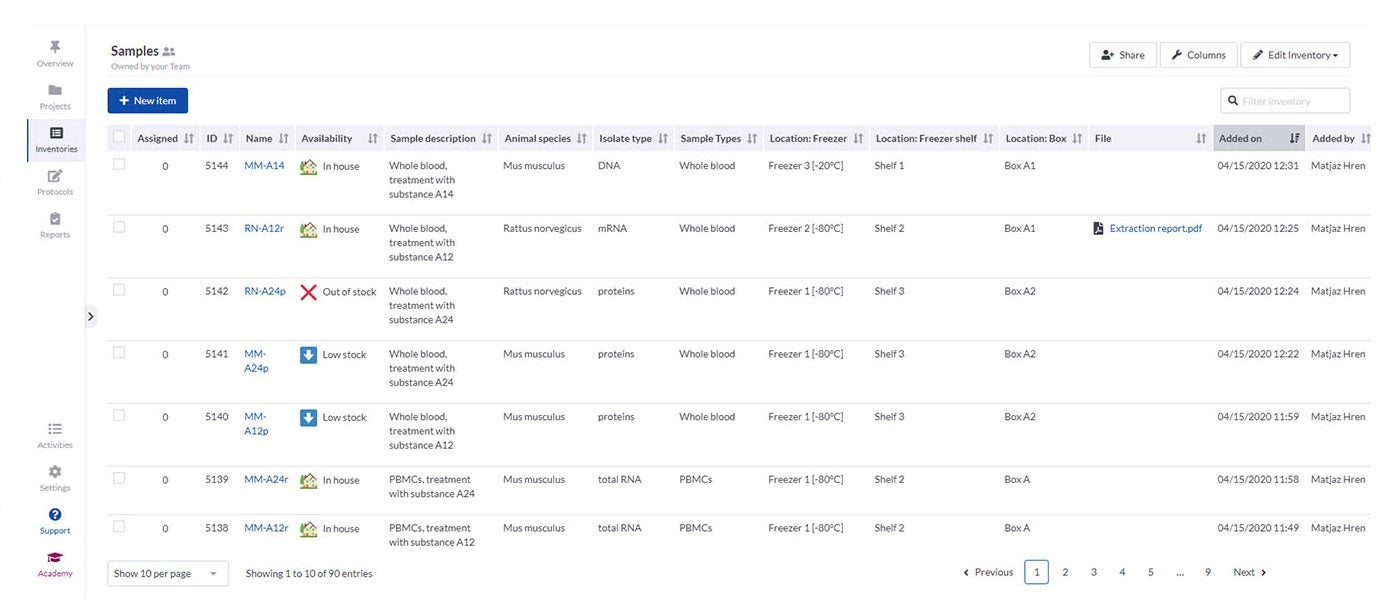 The SciNote electronic laboratory notebook simplifies inventory management.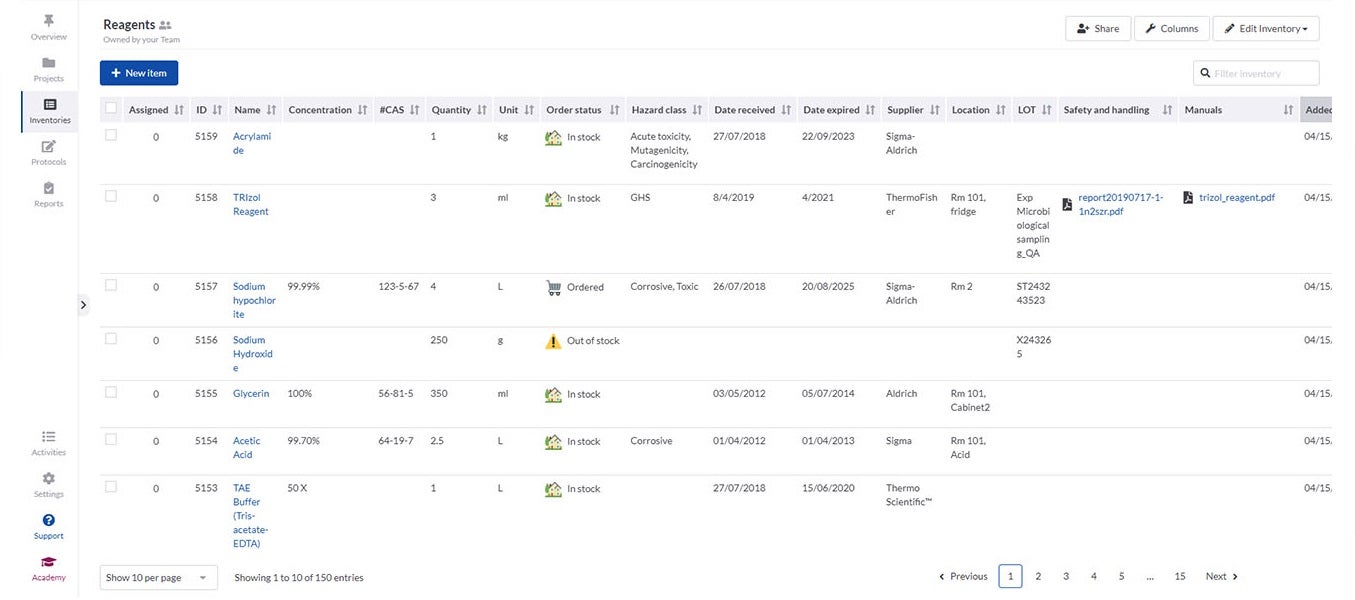 Track your samples and supplies, connect them to your experiments and maintain teamwork with our software.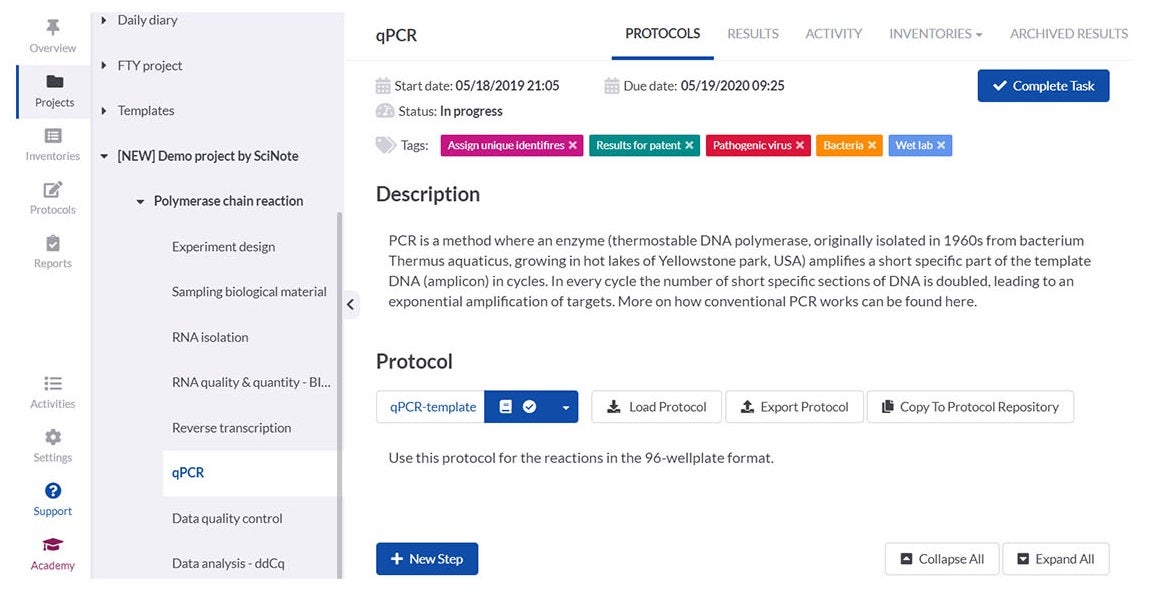 Our software lets you organise protocols in one place, improve reproducibility and keep track of research data.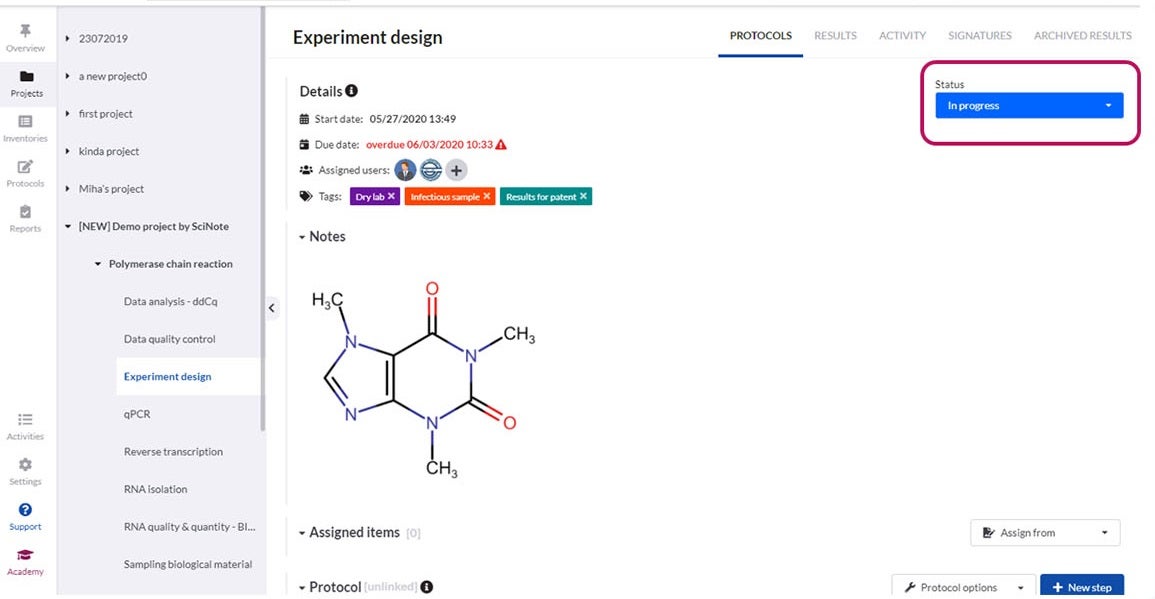 You can draw chemical structures directly in SciNote, making data management more efficient and productive.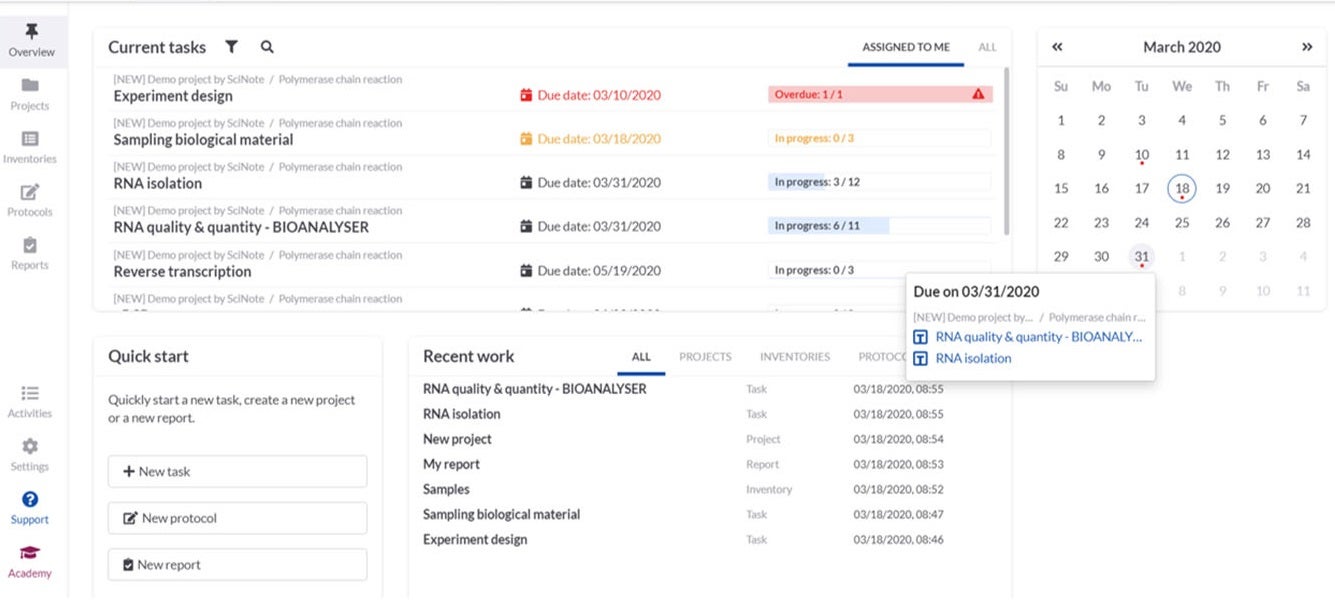 SciNote's flexibility allows you to organise data in the way that works best for you.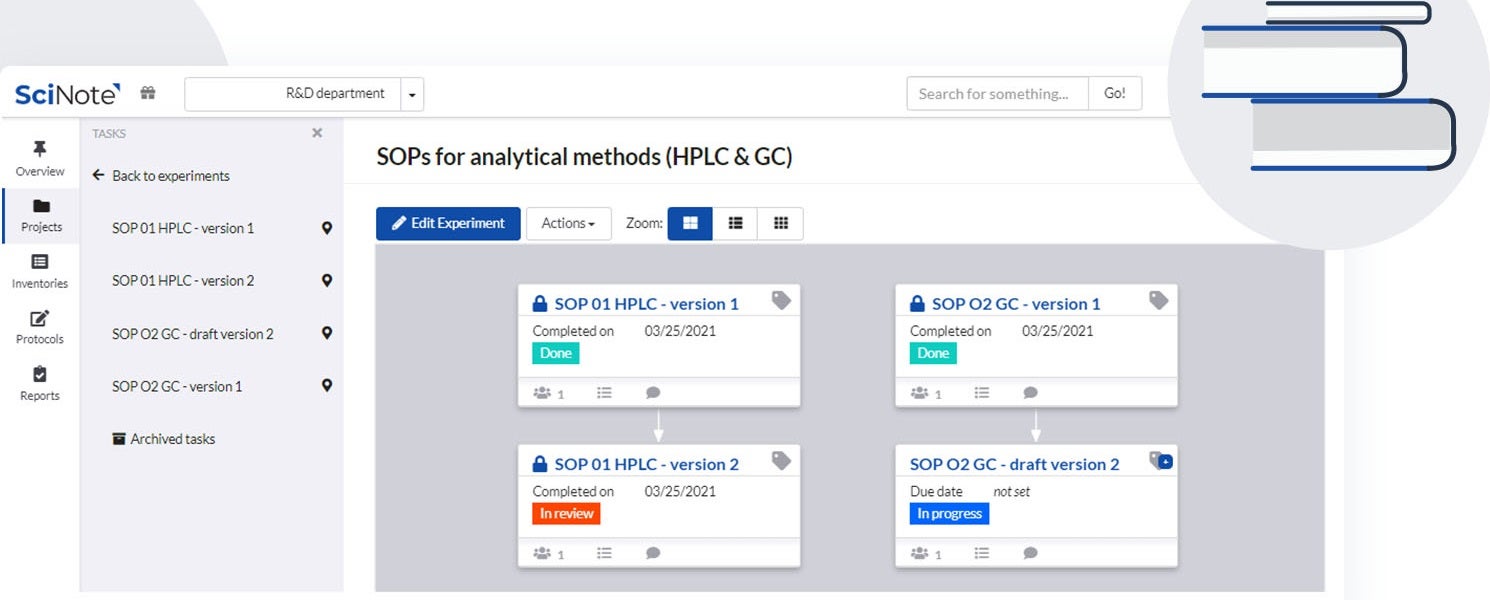 With SciNote, you can create reports in seconds without having to search for research data.
Notebook solutions for inventory management and tracking
SciNote's inventory management enables laboratories to import their existing inventory databases and supports various spreadsheet and text files. It is easy to connect inventory items such as samples, reagents and instruments to laboratory experiments and results using annotations and comments.
Inventories in SciNote allow laboratories to track what they need, including identification numbers, barcodes, storage location, safety documents and laboratory equipment availability. To make sure only authorised people have access to data, you can easily assign different user roles and permissions to laboratory members.
If different departments need to collaborate, SciNote allows inventories to be shared across teams to track common supplies.
Electronic protocol management solutions and experiment templates
SciNote enables laboratories to create, store and share protocols and standard operating procedures (SOPs), scientific methods, operational procedures, equipment instructions and safety guidelines in a structured and easy way.
You can upload, write, customise and review different versions of content-rich protocols rich, including text, images, tables, checklists, chemical drawings, code, keywords and comments.
To save time and improve traceability, laboratories can use SciNote protocol templates or public protocols from protocols.io to execute repetitive experiments or to ensure the reproducibility of their results and save time along the way.
Laboratory members can associate protocols with experimental data at any time to ensure data traceability.
Fully integrative application programming interface (API)
SciNote users can create and edit Office files directly from the programme with Office on the web. Excel, Word and PowerPoint files can be opened with Office directly in the browser to be viewed, edited and downloaded. Once edited, files can be safely stored in SciNote.
Our RESTful application programming interface (API) can be used by third-party applications, including laboratory information management systems (LIMS), data management systems, customer relationship management (CRM) and enterprise resource planning (ERP) systems, to access SciNote.
As well as Microsoft Office, SciNote is integrated with protocols.io, ChemAxon, Gilson Connect and LabViva.
Compliance with regulation and good practice
If your laboratory needs to comply with Title 21 of the FDA Code of Federal Regulations (CFR) Part 11, good laboratory practice (GLP) or good manufacturing practice (GMP) requirements, SciNote has the right features to support you.
Our software offers all that is required, including electronic signatures, audit trails, time stamps, user roles and permissions.
SciNote's Premium features and service support all Title 21 CFR Part 11 compliance requirements while staying flexible and easy to use. The software incorporates GLP principles in assuring the security and integrity of your research data.
About SciNote
Based in Wisconsin, US, SciNote was founded in 2015 as a joint venture between BioSistemika and Gilson. Passionate about contributing to science, we are focused on facilitating research laboratories' digitalisation efforts.
Our digital laboratory notebook is flexible enough to adapt to different laboratories' requirements, from start-ups and small research and development (R&D) laboratories to large industry and government organisations.