Abingdon Health is an innovative, high-volume mHealth and point-of-care (POC) contract manufacturing organisation (CMO) with a strong regulatory and commercial pedigree, specialising in semi-quantitative and quantitative companion, complementary and rapid diagnostics.
Abingdon Health helps clients and their products standout from the crowd.
In addition to offering an end-to-end service, Abingdon Health is experienced in supporting clients entering highly regulated testing markets, and has the capacity to adopt legal manufacturer status to expedite market entry.
Quantitative POC tests for observing biomarkers
Abingdon Health develops and manufactures lateral flow immunochromatographic rapid tests, readers and a smartphone reader platform on behalf of a global customer base under internationally recognised quality standards (ISO 13485, ISO 9001 and works to GMP) in our state-of-the-art automated facilities located in the UK.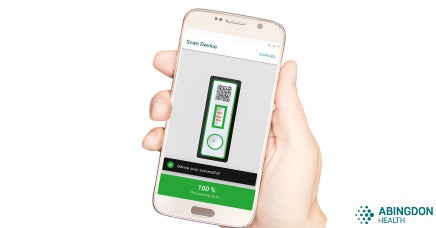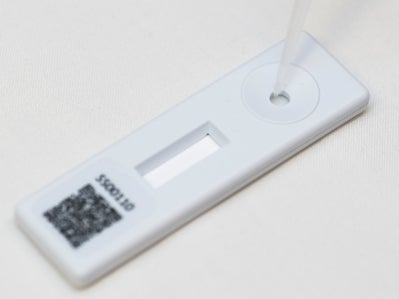 Simple to use near-patient tests can be provided by Abingdon Health.
Production of near-patient tests and mHealth solutions are provided for pharmaceutical companies.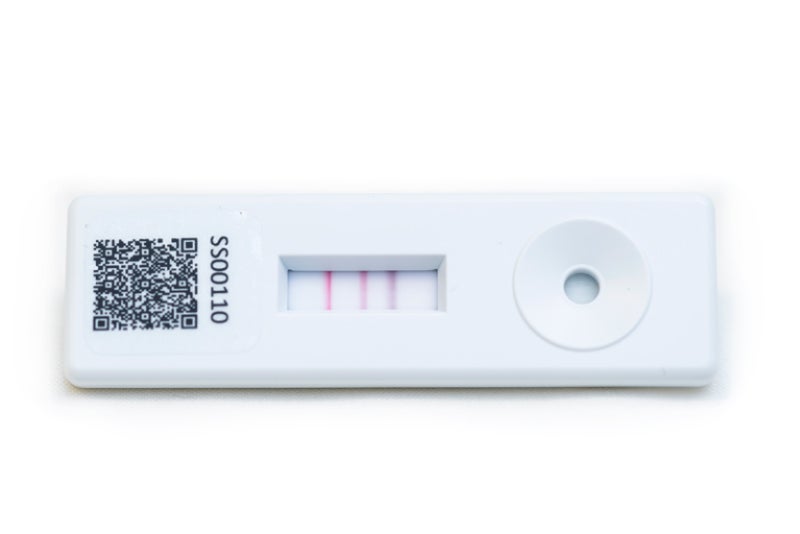 Abingdon Health specialises in semi-quantitative and quantitative companion and complementary rapid diagnostics.
An example of our expertise is demonstrated by Seralite®-FLC, a complementary quantitative point-of-care test used to detect and monitor multiple myeloma biomarkers. The rapid data results produced by Seralite®-FLC allow clinicians to diagnose and manage patients in the clinic. This helps provide therapy guidance quicker than if marker activity was being monitored via more labour-intensive laboratory methods.
POC and mHealth contract manufacturing for the pharmaceutical industry
Abingdon Health produces near-patient tests and mHealth solutions for pharmaceutical companies requiring a patient-centric device for monitoring drug activity markers via rapid, cost-effective and intuitive methods.
We take clients from assay development, through manufacture and onto commercialisation through robust, tried-and-tested, new product development and design review process that draws on our many years of experience.
POC and mHealth contract manufacturing process:
Concept and planning
Feasibility and optimisation
Technical transfer
Scalable, high-volume automated manufacture
Regulatory and commercial assistance
Adoption of legal manufacturer status (if required)
AppDx smartphone reader development solutions
Portable tests for monitoring drug adherence programmes
Biosimilars and therapeutics need to stand out from the competition. Different biosimilars and therapeutics come with different testing and monitoring scenarios and requirements. The near-patient technology we manufacture can adapt to different scenarios and requirements.
We achieve this by offering home testing and point-of-care approach, with or without data solutions, for monitoring drug activity biomarkers or to improve early diagnosis. Intuitive, portable tests and smartphone apps also allow for easy monitoring and reporting of drug adherence programs. Furthermore, patient therapy monitoring is carried out with a cost-effective and user-friendly approach.
Cost-effective tools for clinical trial decentralisation
The point-of-care technology manufactured at Abingdon health can offer a cost-effective, portable and rapid solution to aid managing and recruiting clinical trials. POC tests can be sent to and used in many testing locations, which aids with reducing the number of clinic visits. This can help with enrolling a wider geographic cohort.
The tests can produce transferable data via connected smartphone apps, allowing data to be sent to stakeholders in any location. Furthermore, they can measure multiple targets on one device; couple this with remote testing and it could aid faster analysis, helping to significantly speed up trials.
Contact us
Make an enquiry to understand more about how Abingdon Health's technology can aid with biosimilar or therapeutic differentiation or clinical trial decentralisation.