eFuture is a technologies provider company for biomedical sciences, with experience in the field of electronic case report forms (eCRF) and custom-built web platforms to improve patient data collection and clinical trial management.
Developed by a dedicated team, Digital CRF is our customisable web platform, which streamlines the clinical data management process.
Offered as Software software-as-a-Service service (SaaS) and hosted in a Cloud environment, the platform simplifies and eliminates all problems related to hardware and software, managing the whole data collection phase safely and efficiently.
Custom web platforms for clinical data management processes
Within four to eight weeks, we provide the client with a complete solution with any aspect, including domain name, institutional website, server infrastructure, data protection and basic and specific training. We also supply client-specific design, personalised platform development and consistent support.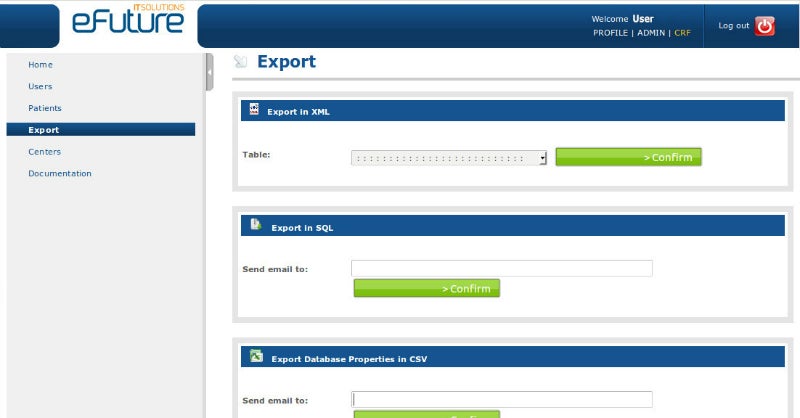 Digital CRF is our customisable web platform, which reorganises and finalises the clinical data management process.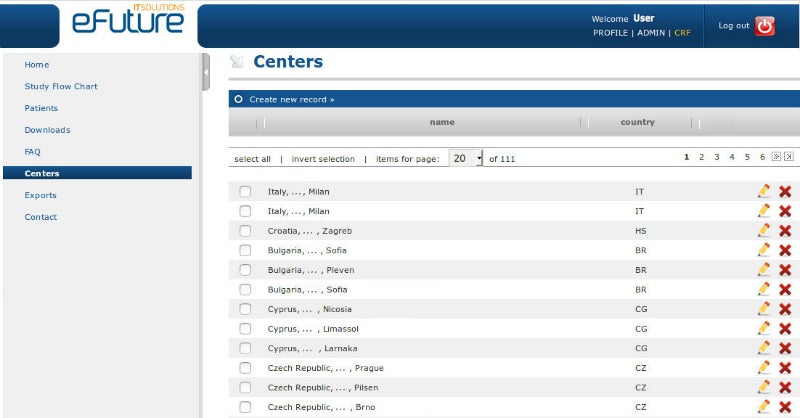 Our dedicated team supports customers in the development of any randomisation algorithm.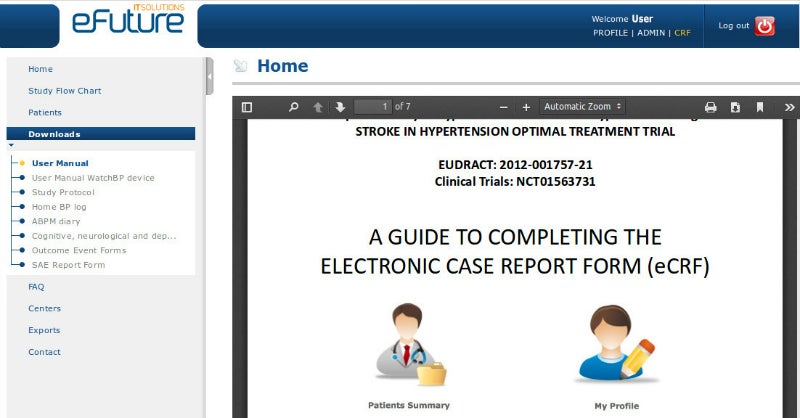 High-level customisation allows management of simple observational studies and complex experimental investigations.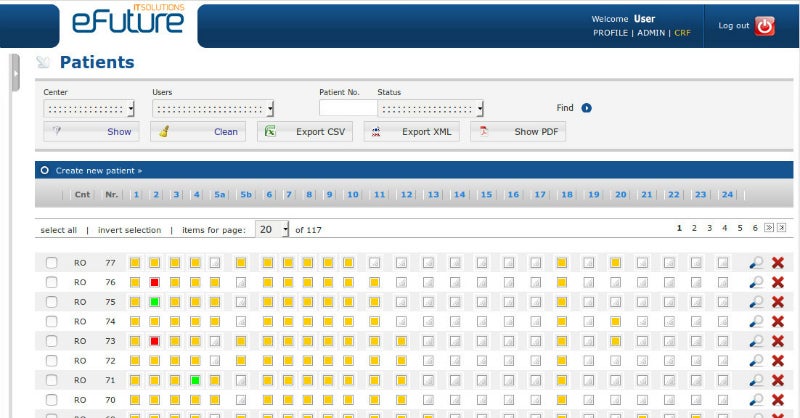 Administrators can manage collection centres self-sufficiently by adding new and erasing or adjusting those existing.
Furthermore, high-level customisation allows management of simple observational studies, as well as complex experimental investigations with randomisation, blind and double-blind trials.
Our staff supports clients in the development of any randomisation algorithm due to specific tests and thorough analysis, carefully following each process phase to support any contingency.
CDN-enabled security and infrastructure
Provided throughout a hardware and software infrastructure hosted at European Data Centres, eFuture's solution directly interconnects to central internet nodes to ensure fast global accessibility via content delivery networks (CDN).
Data Centres are classified as Tier IV to assure the highest level of security on a global scale without any interruption of service.
To guarantee service continuity, we equip the infrastructure with modern and sophisticated technologies to preserve data and protect the platform from external attacks and violations.
Some of these tools concern the use of Firewalls equipped with the Intrusion Detection System, antivirus and anti-malware based on Cloud technology, real-time data replication, hourly and daily backups, protected access and authentication, and automated H24 monitoring.
Software for custom web platforms
The collection process is managed through a web application, running on major browsers and operating systems, while access is via a secure connection (HTTPS) supported by a security certificate (SSL).
A graphical interface can host multiple translations to provide a multilingual platform with worldwide accessibility.
The interface is fully customisable, and the software provides multi-user and multi-centre management to ensure diversified and profiled access.
Furthermore, the administrator can manage collection centres independently by adding new sites, as well as deleting or modifying existing facilities.
Customised web platforms that avoid accidental edits
Equipped with suitable measures to avoid accidental changes to patient files and data, the platform can verify the validity and consistency of entered values.
It can also perform the extraction of data present on the platform directly through the web interface. Furthermore, there are features that ensure accurate control and supervision of collection status, including dashboard, notifications, reports and newsletters.
The platform, equipped with Audit Trail to evade unplanned changes to patient files and data, also ensures accidental loss of data due to continuous automatic saving.
Real-time checks allow validity, consistency and quality of data entered, as well as compatibility with other fields, such as verification of the type of data and plausibility range.
Through the platform, it is possible to upload and link patient records such as reports, documents, electrocardiograms (ECGs) and echoes.
Technical support services
eFuture aims to guarantee a technical assistance service throughout data collection, which provides support to the administrator and data manager, providing interventions to correct any technical problems, as well as changes and correct functioning of the hardware and software platform.
We also offer to activate a second client platform for conducting tests and training at new upcoming centres, without compromising data.
System integration with third-party software
The platform integrates with third-party software or machinery to facilitate communication and data exchange, or the display of particular data types.
Based on specific requirements, we can activate features to import excel formulas and tracings from hospital machinery, such as pressure holsters, using a high-resolution image viewer and interface with picture archiving and communication systems (PACS) and hospital equipment.