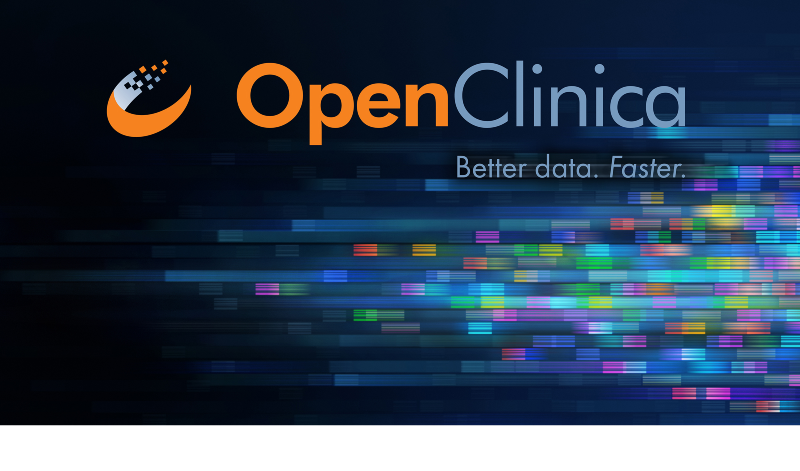 OpenClinica provides electronic data capture (EDC) solutions to simplify study build, data capture, data cleaning and data management for clinical research.
Our software as a service (SaaS) solution is trusted and proven in over 10,000 studies over the past 15 years by pharmaceutical companies worldwide.
Our mission is "to make the complex easy." We enable data managers, clinical researchers, and study participants with powerful, accessible technology to increase clinical data quality, patient safety, regulatory compliance, and clinical trial speed.
OpenClinica supports some of the most innovative and critical clinical research transforming healthcare today.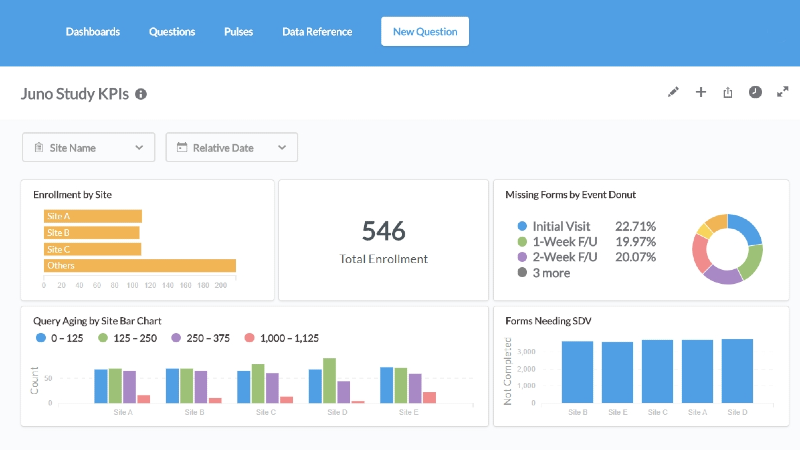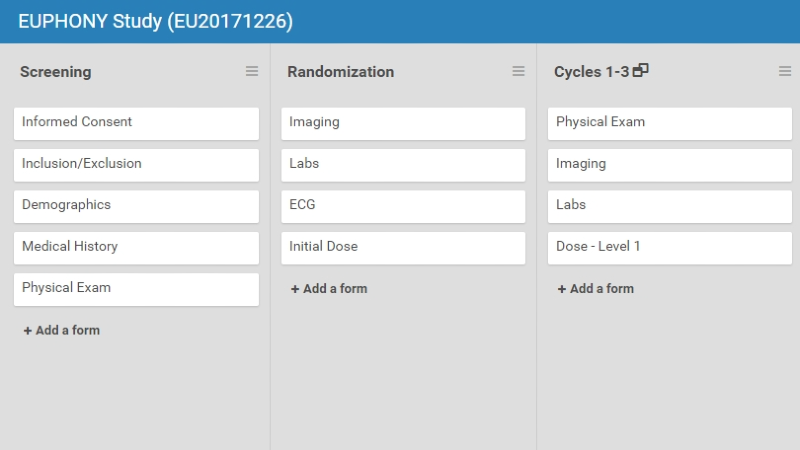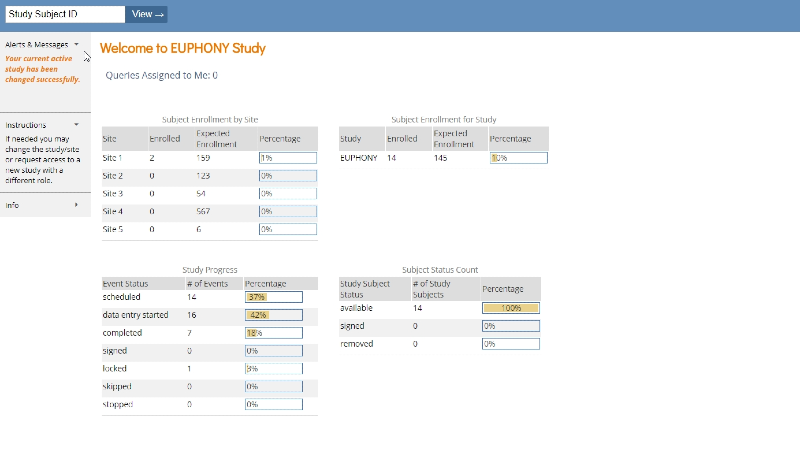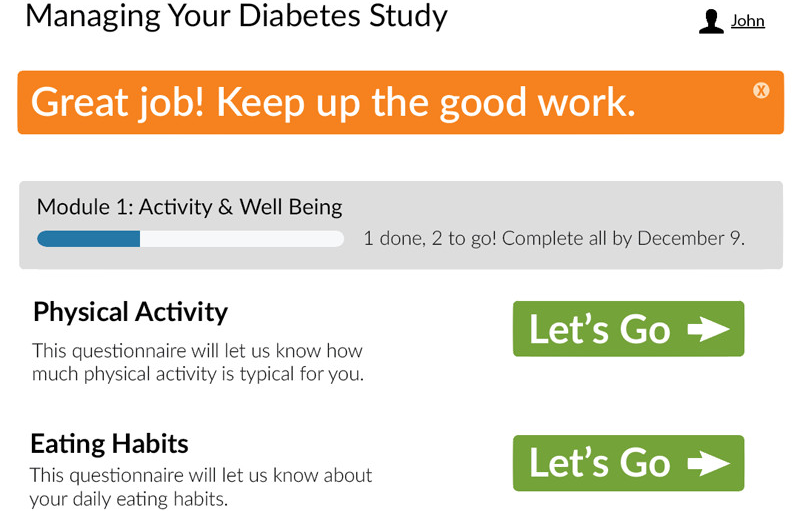 OpenClinica' unique focus on "making the complex easy" means that clinical research teams of all sizes and levels of experience can deploy highly capable studies without any specialized technical expertise. The end result, "better data, faster," summarizes OpenClinica's vision and shows how we help advance your research and patient care at an accelerated pace.
Drag and drop study designer for clinical data management
Increase the efficiency of your study start-up with intuitive drag-and-drop study setup tools.
Collaborate with colleagues and stakeholders in real-time and leverage our industry-leading design → test → production workflow to ensure electronic case report form (eCRF) version control and data quality for your clinical study, mid-study changes and protocol amendments.
ECRFs for effective management of clinical trials
OpenClinica provides one of the most effective eCRF engines in the industry. Design, richly interactive, responsive eCRFs that auto-save data, execute logic in real-time and give you as much layout control as if you were designing them in Microsoft Word.
There is no longer any need for highly skilled database programmers. Design your forms in a fraction of the time with a broad set of example eCRFs and eCRF Library that you can use and quickly adapt as needed.
ePRO module for patient engagement
OpenClinica's Participate ePRO module allows you to engage your study participants in a frictionless way. Patients can use their own devices (BYOD) and the system can send push notifications via SMS and email with reminders to complete forms or show up for visits.
Allow subjects to participate in your studies from any device, from anywhere, with one-click access. Your ePRO data is available immediately and automatically integrated with the rest of your study data.
Customisable clinical study metrics
With no programming required, you can build, visualise and analyse clinical study metrics with customisable reports and dashboards for key performance indicators (KPIs), progress metrics and much more.
Build reports against any of your study's clinical data and metadata (including queries data, monitoring data and audit log data) and obtain access to this data via a structured query language (SQL) database. Connect third-party data sources. Thrill your clinical team, statisticians and business partners with automated alerts and pulses via email.
Accelerating data management timelines
OpenClinica makes it easy to capture and track complete, high-quality research data.
Our data management and monitoring feature sets include intelligent query management, protocol versioning (including site-specific customisations), source data verification, forced reason for change and more.
Web services API for system-agnostic data interoperability
With our tools, you can leverage our extensive standards-based web services application programming interface (API) for system-agnostic data interoperability.
Whether you need to incorporate data from a medical device or integrate with clinical trial management system (CTMS) or electronic health record (EHR) systems, our API can help you get data to the right place in real-time.
Dataset creation and data export tools
OpenClinica offers self-service, on-demand access to your data with easy dataset creation and data export tools.
You can export data in useful formats, including Excel, Software and Solutions (SAS), Statistical Package for the Social Sciences (SPSS), Clinical Data Interchange Standards Consortium (CDISC), Relational Database Management System (RDBMS), as well as automate routine data exports.
Regulatory compliance and information security
With OpenClinica's complete audit trails, electronic signature capabilities, security and a robust quality system, we make it easy for you to demonstrate Good Clinical Practice (GCP), 21 Code of Federal Regulations (CFR) Part 11, Health Insurance Portability and Accountability Act (HIPAA), and General Data Protection Regulation (GDPR) compliance.
We partnered with Amazon Web Services (AWS) to deliver high performance, ultra-reliable and highly secure IT infrastructure with data encrypted in transit and at rest, as well as zero data loss architecture.
As such, you can ensure geographic data custody, as well as rest easy with trusted reliability (>99.99% uptime) and 24 / 7 / 365 system monitoring. Certifications include Statement on Standards for Attestation Engagements (SSAE)16 System and Organisation Controls (SOC) 1, SOC2 Type II, International Organisation of Standardisation (ISO) 27001.