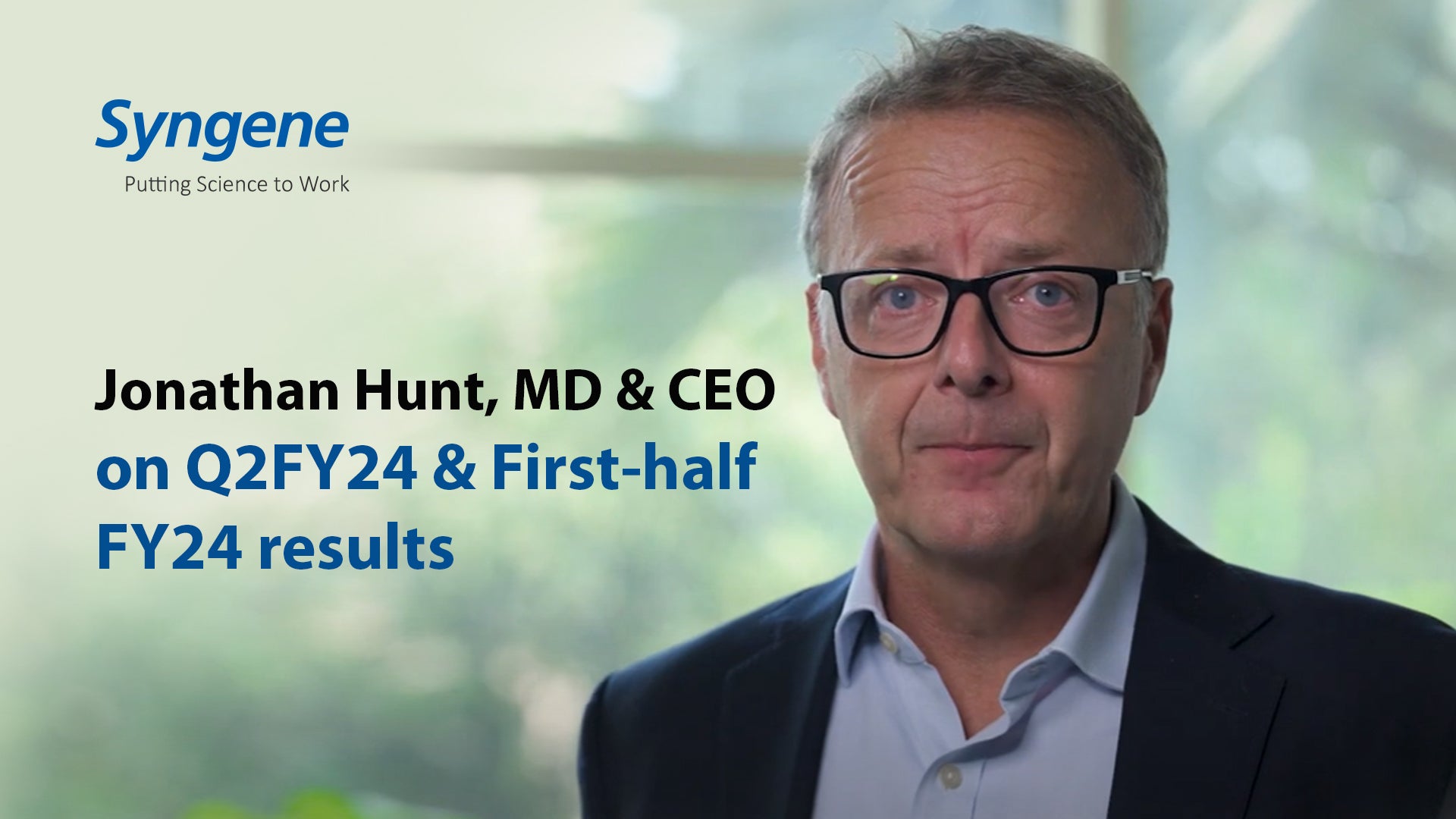 Syngene International announced on 17 October its second quarter and half-year financial results. Reported revenue from operations for the quarter was up 18.5% year-on-year to Rs9.1bn, around 15% at constant currency. Profit after tax (before exceptional items) for the quarter increased 20% year-on-year to Rs1.22bn.
For the six months to 30 September, reported revenue from operations was up 22%, around 17% at constant currency, and profit after tax (before exceptional items) increased by 23% to Rs2.15bn compared to the same period last year.
Commenting on the quarter, Jonathan Hunt, Managing Director and Chief Executive Officer, Syngene International, said: "I am pleased to report a strong set of results for the second quarter and first half of the financial year, particularly in our Development and Manufacturing Services. In Development Services, we also added a new non-GMP capability centre to meet market demand for agile, cost-efficient, early phase development and scale-up services. In Manufacturing, we made good progress on our long-term biologics partnership with Zoetis, as well as commissioning a state of the art, digitally-enabled Quality Control laboratory to support our growing biologics operations. The acquisition of a multi-modal facility from Stelis Biopharma, announced last quarter, is progressing.
"Within research services, our Dedicated Centres made a steady contribution to growth and in Discovery Services, while global demand remained generally healthy, we saw the US-based biotech segment showing signs of slowed growth year-on-year as companies adjust to a new funding environment.
"Long-term sector fundamentals remain strong and we expect continued growth but at a lower level in the second half of the year; this short-term slowing in the US biotech segment is reflected in our latest outlook. Overall, we reported a strong first half to the year and I am pleased with the good progress made on our strategic priorities in both our research services and our development and manufacturing divisions."
Sibaji Biswas, Chief Financial Officer, Syngene International, added: "We have reported strong second quarter and half year results with operating EBIT growth, tracking revenue growth. During the second half of the year, we will continue to invest in new science, technology and digitisation, as well as building capacity to support future growth, while balancing discretionary expenditure in order to maintain margins."
Business updates
The second quarter was underpinned by strong performances in Development and Manufacturing Services supported by sustained momentum in the Dedicated Centres.
In Manufacturing Services, the company continued to make good progress on the long-term biologics manufacturing partnership with Zoetis. During the quarter, the company commissioned a Quality Control laboratory for biologics testing equipped with the latest technology to drive higher throughput and seamless data transfer.
In the first quarter, Syngene announced the intention to acquire a multi-modal facility from Stelis Biopharma and the transaction is progressing. During the quarter, the company operationalised a non-GMP facility, which added the capability to conduct API synthesis in a non-GMP environment resulting in agile, cost-effective solutions for early phase development projects.
First-half performance was characterised by positive contributions from all divisions, as well as the achievement of several significant strategic goals: the agreement to acquire the multi-modal biologics facility from Stelis Biopharma; the purchase of a 17-acre land parcel in Genome Valley, Hyderabad, as an extension to the existing research campus; and regulatory approval from the US Food and Drug Administration (FDA) for the commercial manufacturing facility in Mangalore.
Guidance
While the company delivered strong performance in the first half, with the temporary slowdown in US biotech funding, we expect continued growth at a lower level in the second half of the year. Adjusting for this, against our previous guidance of high teens constant currency growth, we now expect the revenue to grow at mid-teens on constant currency basis.
Read the full press release, including Financial Highlight tables, here: https://cdn.syngeneintl.com/2023/10/18010722/Press-release-Q2-FY24.pdf