Biospace Lab has nearly 30 years' experience in providing high-end real-time optical imaging and autoradiography solutions for preclinical research.
Offering its services to life science laboratories worldwide, the company's real-time imaging is a central feature for all Biospace Lab systems. Utilising its core intensified charge-coupled device (iCCD) technology, pharmaceutical companies and prestigious academic centers can take full control of their experiments.
The versatile and evolutive design of Biospace Lab's products enables the flexibility to cater to a wide range of laboratories With years of research and development (R&D) in collaboration with top academic partners, Biospace Lab offers a growing range of specialised modules, fully compatible with standard Biospace lab imaging systems to meet users' needs as they expand their research.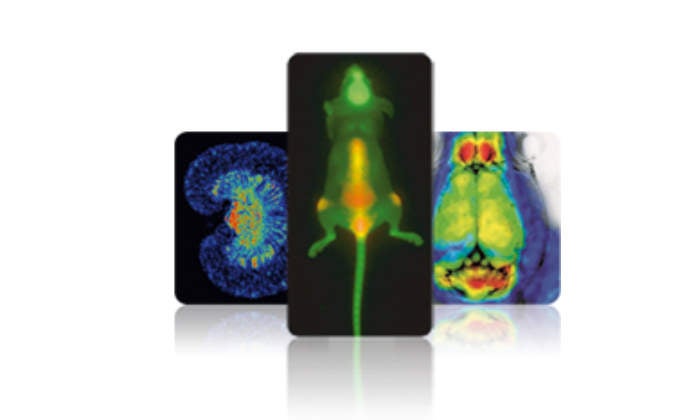 Biospace Lab's optical imaging solutions are highly accurate.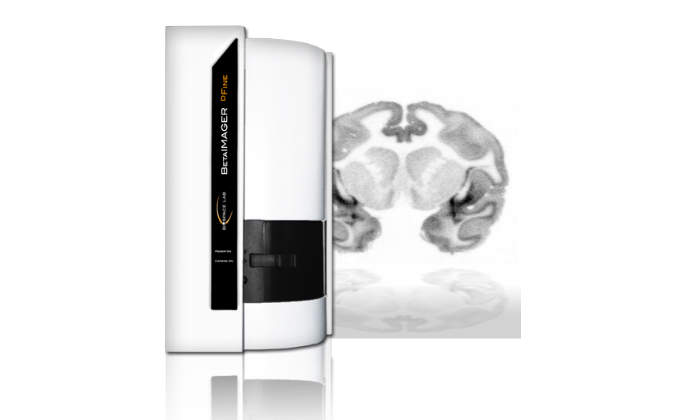 The BetaIMAGER™ DFINE is used for applications where high-spacial resolution is required.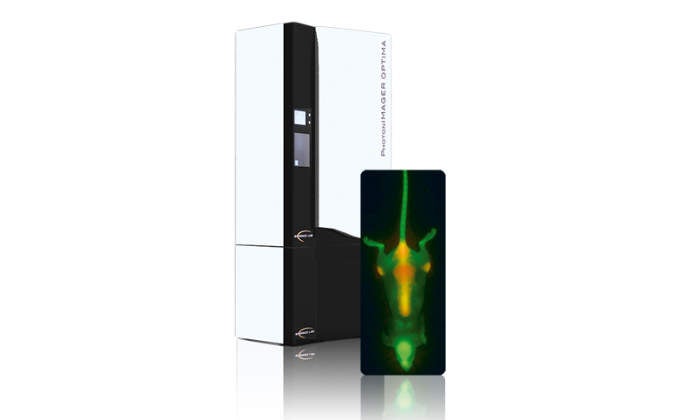 The PhotonIMAGER™ detects optical signals in live animals.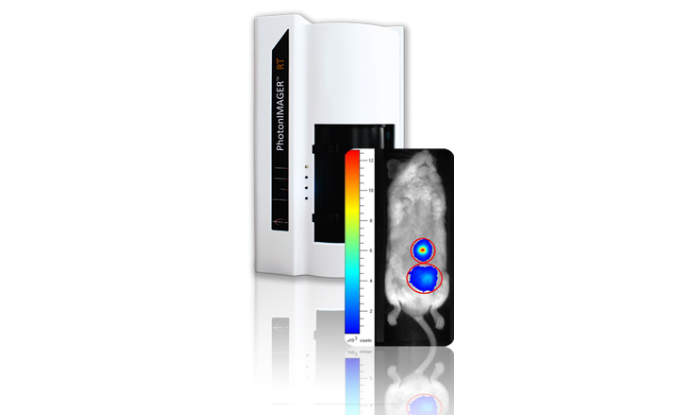 Biospace Lab offers two PhotonIMAGER systems: the PhotonIMAGER Optima and the PhotonIMAGER RT solutions.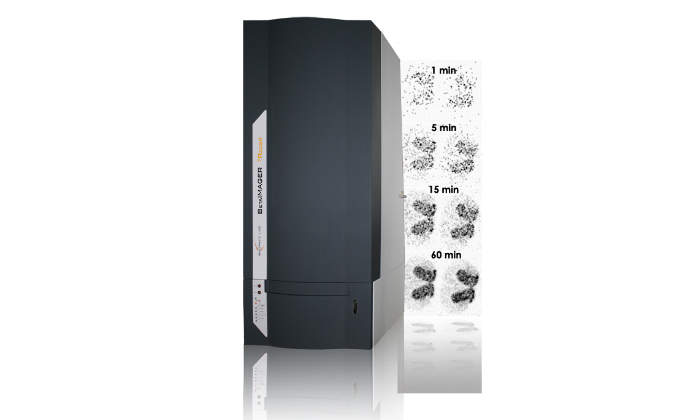 The BetaIMAGER™ TRACER performs high-speed autoradiography.
Last generation iCCD camera for ultra-high performance and real-time
Nearly 30 years ago, Biospace Lab realised the potential of iCCD cameras in bioimaging because of their unmatched signal detection (S/N>1 at light levels as low as ten photons per pixel) combined with fast acquisition times (30ms/frame). The company took on to master this technology and all Biospace Lab systems are now equipped with intensified digital cameras that offer ultra-fast, highly-sensitive versatile imaging solutions for a wide range of scientific applications from in vivo calcium signalling to multi-label whole body digital autoradiography.
Modular, real-time in vivo imaging systems for bioluminescence and fluorescence studies
Biospace Lab believes that temporal information is key to a comprehensive understanding of your experiments. Time profile information gives a complete picture of signal dynamics during the entire acquisition leading to a better understanding of biological processes such as substrate tissue diffusion or tumour angiogenesis.
Why guess at the time and intensity at peak of Luciferin signal when you can visualise and quantify it exactly from a time profile?
With this unique real-time feature, Biospace Lab in vivo systems come with a complete set of high-end OD6+ narrow band pass filters (16 for light excitation and 15 for light emission filtering), which cover the full visible and near-infrared spectrum for multilabel studies with several light reporters both in bioluminescence and fluorescence mode.
Live bioluminescence imaging and high-resolution modules
In order to extend the depth of understanding of biological phenomena, Biospace Lab developed several high-end modules to further extend the core capabilities of its PhotonIMAGER systems:
The InActio module for live bioluminescence imaging of freely moving animals
The TomoFluo module for high resolution / sensitivity 3D fluorescence imaging with laser excitation
The 3D module for 3D fluorescence and bioluminescence imaging
The 4-View module for simultaneous fluorescence and kinetic bioluminescence imaging on the four sides of the subject
The X-ray module for ultra-resolution anatomical X-ray information overlay with bioluminescence and fluorescence signal
The Macrolens module for micrometric imaging of fluorescent and bioluminescent reporters
Autoradiography ex vivo imaging of beta and alpha emitters
The BetaIMAGERTM system provides highly dynamic ex vivo imaging of beta and alpha emitters with ultra-fast detection of low-energy isotopes.
Low-energy radioisotopes such as tritium are extremely useful biomarkers but require long exposure time (usually days or weeks) with traditional imaging technologies such as films or phosphor screens. There is also a risk of losing data by over or underexposing your samples with these blind methods.
With its BetaIMAGER digital autoradiography systems, Biospace Lab adopted a real-time approach allowing the progressive collection of radioisotope emission to build an image frame-by-frame, disintegration after disintegration.
By summing up well-exposed frames, the success of the experiment can be assessed form the first minutes of live integration. The more you wait, the better the resolution of your final image and you can never overexpose your samples. An added bonus of this approach is its wide dynamic range (up to five orders of magnitude) for optimal quantitation.
BetaIMAGER systems are also extremely fast. 3H disintegrations are visible from the first frame and acquisitions will generally take between eight and 16 hours for low-energy isotopes to several minutes for high-energy tracers.
BetaIMAGER systems can detect beta radiation from primary emitters such as 3H, 14C, 32P, 35S and 125I, as well as secondary beta emissions from several gamma emitting radioisotopes such as 123I, 131 due to the real-time integration approach.
The BetaIMAGER TRacer is an extremely sensitive system within Biospace Lab's autoradiography range and is perfect for low-activity and low-energy samples.  Based on a gaseous detector, it has a large field-of-view of 250mmx200mm with the zooming, with 50µm resolution. This allows the acquisition of 15 microscopes slides, up to four Western blot, thin-layer chromatography membranes, or whole-body sections quickly and easily in one acquisition.
The Beta Imager dFine is designed for high-resolution imaging (down to 10µm) with a 32mmx24mm field-of-view. Based on a solid scintillator, it is the system of choice for positron emission tomography (PET) isotopes. The BetaIMAGER dFine can handle up to four microscope slides in an automated sequence.
Customer service and support
For more than 20 years, Biospace Lab has developed and manufactured imaging systems for top pharmaceutical companies, contract research organisations (CRO) and prestigious academic centers. Its wide range of products is supported by a dedicated team of highly trained engineers, physicists and biologists.
About Biospace Lab
Founded in 1989, Biospace Lab develops optical and particle detection technologies integrated into innovative molecular imaging systems. The company's strong customer base in the pharmaceutical, medical and academic sectors ensures its innovative solutions are relevant to the scientific community.
The company has a strong background in digital imaging and aims to consistently improve its portfolio to meet clients' expectations.
Biospace Lab's development and production facilities are based close to Paris, France, and has a large international distribution network across Europe, Asia and North America.