Medherant develops a drug adhesive platform for transdermal drug delivery (TDD) in the pain and central nervous system (CNS) sectors.
The company has its own product pipeline focusing on developing products with high unmet need in the pain and central nervous system (CNS) sectors, as well as developing new patch products for international pharma partners.
Aside from its exciting adhesive platform, Medherant has developed a high-throughput assay system, which allows it to formulate and test products in around 25% of the time usually taken when using traditional Franz-cell based assays.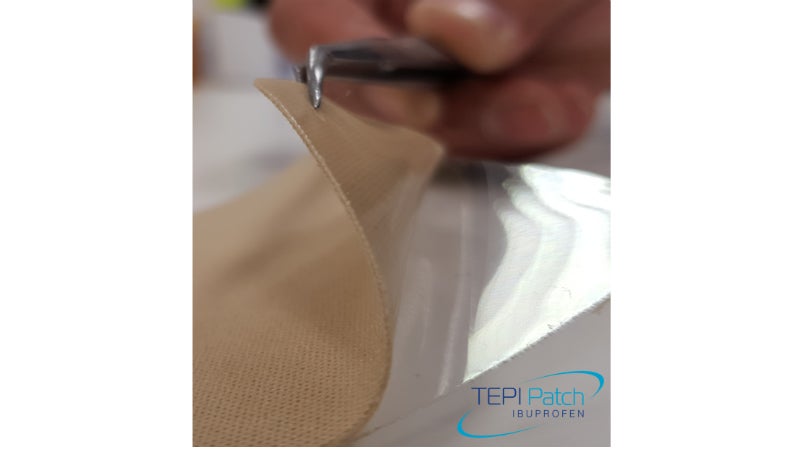 Medherant's 24h, 200mg iboprufen TEPI patch.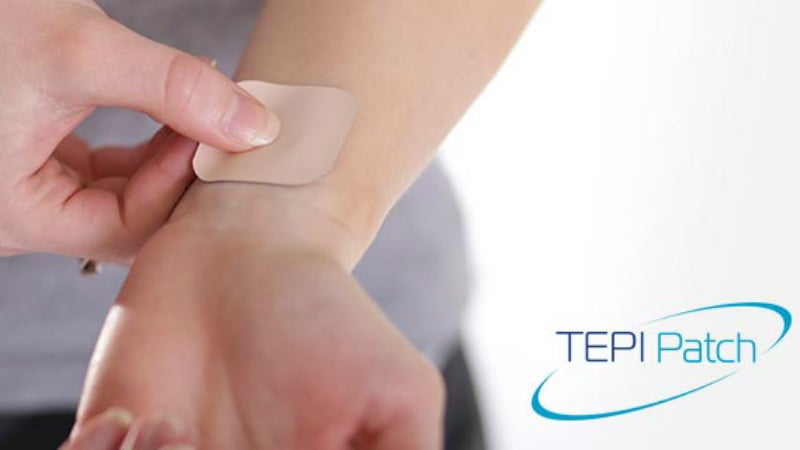 Medherant's patches are thin, comfortable to wear and water-resistant.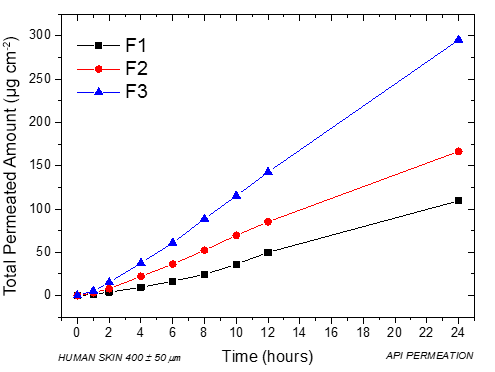 Results of a permeation enhancement study with different formulations of an Ibuprofen TEPI Patch (10wt% ibuprofen) using a skin-mimic (Strat-M) membrane.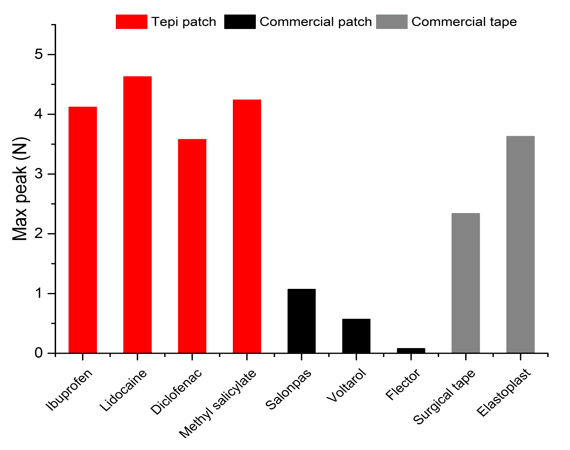 Comparison of the adhesion of a TEPI patch with commercially available patches using a standard in vitro method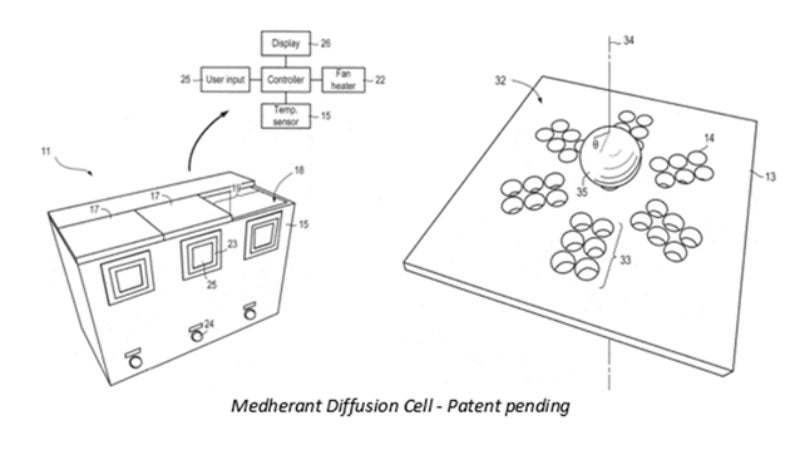 The company's high-throughput analytics allow it to formulate and test APIs in its TEPI system in a fraction of the time taken when using traditional Franz cells.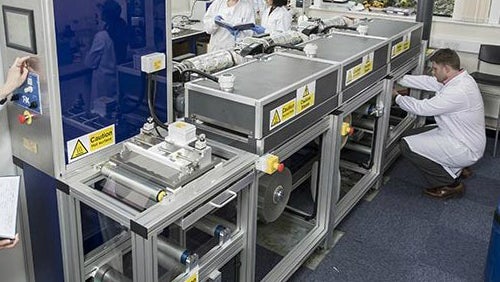 Medherant's non-GMP production.
It has a non-GMP pilot-scale patch manufacturing plant to assist with scale-up and technology transfer and to produce patches for pre-clinical animal studies.
TEPI patch drug adhesive platform for transdermal patches
Medherant's unique TEPI patch technology addresses most of the current unmet needs for transdermal products, offering:
Compatibility with a wider range of small-molecule drug types, including low-potency active pharmaceutical ingredients (API) and APIs that were not previously formulatable
High drug loading (up to 30% w/v)
Uses free base/acid for greater skin permeation and patch efficiency
Lower residual drug left in used patches
High adhesion
Water-resistant
No cold flow (does not leave black marks on the skin after removal).
Due to TEPI patch's simple design (API + excipients + adhesive), they are easily manufactured using a simple mixing procedure, which does not rely on solvents. This can reduce production costs and is more environmentally friendly than existing technologies, which need to have a solvent extraction (and incineration) step in their manufacture.
High-throughput analytics
To speed up its internal development processes, Medherant developed the Medherant Diffusion Cell, a high-throughput miniaturised and multiplexed Franz-cell system to be used for the in vitro estimation of API permeation across the human skin.
This patent-pending device is much easier to handle than traditional Franz-cells, has no inherent sampling error (due to the elimination of bubble formation), and allows Medherant's scientists to test 108 formulations per day in comparison to the 10-15 Franz-cell tests per day as typically run by other leading industry laboratories.
The platform has been fully validated against Franz cells and its use means that Medherant is able to generate a year's worth of data on any given API in under three months.
The Medherant Diffusion Cell has revolutionised how Medherant's formulation scientists work and has enabled rapid optimisation of transdermal and topical pharmaceuticals for its own product pipeline, as well as allowing it to successfully complete feasibility formulation studies for international pharma clients within much-reduced timelines.
Rapid feasibility studies of candidate APIs
Medherant's in-house formulation and analytical expertise combined with its proprietary high-throughput (HT) permeation system enables rapid analysis of candidate APIs in a fraction of the time in comparison to traditional Franz-cell methods. This means reduced timelines for product prototyping and finalising formulations, thereby significantly reducing the time it takes to get products into the clinic and then on to the market.
The company works with pharmaceutical clients to develop novel class-leading patch products across a wide range of pharmaceutical sectors. It offers three-month, stage-gated feasibility studies that will assess APIs in the TEPI patch system and working towards achieving a product specification as provided by client.
Pilot-scale transdermal patches manufacturing for pre-clinical studies
In January 2018, Medherant installed a pilot-scale patch manufacturing plant that is used to produce non-GMP patches for its own pipeline and batches of patches for its client's pre-clinical studies.
Medherant's customised manufacturing equipment has been specifically designed to mimic the equipment and industrial processes of its GMP manufacturing partner Adhex Pharma (Dijon, France), thereby easing technology transfer for production of clinical-grade GMP materials and commercial production.
To meet its own future demands and to expand their contract formulation service offering, Medherant plans to move into larger premises in 2020.
Drug adhesive platform with intellectual property protection
Medherant has strong IP protection and the unique nature of its TEPI patch platform offers the potential for filing novel product-specific formulation patents in the future and can be used as part of a client's product lifecycle management strategy.
Medherant is the exclusive global licensee for Bostik's adhesive and co-inventors with Bostik on the use of these adhesives for transdermal drug delivery. Further patent applications have been filed on the Medherant Diffusion Cell technology, formulation and process innovations and novel adhesives.
About Medherant
Medherant's ambition is to become the world's leading developer of transdermal drug products; believing that it has the unique technology platforms and technical and commercial know-how to make this happen.
Medherant was founded by Professor David Haddleton and the University of Warwick to develop and commercialise novel technologies for delivery of drugs via the skin using its world-leading expertise in bioadhesives and polymer chemistry. The company is based on the University of Warwick Science Park in Coventry, UK.
The company's first product is the ibuprofen TEPI patch, which has just successfully completed Phase I safety/irritancy and pharmacokinetic (PK) clinical trials. Its pipeline includes products for the treatment of Alzheimer's disease, chemotherapy-induced nausea and vomiting, nonsteroidal anti-inflammatory drug (NSAID) molecules for treatment of pain, as well as reduced abuse-potential opioid patches.