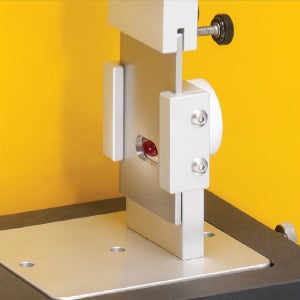 Brookfield has announced TA-BLS Bi-Layer Shear Jig for CT3 Texture Tester is now available.
The Bi-Layer Shear Jig is a guillotine type device used to measure the force needed to separate the layers of a multi-layer tablet.
A tablet is placed in the jig and the cutting plate slices into the tablet until the adhesion fails, measuring the force that will detach a multi-layered tablet.
The TA-BLS is a valuable tool for manufacturers who need to test the adhesion and composition of bi-layered tablets with time-released formulas.
The Brookfield CT3 Tester is the best value stand-alone instrument for physical testing.
The instrument combines simple operation with expanded test method capability and operates in compression and tension modes.
Brookfield offers more than a dozen test fixtures specifically designed for customers in the pharmaceutical industry and is constantly developing new accessories in response to client needs.
TexturePro CT software enables the operator to automate their test procedures and generate valuable analytical data.