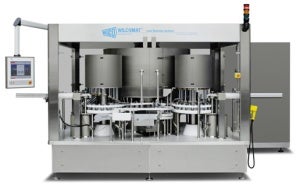 WILCO has manufactured the first ever high-speed, in-line leak testers for pre-filled syringes. The CCI technology used is based on WILCO's own patented vacuum based LFC (liquid-filled container) leak detection technology, which has been used for many years for liquid filled products, such as vials and BFS and is capable of testing up to 600 syringes a minute.
The actual machine will be exhibited at the upcoming ACHEMA exhibition in Frankfurt, Germany, from 18 until 22 June 2012. Please visit us at hall 3.0, in booth D47.
Operation:
The syringes are supplied to the machine hanging on the flange with the tip pointing down. A mechanically cam-driven system loads each syringe into a transportation puck. The pucks carry the syringes into the tester and directly underneath a test station, all continuously.
The puck is lifted upwards into the top test chamber, which then forms together with the puck a complete test chamber. The upper test chambers have an in-house developed mechanical stopper support system integrated, guaranteeing no movement within the stopper during the vacuum based test. While the stations are closed the leak test takes place.
After the test, the good syringes are unloaded from the pucks. All rejects (small and gross leaks) remain in the pucks and are rejected together with the puck. The empty pucks travel back to the in-feed section of the tester to be loaded again with new syringes.
The equipment has been thoroughly investigated and tested by a major European-based pharmaceutical company and has received a certificate 'ready to be used in a production environment'.
Key features:
First ever built, high-speed leak tester for pre-filled syringes
'No touch' syringe handling system, including a puck transport technology
Stopper is mechanically supported during the vacuum based leak detection cycle
Test capacities of up to 600 syringes a minute
Tested and released for a production environment by a major European pharmaceutical company
Can be combined with camera based visual inspection
The system follows strict GAMP design guidelines and 21 CFR part 11 regulations. All necessary qualification paperwork can be supplied, either in standard WILCO format or customized. A worldwide service network guarantees help when and where it is needed.
The south German special machine manufacturer Bausch+Ströbel extends its product range in filling and packaging...