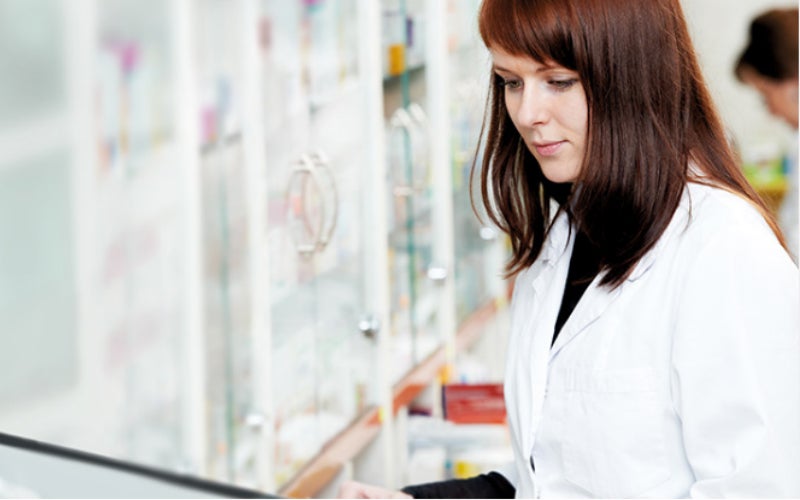 Essentra comprises three business units, which focus on supplying specialist primary and secondary packaging for healthcare products, producing filtration solutions, and offering a customised end-to-end production service covering manufacturing and distributing.
With a worldwide presence, the company works alongside its clients and suppliers to provide flexible products, which meet changing industry requirements.
Essentra's end-to-end production solutions are cost-effective and high-value, covering a wide range of customer needs from design and prototyping to manufacture and distribution. Its packaging solutions include fluid handling components and support services.
Secure primary and secondary packaging for pharmaceutical products
Essentra's packaging business unit provides primary and secondary solutions for healthcare products, which include on-pack security. The packs help ensure the effective delivery of many different pharmaceuticals in a range of shapes and sizes. The company also offers cartons, leaflets, labels, and specialty tapes for a full and dynamic range.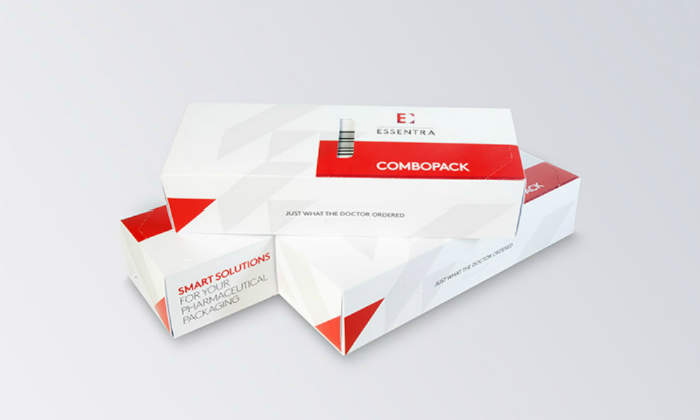 The COMBOPACK enables pre-loaded tagserts for reduced processing time and costs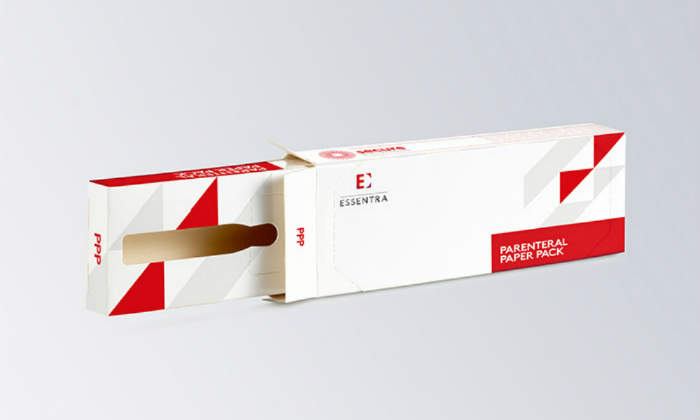 Fragile pharmaceutical products are locked into parenteral paper packs (PPP) for added stability and security.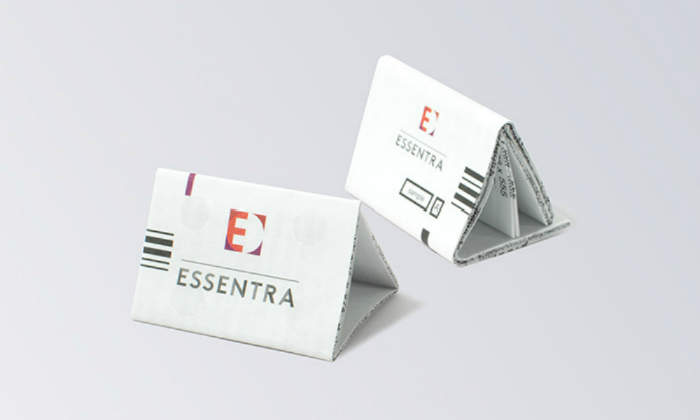 PIGGYBACK folded leaflets accommodate larger text sizes with no paper height or width modifications.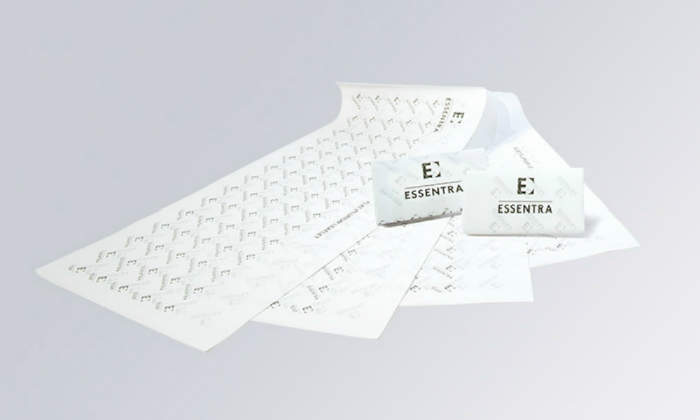 The Plurium folded booklet can be supplied with a board cover for easier processing.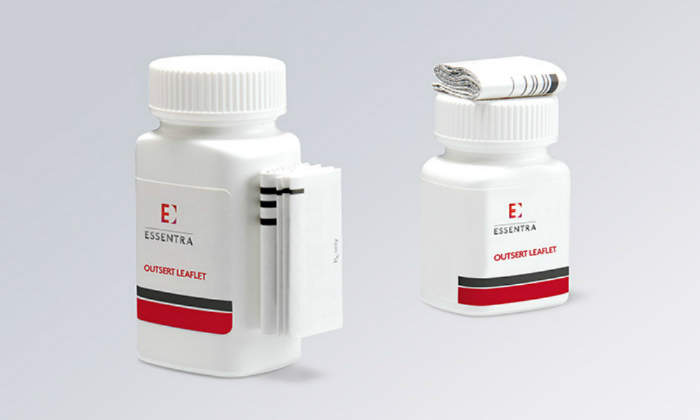 Essentra's inserts and outserts are available in up to eight colours
Digitally printed serialisation codes help protect Essentra's packaging from counterfeit.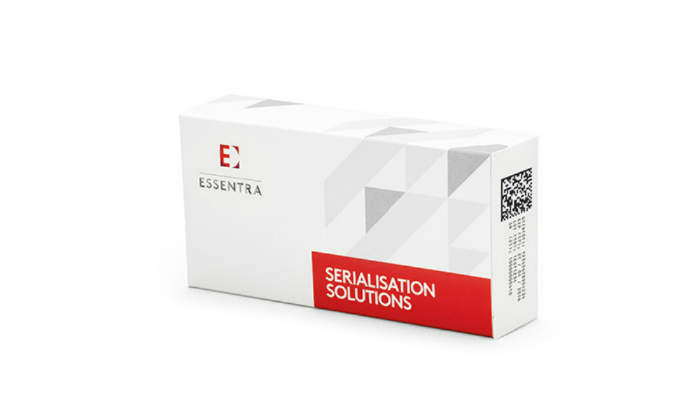 Item-level serialisation and a fibre-tear technology can also be applied to Essentra's labels.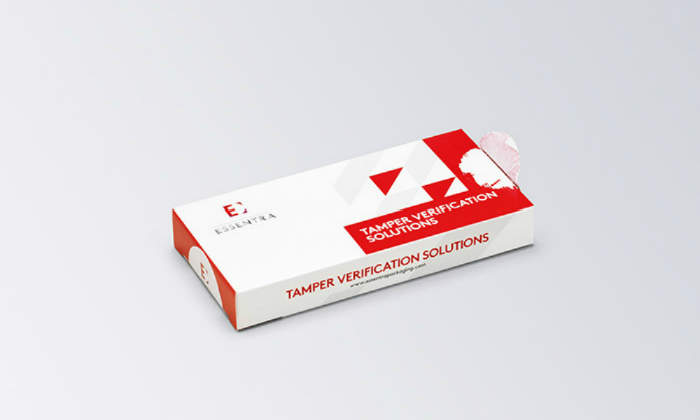 Labels are thoroughly checked for print accuracy, controlled from origin to final production.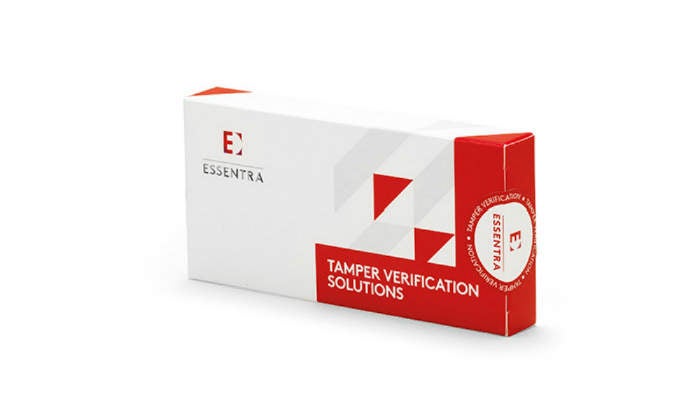 Essentra's frangible film labels disintegrate if they are removed from the cartonboard.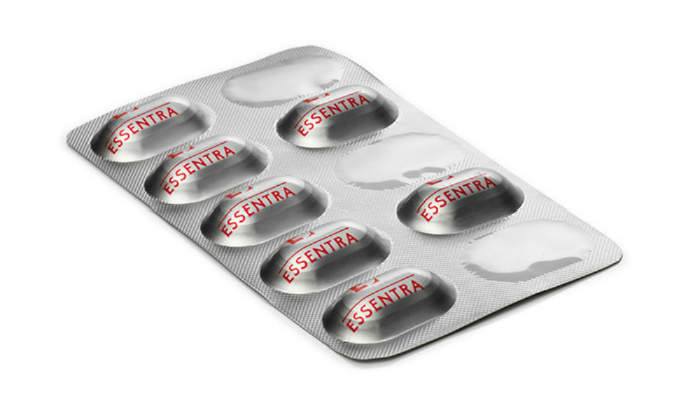 Printing options for blister foils include push-through, peel-push, tear-open, peelable, and child-resistant.
Packaging for fragile vials, bottles, ampoules, and syringes
Essentra's parenteral paper packs (PPP) are designed to display fragile products, including vials, bottles, ampoules, and syringes. Completely recyclable, the packs are pre-assembled using high-speed IMA SAFE equipment and have a minimum impact on virgin materials.
PPP are more cost-effective and feature high-stability to help lock the fragile products into the tray. In addition, the packs have paper foil and pre-cut labels for anti-tamper protection.
Cardboard and metallised board cartons for drugs and medicines
Essentra delivers cartons for use in the healthcare sector. Its range includes conventional cardboard materials and metallised board. Carton designs and prototypes are developed in-house using computer-to-place processing, die-cutting, and blanking techniques.
Both sides of the board allow for printing using both ultraviolet (UV) and conventional ink, as well as water-based coatings. For added security, the labels have anti-theft features and the packaging is anti-counterfeit using authentication technology.
An additional service for carton manufacture is Essentra's ComboPack™. This option provides cartons with a cross-folded, tagserted leaflet. Preloading in this way saves time and costs, as additional folding is not required further down the production line. The tagserting system comprises a leaflet placed inside the carton using soft-release glue. It can then be extracted without tearing, but remains secure throughout transportation and display.
Leaflet and booklet printing for insertion into healthcare packaging
Essentra provides a range of printing services for the healthcare industry, including production of leaflets, booklets and inserts for pharmaceutical packaging.
Printed on both reel and flat sheet offset litho presses, Essentra's basic leaflet is produced on high-speed lines and is quality tested for high-consistency. Large leaflet sizes can be accommodated, as well as prints in multiple languages. Leaflets can be folded, flat, or on-roll.
PIGGYBACK offers the gluing of two or three folded leaflets back-to-back. This allows a large amount of information to be printed without increasing the leaflet's length or width. This technique can also be used if larger text is required on a smaller paper.
For the display of large volumes of text, the Plurium multipage booklet can accommodate a variety of font sizes and text lengths of up to ten printed pages. These can be colour-coded and are glued at the spine. The lack of staples means there is no risk of rust in humid environments. This flexible booklet can be offered in parallel-folded, cross-folded, tagserted or outserted in flat or reel form. It is compatible with the company's ComboPack technology and has a patent for several regions.
Protecting pharmaceuticals from counterfeiting with serialisation
Essentra offers serialisation solutions to address the growing threat of counterfeiting. Serialisation allows for a pharmaceutical product to be tracked, traced, and verified using unique codes digitally printed onto the pack. A key data management system ensures that serialisation numbers are not duplicated, which is verified with post-print checks. Readability is also addressed for high-consistency. Once an identification code has been used, it is recorded in a report for future reference and any further checking.
Serialisation is available for Essentra's cartons and labels, with overt or covert authentication technology. Labels also are available with fibre-tear tamper-verification technology.