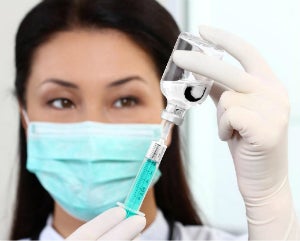 The new Gx MultiShell Plastic Vials overcome the specific limitations of plastic vials and combine superior properties of plastic and glass containers to a high-end container for parenterals.
For this development, Gerresheimer has received the German Packaging Award 2011 in the Retail Packaging category for these vials which offer previously unattained levels of safety for parenteral drugs.
New products urgently demand new packaging solutions. For this, innovative multilayer vials have been developed which consist of a unique three-layered structure. It has been managed for the first time to adjoin the inner and outer layer made of COP with a middle layer made of polyamide. This combination improves the oxygen barrier properties by 40 times that of conventional COP monolayer vials, whilst retaining the COP material advantages.
The high-shock resistance of the three-layer structure makes the container more robust than ever before. As well as this, the COP contact surface improves the stability of highly-sensitive medication and reduces the interaction between medication and packaging to a minimum. This is a real progress in the name of health.
The COP contact surface improves the stability of sensitive drugs because of the absence of heavy metal ions in the polymer and the very unpolar and inert surface which reduces the drug-container interaction. They can be used for parenteral formulations of a wide pH range and provide a solution for such drug formulations which attack glass surfaces and generate glass particles by delamination.
The Gx MultiShell vials are designed accordingly to the ISO standards meaning that the usability of standardized rubber closures and seals is guaranteed. Additionally the materials fulfill the most stringent requirements for biocompatibility and pharmacopeia requirements for pharmaceutical packaging made from plastic.
Gerresheimer is a leading global partner to the pharma and healthcare industry. With specialty glass and plastic products, the Company contributes to health and well-being....
Gerresheimer is one of the leading specialists for the production of high-quality glass and plastic products for the international pharmaceutical and healthcare industry.
During the Covid-19 pandemic, Gerresheimer is focusing on aspects including business continuity, customer demand, and supply chain. In 2019, we paved the way for profitable...