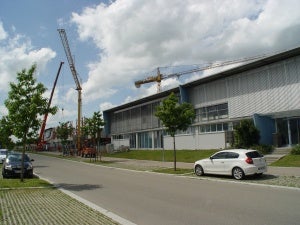 With the introduction of a new worldwide corporate logo at the beginning of the year, the new brand strategy of the Optima Group moves to the forefront. Name changes, effective on 1 July, underscore the continued integration of the subsidiaries to depict a clear structure. Business units will not only thus bear the same logo worldwide, but also the same name with additions to show their target markets. Kugler GmbH, S.F. Vision GmbH, Stern GmbH and a division of the OPTIMA filling and packaging machines will combine to form OPTIMA consumer GmbH. Further business units at Optima will also be renamed.
Optima consumer today employs over 250 packaging specialists and presents a broad range of machines, in addition to concentrated know-how for liquid and dry products. Machine solutions, including turn-key lines are available for nearly every application.
S.F. Vision GmbH, to date under the primary ownership of the Feuchter family, will become a part of the new OPTIMA consumer GmbH of which the Feuchter family will retain partial ownership. The future directors will consist of Martin Sauter (sales and service) and Rainer Feuchter (engineering and manufacturing). Significant growth is anticipated in the upcoming years. Extensive expansion already underway will provide the necessary space. By the end of 2012, all business units will be united in one location.
Optima consumer is currently housed in a new office complex of 4000m2. In the fall of 2011, the new 4000m2 assembly hall was inaugurated. Approximately 3 hectares of development land in the immediate vicinity were secured by Optima last year to allow for future expansion of both the consumer and pharma business units.
Optima is currently active in 4 business areas: pharma, consumer, nonwovens and life science. Medicon GmbH and the Doyen brand have been merged to form OPTIMA life science GmbH. The new corporate structure of Optima and the optical facelift are a sign of the strength of a healthy, international company employing 1500 people worldwide.