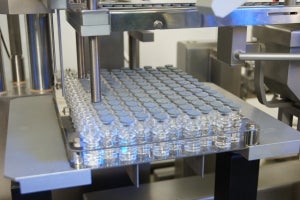 Optima is presenting a selection of its comprehensive line of packaging machines for Pharma, Consumer and Nonwovens. The Pharma exhibit displays a variety of methods for processing liquid and powdery medications.
They are supplemented by some of the latest developments, such as freeze-drying and isolation. There is also a filling machine for viscous food products, demonstrated here using hazelnut spread, an extremely versatile assembly and closing machine, a cartoning machine with an especially gentle mode of operation, and also a stacking wheel for thin products such as wound dressings and panty liners. These machines are frequently components in Optima's complex turnkey projects.
Optima Pharma's INOVA VFVM2000 is also on display. This is a fully automatic filling and closing machine for vials. Output is as high as 2,000 vials/h, depending on the container, product and dose. It is suitable for fairly small batches, laboratory, and development applications, due to its broad formats ranging from 0.1 to 100 ml. This machine can also be set up for filling under vacuum and 100% in-process controls.
Visitors to the Emballage Exhibition will also be able to see the INOVA SV122 as a modular system. This type of machine is extremely compact and flexible. It is used more and more frequently to process bio-technological medications. Vials or nested pre-filled syringes, rotary plunger pumps, peristaltic pumps, mass flow rate and time pressure systems are ready for operation. And the options in pre and post processing likewise leave nothing to be desired. Very high sterility requirements are fulfilled when it is equipped with an isolator. The format range up to 50 ml, with outputs of up to 4,800 syringes/h with the 2-lane model.
The OPTIMA SHF8 from Optima Consumer, likewise on display, is an eight place filling machine for viscous products which will be used to process spreads for food items after the exhibition. Outputs of up to 90 jars/min are achieved with filling weights of 500 and 250 grams. Its filling precision is srel +/- 1%. The machine is designed for filling volumes of up to 720 ml. Next year this machine will be used by a customer in connection with an OPTIMA Rotocap closing machine as a complete production line.
On the other hand, the OPTIMA SD auger filler is appropriate for powdery and granular products. This machine can be operated volumetrically or gravimetrically with a shut-off scale. Special options for the areas of food products, pharmaceuticals and chemicals ensure that filling is ideally matched to the product and that the quantity filled is reproducible and of extremely high precision.
Optima Consumer will also be displaying their OPTIMA CMF cartoning machine. Its modular construction offers ultra-high flexibility. Its especially gentle mode of operation leads to very high product quality and also results in fewer rejects. Applications in the cosmetics industry, among others, require frequent format changes which can be carried out with the CMF series very precisely, either semi or fully automatically, and in minimal time. The model on display has a stamping as well as a pick & place station with which the products can be inserted into open folded boxes. Its output is as high as 200 boxes/min. The CMF can be ordered with accessory modules for booklet dispensers, labelers and others too.
The KUGLER Flexocap assembly and closing machine achieves outputs of up to 70 pieces/min. Its layout has been designed for very good cleanability and accessibility, as well as rapid format changes. This machine complies with the FDA's cGMP requirements and handles all common closures, i.e. stoppers, droppers, reducing rings, spray pumps, brushes, screw caps, crimping caps, pipettes and many more. This machine can also process aluminum and plastic foils with temperature or induction sealing. It is designed for container diameters of up to 100 mm.
The SIEREM PS 800 stacking wheel receives thin products such as panty liners. This model is also used for modern wound dressings, similar to the ones that are manufactured and packed with machines from the Optima Life Science area. The products are conducted, as needed, into the secondary packaging process from this interim storage. This stacking wheel can also act as a buffer between production and packaging.
OPTIMA at the Emballage Exhibition. November 19-22, 2012, Hall 5a, Stand G047 and representation Serpac Hall 5a, Stand F056.