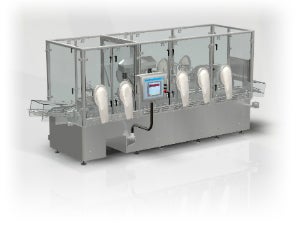 OPTIMA H4, a new type of filling and closing machine, will be presented at Optima Pharma's booth at Interphex 2015 in New York.
The company will be at stand number 3103 from 21-23 April 2015.
OPTIMA H4 is easy to operate, accessible, and reliable with low space requirements. Extensive standardisation in the development of OPTIMA H4 allows the pre-manufacture of modules, resulting in time and cost benefits.
Nested vials, syringes and cartridges are all processed. Opening the tubs and removing the Tyvek® papers can be done, if required, by a robot. The robot is already installed in the area of the filling machine, which saves space.
Semi-automated systems can also be integrated, with several options for containment. Regardless of the isolator, all systems can be fitted to the standardised machine baseplate.
For filling, a ten-position system and rotary pistion pumps is provided, as well asperistaltic or time-pressure filling systems that can be added at any time.
The transport system of OPTIMA H4 originates from high performance machinery. It was simplified mechanically to ensure careful handling of containers.
A high output rate of up to 24,000 objects per hour is achieved. Retrofitting can also expand output up to 36,000 objects per hour. The same applies to upgrading in-process controls (IPC) and for vacuum filling and vacuum stopper insertion. Both can be supplemented at a later date, without requiring changes to the machine baseplate.