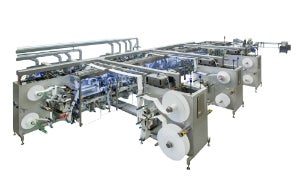 Optima Life Science will be represented at CompaMed from 16-19 November and exhibit three displays.
The company will be at booth J12 in Hall 8a.
With the Medicon ImmuCoat system, Optima Life Science shows a modular and scalable system for automatic coating of microtiter plates for the manufacture of ELISA test kits.
All basic modules can be combined as desired and the system is equipped with 'plug and play' architecture, allowing modules to be connected together in a simple way.
Almost any product batches can be managed simultaneously and processed without the risk of mix-ups. The system can also accommodate special modules for drying and for short or long-term incubation, and has a range of packaging ¬functions.
A cutting and placing module underlines the competence of Optima Life Science in-line processing of advanced wound care. The module is characterised by a several new details. With this system, precise placing at extremely high speeds can be achieved.
In addition, format changes can be carried out in the shortest possible time with total reliability. The company offers various machine platforms, including machine lines constructed completely in modular form.
In the case of the MEDICON MDC 300 Vario, functions and procedures can be configured by the machine operator. This machine type is especially suitable as a development machine line and for quick market introduction of new wound products.
MEDICON MDC300 advanced machine lines are designed for top performance. Together with the converting production processes for layered products, in-line primary and secondary packaging processes can also be optionally integrated in the machines.
At an interactive terminal, Optima Life Science presents the software solution OPAL. This software serves to evaluate the performance of numerous machine lines, calculate the probability of error occurrences and identify potential areas for improvement.
Economic efficiency of production is made transparent. Moreover, OPAL also serves to optimise planning and procedures. The software communicates with other systems typically used in companies for data processing, such as the ERP software SAP.
In addition, Optima Life Science will provide information on machine lines for the processing and packaging of oral dispersible films. These thin films contain pharmaceutical active substances, which dissolve in the mouth without water.
Visitors are also introduced to converting lines for transdermal patches.