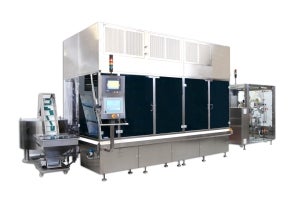 Optima Pharma is the leading turnkey supplier for pharmaceutical filling and packaging equipment. The process chain encompasses the complete upstream and downstream process, including e-beam decontamination, isolator technology and barrier systems, and freeze dryers with automatic loading and unloading systems.
With the help of the ExCube, Optima Pharma invites visitors to an interactive, 3D virtual tour of the high tech processing lines. 'Flying' along the line, stopping to take a look at individual functions – even those normally hidden from the outside – everything is made possible. Three filling lines demonstrate a portion of the abilities of the turnkey supplier.
The first among the three is a complete line for filling and closing ready-to-fill syringes with a gel-like product. Two different filling systems on the same machine are one of the highlights. The time pressure dosing system can be changed out with a rotary piston pump filling system as needed, and vice-versa. Filling and stopper setting can both take place under vacuum. The line also utilizes e-beam decontamination of tubs, while an open pressure regulated RABS ensures clean room class-A conditions in the filling and closing section.
Particle monitoring and the air handling system for not only the line, but also the production rooms, was delivered by Optima Pharma. The line processes up to 36,000 syringes per hour, and is operable with filling volumes from 0.5ml to 10ml.
Diversity in vial processing is shown by a second line example, which comprises a washing machine, sterilization tunnel and filler with 100% in-process control. The liquid pharmaceuticals can be purged with nitrogen from filling right up to completed stoppering.
A second operation mode allows for lyophilization stoppers to be placed, and the freeze drying process can be easily integrated. Returning from the freeze dryer, the vials re-enter the line in the opposite direction they exited, and are directed to the capping unit and tray loader. Vials sizes 2R to 20R can be processed on the line at output rates of up to 12,000 vials per hour.
A third machine shows another facet of Optima Pharma: machines for processing diagnostic products. The Linoline fills each of the 12 cavities in a cartridge with unique fill volumes and products. Twelve independently servo driven peristaltic pumps fill at 12 different stations.
Each station has its own servo driven nozzle movement. All parameters are freely programmable and can be stored and retrieved per format memory. Additionally, the line performs 100% in-process control on each cavity by using 13 weigh cells. The tinted machine enclosure allows the filling cabin to operate in near darkness to protect the light-sensitive products being filled. Depending on the product, a selection of different lidding foils can be processed on the machines to seal the cartridges.
Meet Optima at Interphex 2012 in New York, from 1-3 May, at booth 2233.