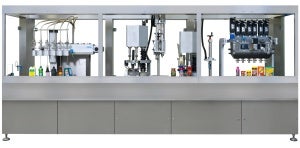 When chemicals, foods or cosmetics are to be batched and packaged Optima solutions is the answer, providing premier packaging systems for fluids, pastes and dry products.
The Moduline, to be presented at Hispack 2012, Barcelona, as a 1:1 model, is a modular design machine system with the highest level of flexibility taking on both dosing feeders and auger fillers.
The output of the Moduline can also be doubled from 60 to120 containers/min retroactively and without extensive modification work.
Systems for pre-processing and post-processing are also available, including a blow-out unit, automatic weight controls for full weight optimisation, and punch and sealing stations for foils.
Optima also offers future-oriented packaging technology for coffee portion packs, cartoners and other high-precision metered dose solutions. Optima also supplies combined production and packaging systems for air and water filters.
Optima Consumer will be exhibiting at Hispack 2012, Barcelona, 15-18 May 2012, in hall 3 at stand 221.