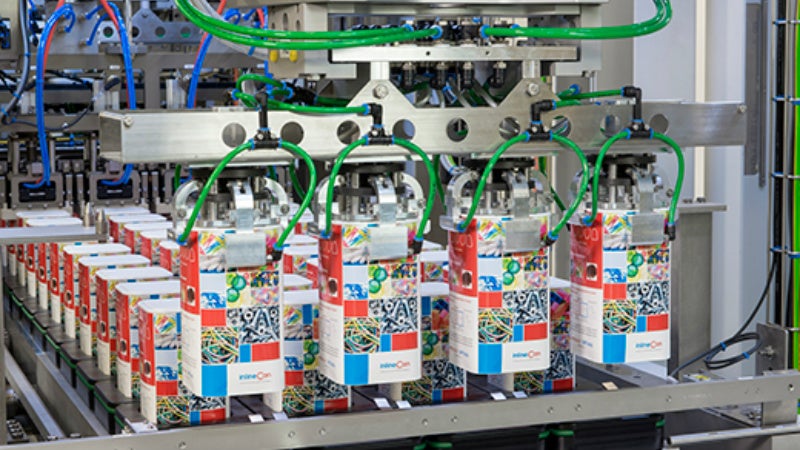 Optima has strengthened its machine range with new entry-level solutions, including OPTIMA FM1 and CM1.
These new flexible and completely attuned filling and closing systems can also be used as stand-alone units. Optima's presentation at FachPack will also include the InlineCan, the cardboard can manufactured on site.
The new OPTIMA FM1 for liquid to pasty products is ideal for the food, cosmetics, and chemical industries. Two different pump systems ensure a wide range of applications, high-filling accuracy and very gentle product handling. The OPTIMA FM1 processes a filling volume capacity of up to 1,000ml at a maximum output of 90 containers/min.
The OPTIMA CM1 compliments the FM1 in terms of closing technology, with the flexibility to be configured or expanded for a range of closure types such as stoppers, droppers, screw caps, snap-on caps, and crimp seals. The machine can be expanded with a second workstation and all controls are located beneath the machine plate in accordance with GMP compliance.
The FM1's output is up to 45 containers/min and installation, format change, and operation via the HMI is quick and easy.
These entry-level machines are built in serial production, to minimise lead-time while maintaining the highest quality standards.
At FachPack, the Optima Moduline is equipped with the multi-carrier transport system from Siemens. Transport systems driven by linear motors move adaptably to the individual process steps, such as filling, closing, and labelling. The carriers are loaded and unloaded from the system on demand, and can be fitted with magnetically connected format pucks.
The system is excellent for small batches as it can be quickly converted for different formats, product types or seasonal requirements. Visitors at FachPack are able to personalise labels for individual bottles, which will then be applied directly by the Moduline.
Optima will also present the new InlineCans. These cardboard cans are manufactured, filled, closed, and processed through final packaging in one continuous process. It therefore has substantial storage and logistic benefits. The high-quality and custom design presents a prestige package at the point-of-sale. A unique and innovative machine concept, The InlineCan was designed in cooperation with Hörauf. The SoftCan also follows a similar principle.
The OPTIMA SD €co auger doser is the company's semi-automatic entry-level solution for powder products, with a dosing range of 50g to 5,000g. The machine achieves very accurate dosing results using shut-off scales.
Optima Consumer will also be at FachPack to provide detailed conversations regarding packaging solutions for food, cosmetics, and chemicals.