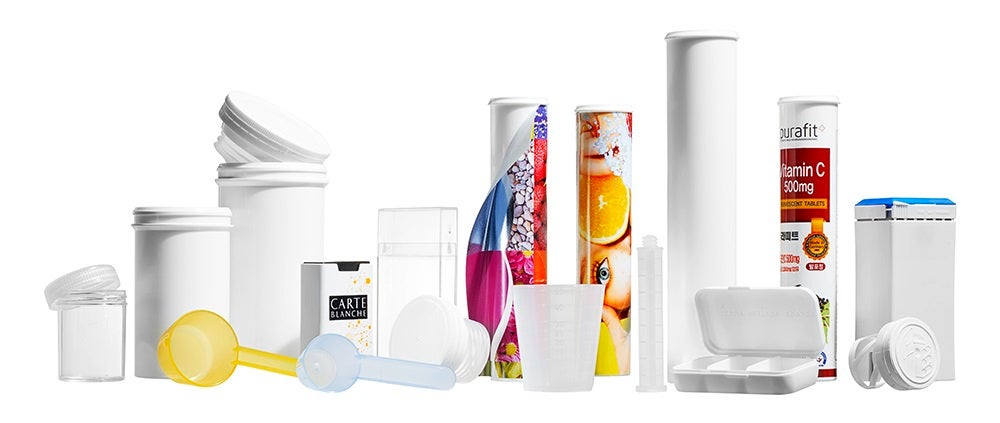 JACO is a provider of flexible plastic packaging solutions used throughout the pharmaceutical industry for items such as medicines, drugs, and vitamins.
Customised solutions are available to meet the demands of highly specific products.
Due to the company's high real net output ratio, JACO develops solutions for a diverse number of areas.
Customised plastic parts for customer-focused packaging
JACO works closely with clients and provides advice at an early stage of development for new products. This ensures the best results for design, material selection, and costs.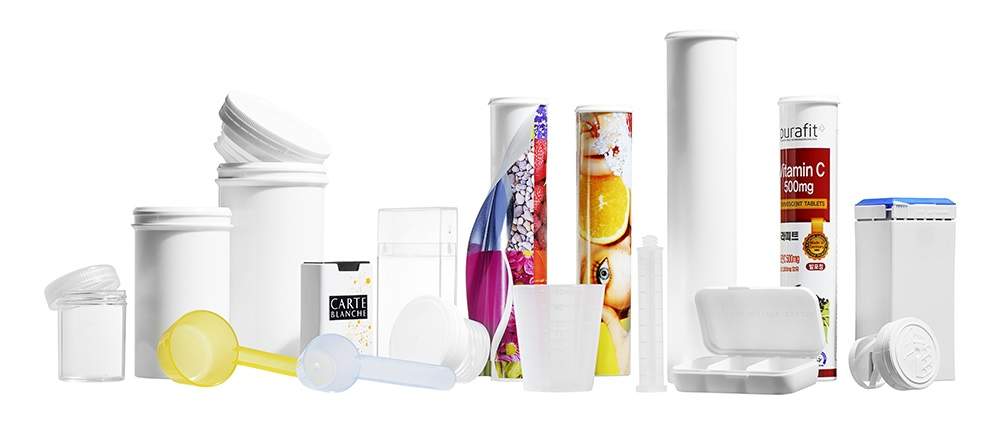 JACO is a provider of flexible plastic packaging, which can be customised according to client requirements.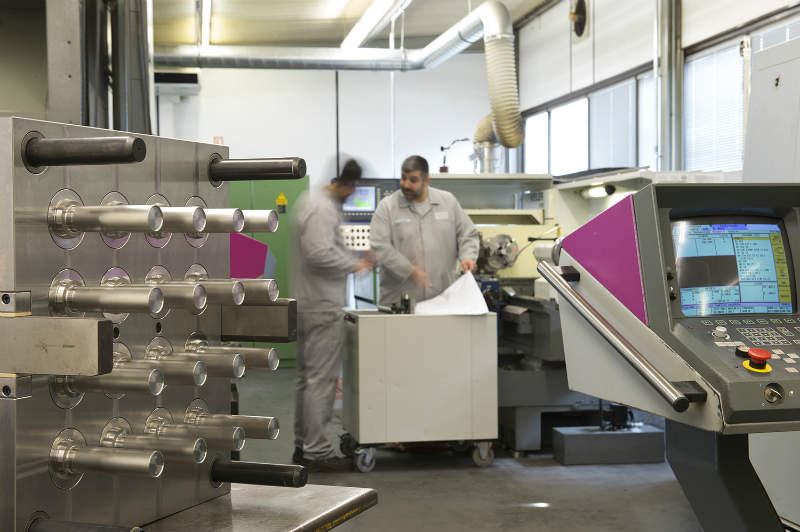 With our in-house toolmaking department, we manufacture and maintain tools for a variety of standard tube-shaped packaging, commonly used for effervescent tablets.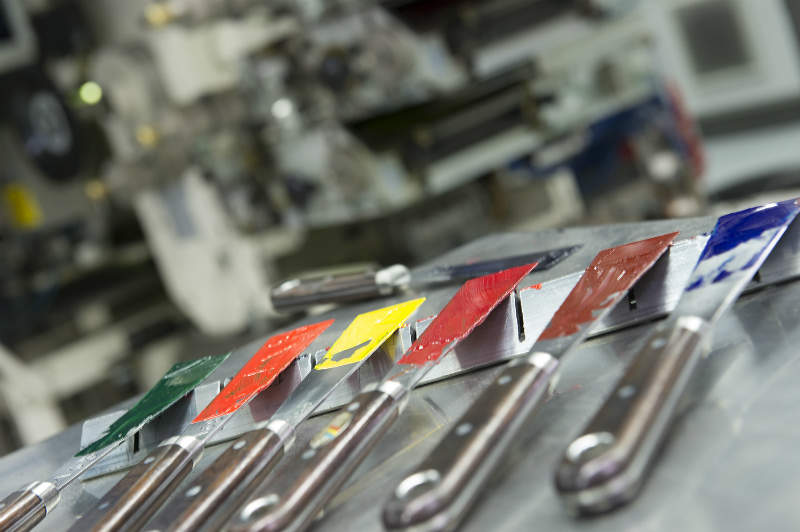 Inks and varnishes are available in a wide range of colours to match exact brand preferences.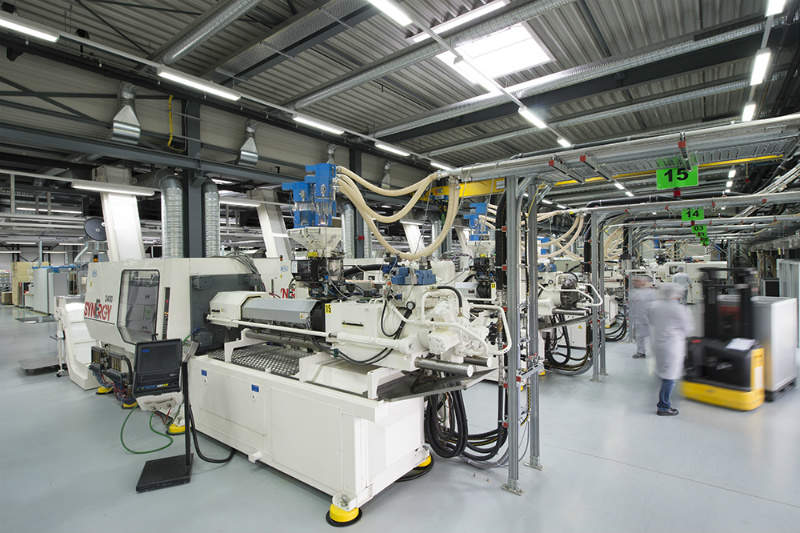 A number of plastic parts can be manufactured using our injection-moulding machines.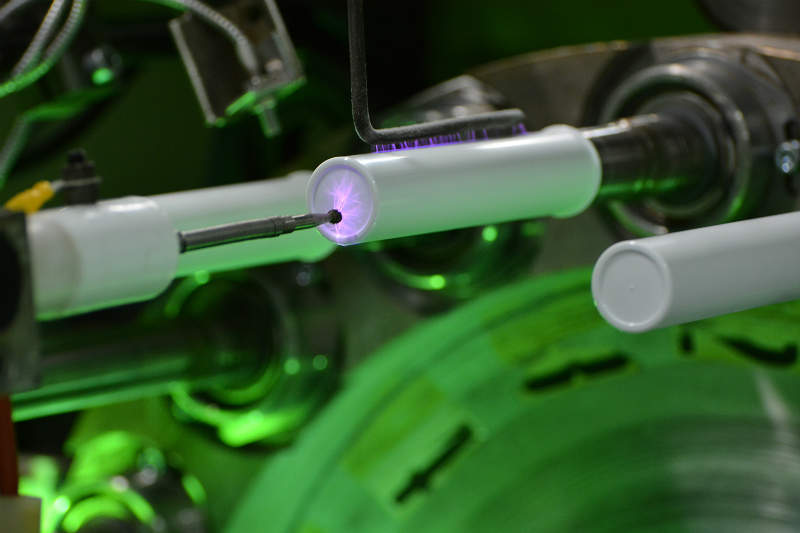 Our in-house experts in printing and graphics designers work closely with clients during production to ensure products meet their expectations.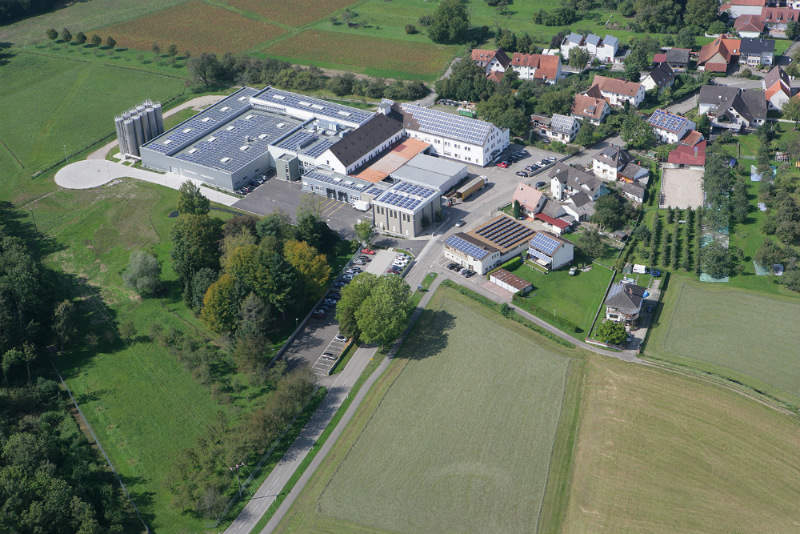 JACO takes its environmental responsibilities seriously by recycling as much waste as possible. Its manufacturing facilities in Kehl-Leutesheim, Germany, are fitted with a number of solar panels.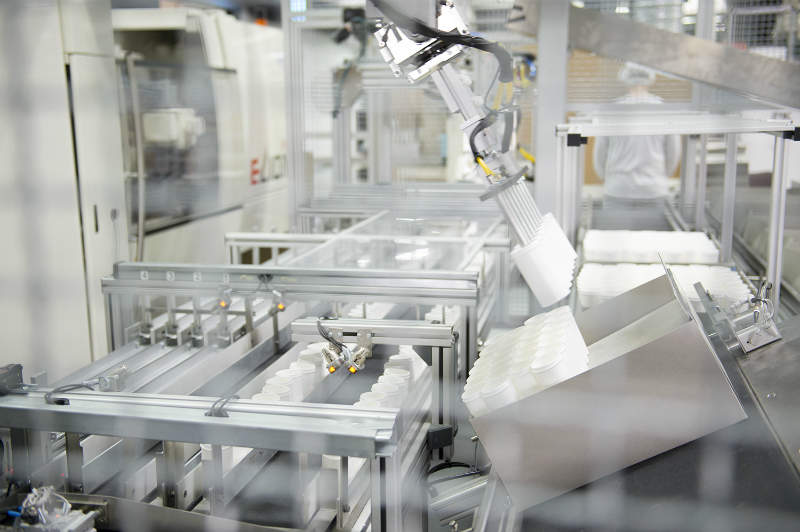 With our experience in robotics, we are able to handle our products full automatically on request.
Packaging for effervescent tablets and pillboxes
For effervescent tablet packaging, JACO offers a wide range of standard tube-shaped products without having to produce new injection tools.
The company's product range comprises more than 250 different formats, in diameters from 14.5mm to 61.6mm and lengths from 27.0mm to 198.6mm. Various closure systems are also available to meet your requirements.
All parts comply with current food guidelines such as the European directives 1935/2004/EG and 10/2011/EG. In addition, products are manufactured according to the British Retail Consortium (BRC) standards for protection and hygiene.
Complying with good manufacturing practice (GMP) standards, JACO produces both printed an unprinted packages for various applications, from tablet packaging through to pillboxes. The company also customises solutions for applications such as the packaging of test strips.
Flexible production with short lead-times for printing and unprinted tubes
At JACO, each part is produced in processes that are clearly defined and carefully monitored. Parts can be delivered with optional prints or decorated according to specifications. Depending on your requirements, you may choose to letterset print the tubes with up to eight Pantone colours or decorate them with CMYK motifs using in-mould labelling (IML) technology.
For both printed and unprinted tubes, there is the option of having them arranged side-by-side, with openings showing upwards, requiring an additional processing step using a packaging machine, or having the parts delivered loosely in bulk. JACO guarantees reliable batch production of your parts at fair prices.
Injection moulding security and traceability
JACO produces various plastic parts using its injection-moulding machines, with closing forces of 100t to 320t. As well as polypropylene with and without colouring, polyethylene, and polystyrene, JACO is also able to process other plastics.
Ten silos, each with a volume of 60t, allows order-independent material stock, ensuring granulate is stored cleanly and securely. Batch-related traceability throughout the entire production process is also safeguarded.
JACO ships parts in a multitude of different box sizes to meet your requirements. Boxes are shipped on standard Euro pallets and exact specifications can be met for pallet heights.
To make sure the goods arrive at your premises safely and cleanly, each pallet is fully shrink-wrapped with foil to completely seal it.
Printing and design services for packaged goods
JACO is a printing expert and it has an in-house graphics department to help guide clients and suggest the design and print methods to best suit their application. In indirect offset printing, each colour is individually transferred onto a printing plate and then onto a rubber blanket. From there, the entire image is transferred onto the part to be imprinted.
Unlike other methods, such as screen or pad printing, indirect offset printing allows a higher speed and is particularly suited to medium-sized and large batch volumes. In addition, it is completely viable to print in special colours from the Pantone scale.
With a total capacity in excess of 300 million parts per year, JACO is able to process orders quickly and flexibly.
In-mould labelling printing services
The mould labelling (IML) process enables things not possible in traditional printing. It allows for high-quality at the point-of-sale and is particularly suited to optically demanding products. Advantages include:
High printing resolution for photorealism
Metallising effects
Peel-off labels
Glossy, matt, and rough effect options
Products labelled partly or entirely
Double-sided labels
Primary packaging manufacturer for the pharmaceutical industry
Being a manufacturer of primary packaging for the pharmaceutical, food, and cosmetics industries, JACO considers itself to be a link in the value-added chain, for which its customers can fully rely for quality and product safety.
To warrant this, the company keeps improving its integrated management system. The specifications of DIN EN ISO 9001, EU GMP guidelines and BRC Global Standard for Packaging and Packaging Materials are adhered to consistently. Batch-related traceability is also ensured for the entire production process.
Eco-friendly packaging solutions
JACO exclusively uses materials that comply with requirements of both national and international environmental standards. Its materials contain no substances of very high concern (SVHC) according to the appendix of the Reach directive, or any impermissible heavy metals as specified in 94/62/EC regulations. JACO will gladly confirm the absence of other impermissible substances on request.
In addition, the company's printing inks and protective varnishes are of low-migration grades. Conformity with respective European jurisdiction is verified at regular intervals. In product design, JACO makes sure only the absolutely necessary material quantity is processed in packaging.
It is the primary objective of JACO to keep reducing production waste as much as possible and when it does occur to recycle it in an environmentally compatible way.
CAD designers and in-house tool shops
With its team of CNC designers, tool makers and cutting machine operators, our in-house tool offers services such as:
Computer aided design (CAD)
computer numerical control (CNC) turning, cutting, and grinding
Deep-hole drilling
Industry training for mechanics, cutting machine operators and print media engineers
Being a recognised training company by the chamber of industry and commerce, JACO trains its own experts and keeps them a long time due to a low staff turnover. The company trains the following occupations:
Industrial electronics engineers
Cutting machine operators
Tool and die makers
Industrial mechanics
Process mechanics in plastics and natural rubber
Print media engineers