Körber, a division of Körber Medipak Systems, NA provides state-of-the-art, automated packaging and handling equipment for the pharmaceutical industry, with a focus on efficiency, quality and reliability.
Körber offers creative design, flexible solutions, and responsive customer service to exceed client expectations.
Syringe Transport Systems
Körber's syringe transportation systems provide lane management and overhead conveying, as well as complete non-contact operation and syringe buffer systems.
Syringe Transport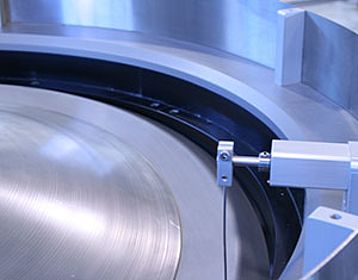 Fargo offers innovative designs, as well as flexible solutions and receptive customer service.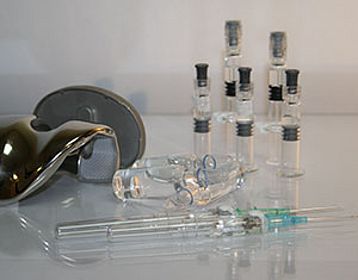 Clients have the opportunity to customise and provide design input to meet specific needs.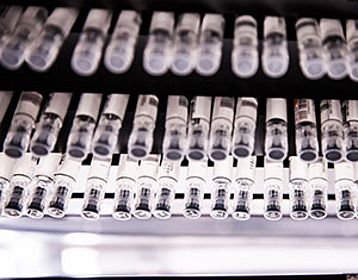 Our technicians assemble machines and train operators at customer facilities.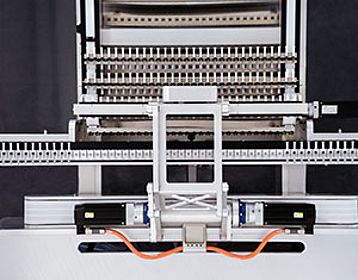 Fargo's syringe transportation systems offer lane management and overhead conveying.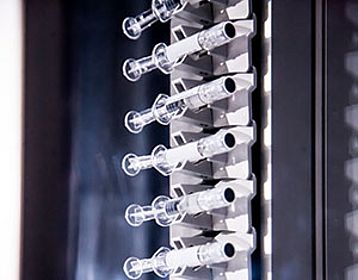 Our machines come with Allen-Bradley controls to provide users with full process control.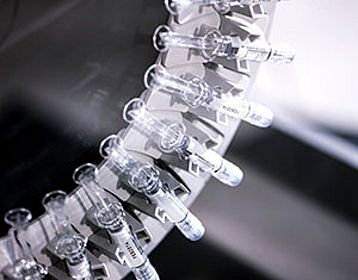 For more than 25 years, Fargo has been offering packaging and solutions to the pharmaceutical industry.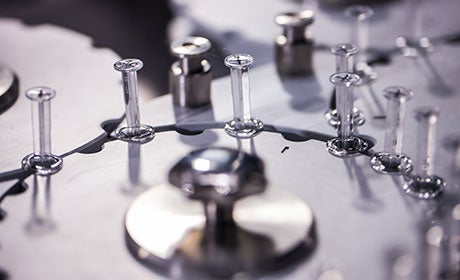 We are a division of Körber Medipak Systems, delivering tailored solutions and services to clients across the world.
The non-contact syringe conveying system is specially manufactured for accurate syringe handling, with flexible configuration. Advanced non-contact syringe transport removes interaction between syringes as they are conveyed throughout the manufacturing line.
The product's design flexibility enables any equipment layout and the option to carry syringes overhead, freeing up beneficial floor space. Each system is specifically designed for current good manufacturing practice (cGMP) atmosphere with easy access for observing and cleaning.
Syringe Lane Management
Equipped with load levelling, the syringe lane management system has the ability to merge and separate the flow of syringe production. The system provides flexibility to run multiple syringe lines at once. Numerous input and output lanes source each downstream machine with syringes upon request and decoupling equipment to redirect syringe flow.
In-feeds and out-feeds can be integrated to both upstream and downstream equipment, including custom parts and full controls to ensure the line operates resourcefully.
Syringe Accumulator
Körber's accumulator enables decoupling of the syringe line to allow stops and starts of the line without disturbing the performance of adjacent equipment. Depending on the platform, accumulations levels can range from a few hundred syringes to several thousand.
The equipment controls allow full operation of the process and seamless integration between machines.
Blister Accumulators / Sleevers for the Pharmaceutical Industry
Körber's blister accumulator / sleever can accumulate and sleeve incoming blisters. There is the option to bypass sleeving, allowing the product to continue directly to a secondary packaging if requested.
This product is designed for ease of use and operates at high speed with optimal runtime. The blister accumulator/sleever controls are easy to support, sustain and incorporate with both upstream and downstream automated equipment.
The machine has a clean design with a simple changeover, requiring no tools. Most parts can be replaced in minutes with no adjustments necessary. Programmable logic controller (PLC) format changes are carried out through human-machine interface (HMI) controls which are informative and easy to navigate.
Outstanding Customer Service
Körber offers clients an opportunity to customise equipment to meet individual requirements. Throughout the design, clients will be consulted to verify all needs are being met.
Furthermore, we offer inclusive services to develop Site Acceptance Testing (SAT) and Factory Acceptance Testing (FAT), as well as Installation Qualification (IQ) / Operational Qualification (OQ) / Performance Qualification (PQ), operations documentation and training.
Körber's talented technicians have experience assembling machines and provide on-site training to operators once the equipment has been installed on location. All after-sales service is dispatched from our Körber headquarters, enabling clients to receive the best service technicians when required.
About Körber
Körber delivers the difference. With over 125 years of in-depth pharmaceutical technology expertise, we truly understand the process and regulation challenges you face day by day, from the beginning to the end of your production.
This is why we offer a unique portfolio of integrated solutions, spanning consultancy, inspection, handling, packaging machines and materials, track and trace, and software. We offer you everything you need to unlock the potential of your productivity and your business.
In a sector that is subject to strict safety and regulatory standards and is reliant on the continual optimisation of production, you are looking for a partner who can provide substantial support. And that's exactly what we do.
As your personal partner, as a system integrator, a service provider, and a product vendor, we boost your reliability and your productivity. In the process, we rely on our dedicated people, our global footprint, and our decades of software and hardware expertise in the pharmaceuticals sector.