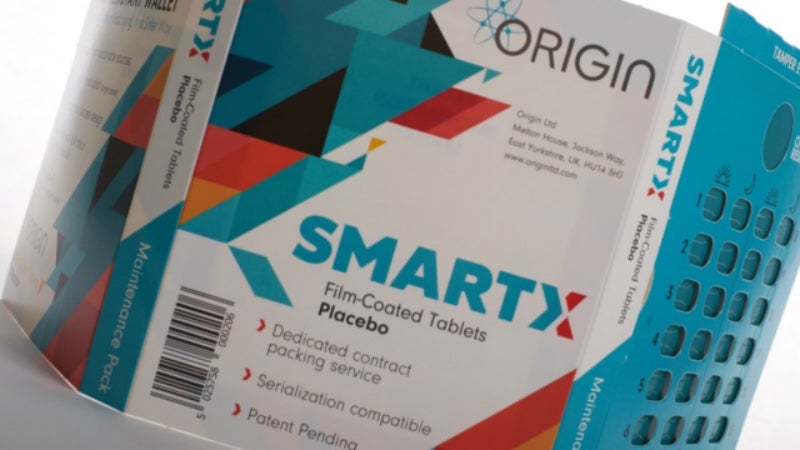 Origin Pharma Packaging has announced it is launching a child-resistant and tamper-evident blister pack wallet at CPhI North America and has released a new official video.
Designed to deliver a multitude of benefits, this patented innovation is developed from a single piece of folding box board and provides an effective, additional element of child-resistance and tamper-evidence to your product.
The SmartX product encapsulates your conventional blister packed product simply and securely, presenting the same packaging in an entirely new way. Large panels enable full colour printing to allow recognition and promotion of your brand image. There is also a blank internal panel provided to facilitate inclusion of the patient information leaflet (PIL) and there is ample room for instructions in more than one language or braille.
Head of Innovation and new product development (NPD) Jon Land explains the thinking behind the mono-part design: "What has the team really excited about the innovation is that SmartX can be created by a single piece of card. We have delivered a specific research programme which has assisted the team to deliver an optimised the final product, SmartX. It appeases production lines, but also protects the end user, enhancing child-resistance from F8 to F1 depending on the blister pack criteria."
The device is designed to add tamper-evidence and enhanced child-resistance to the existing features of your blister product. Once loaded, the tear band must be permanently removed to release the child-resistant slider mechanism, which moves to hide or reveal the apertures through which the user removes the product. Whenever the child-resistant mechanism is opened, a visible tab is exposed reminding the user to re-close the pack. In addition, for those who don't remember, returning the pack to the upright position will automatically close the child-resistant matrix, hiding the blister apertures once more.
SmartX folds neatly to create a compact, pocket-sized wallet. The spine of this wallet can also be printed to offer easy recognition when stored in a pharmacy or medicine cabinet. SmartX is produced from either virgin or recycled material and always from sustainable sources. The device is 100% recyclable and the board can be designed specifically to suit the values of your current blister packaging. It has the potential to take your inherent child resistance value from F8 to F1.
The capacity of SmartX is completely variable and we can accommodate a host of tablet capacities. Whatever your need and whatever your product may be, if it's worth increased brand dominance and you are concerned about your social responsibility to child safety and the environment, then SmartX is for you. Ask us for samples of this patented product.
Origin was established more than 50 years ago and now operates globally from its dedicated Pharmaceutical Packaging, Logistics & Innovation Centre. The company engages in the design, manufacture, and consolidated supply of pharmaceutical packaging, partnering with licence holders and contract manufacturing organisations (CMO).