Scandinavian Packaging has been producing plastic lids and caps specifically for the pharmaceutical industry for many years. Scandinavian Packaging is the oldest and one of the largest Scandinavian producers of plastic caps. The company was founded in 1949 and is today is a modern, driven producer of innovative quality plastic caps for the pharmaceutical industry.
Polyethylene caps for the pharmaceutical industry
The MediTurn® range is an innovative cap in design and functionality. It is a two-component product, but is delivered as a one-component cap, ready to be mounted on the container. This 'snap-on, screw-off' functionality offers fast and simple filling and is consumer friendly. The combination of low-density polyethylene and high-density polyethylene offers good tightness between the two cap components and between the cap and the container.
Tamper-evident caps for tablet containers
The tamper-evident system of the MediTurn® range is simple and consumer friendly. It is visible from the outside of the packaging and the tamper-evident ring is automatically broken on the first opening of the packaging.
The range consists of two sizes: 34mm and 42mm. Standard containers are available for both sizes and both sizes are also available in a version with desiccant mounted in the upper cap.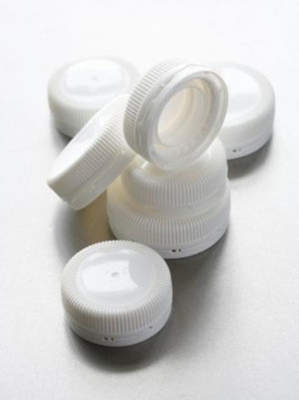 MediTurn® range: 34 and 43 push-on, screw-off tamper-evident caps for tablet containers.
ERAsafe® 22 CRC, TE: a 22mm child-resistant cap with tamper-evident cap and drop insert.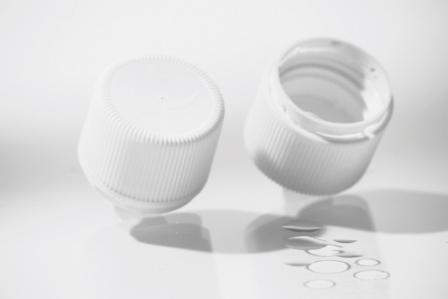 ERAsafe® 28 CRC: a 28mm child-resistant cap with liner.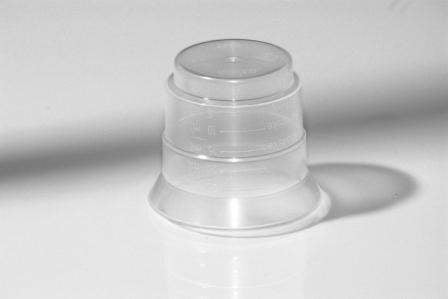 A 25ml measuring cup (also available in 15ml).
Child-resistant caps
As part of its range of pharmaceutical caps Scandinavian Packaging offers a wide range of child-resistant caps with tamper-evident functionally.
Tamper-evident caps
The ERAsafe® range of tamper-evident caps is available in sizes of 22mm, 28mm and 40mm, with a variety of bores sealing, liner application and drop insert features. All caps are ISO 8317-approved.
The tamper-evident tear band is visible from the outside of the packaging and is placed on the inner cap that it is automatically triggered at the first opening of the packaging. This also provides the option of having the tamper-evident band in a different colour than the rest of the cap.
Standard pharmaceutical caps
The standard ranges of Scandinavian Packaging consist of more than 250 different standard caps, including CRC, flip top, screw and dosing caps, as well as other types of dispensing solutions.
The caps are produced in raw material and master-batch-approved for the purpose, and produced according to ISO 9001 regulations.
For samples, certificates or prices please contact us.