TOTE® SYSTEMS is a worldwide manufacturer and single source for dry powder and liquid-based material handling systems for the pharmaceutical industry.
We provide fully integrated systems and replacements for retrofit projects.
Since creating our first TOTE® bin in 1946, we now provide TOTE bins alongside discharge and filling equipment, blenders and wash stations for TOTES or other apparatus, from engineering design to fabrication.
Our turnkey system solutions deliver on all stages of the bulk material handling process, from transporting and dispensing to blending/processing through packaging. Whether your project is a fully automated and integrated system or a single material that needs to be transported and stored, our team is ready to support you.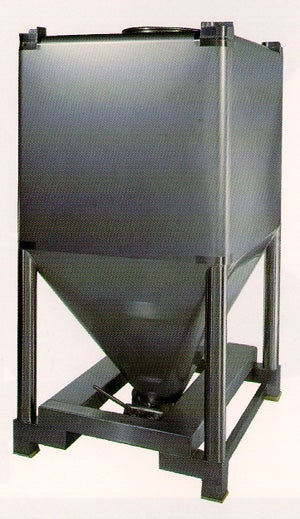 TOTE SYSTEMS offers material handling systems for the pharmaceutical industry.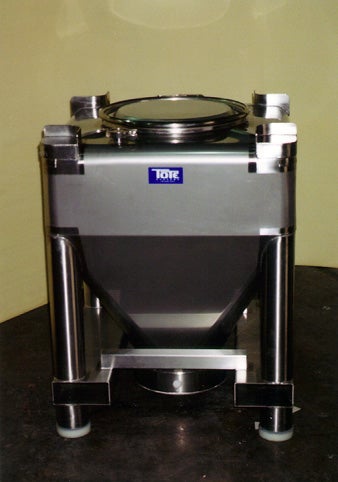 Our first TOTE bin was manufactured in 1946.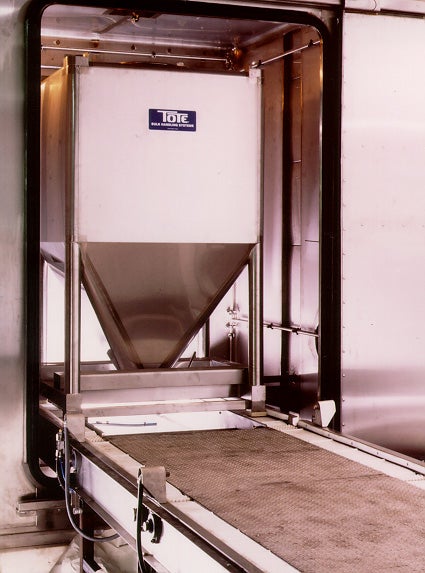 Whether your project is an integrated system or a single material, our team is ready to assist you.
For any product or service related to powder processing, material handling and containment systems, TOTE has the experience and resources to help.
Lab to full-scale systems for pharmaceutical use
Equipment provided ranges from lab scale to full scale. Lab-scale equipment varies from 1/2ft³ to 10ft³ capacity on the TOTES.
For smaller labs, we offer a tabletop blender that will blend up to capacities of 2ft³. Our XL Lab Blender can handle up to 10ft³ blends. Full-scale production includes our single pedestal, double-pedestal, and column blenders.
Blenders for dry power and liquid-based materials
TOTE blenders are an integral module in the TOTE material handling process, unmatched in quality and known for their ability to achieve high blend uniformity in a short time. Furthermore, the same TOTE container used throughout the manufacturing process also serves as the blending unit.
The process eliminates cross-contamination, costly production changeover times, and blender cleaning and preparation. TOTE blenders also considerably reduce the potential of separation by eliminating material transfers from container to blender and back to container.
High-speed intensifiers for effective blending of pharmaceuticals
In addition to standard in-bin blending, we have recently introduced a high-speed intensifier to our benders that break up materials that tend to clump or stick together.
This intensifier has a proven track record of enhancing the blend, as well as shortening blend times. Tied to a variable frequency drive, the operator can increase or decrease the speed of the intensifier dependent upon the batch requirements.
About TOTE SYSTEMS
Since we designed and manufactured our first plywood TOTE bin, TOTE SYSTEMS has designed and sound a large number of installations worldwide.
With trades throughout the US state and almost every country across the globe, we continue to be a frontrunner in the pharmaceutical material handling business.
As well as dry power and liquid-based contained material handling products and systems, TOTE SYSTEMS also provides a wide range of engineering services and material-cutting services using our waterjet cutting machine.