Designers, manufacturers and suppliers of tube / pipe connection systems with an international reputation, Advanced Couplings cater for and stock all standards used in the European pipe coupling industry, covering ASME BPE, BS, DIN, ISO and SMS.
We also provide a vast range of sizes used internationally, which are outside the standards mentioned. Our comprehensive range of hygienic clamp fittings are designed to complement the needs of our customers, providing quality systems installations.
Hygienic clamp fittings
The products offered include the most complete range of S, SH, SSH, three segment, ASME VIII and safety-type clamps, ferrules, gaskets, BSP adaptors, hose tails, reducers, sight glasses, blanks, pipe clips and bends, plus a wide range of ancillary items related to the industry.
All our products are fully traceable and certified with the stainless-steel pieces supplied with either 3.1b or the original mill certificates, while the gaskets can be supplied with either FDA or USP class VI documentation, dependent on seal selection.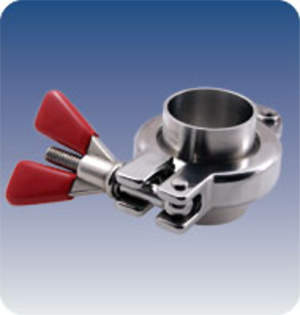 SH safety clamp with colour-coded wing nut.
SH safety lockout clamp tamper proof clamp.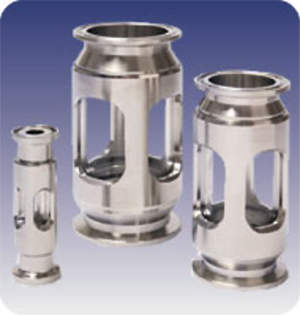 SVFI / FVFI in-line sight glass for pharmaceutical sanitary applications.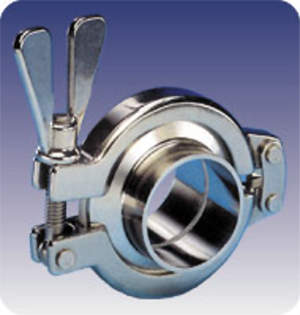 CE, TUV and amp; PN rated SH hygienic clamp to suit flange sizes from 25.4mm to 338mm.
We are also proud of our capacity to produce special items to suit our customer specifications, in not only 304L and 316L stainless-steel, but also other exotic materials such as C22, C276, and AL6XN. We supply CE marked, pressure tested and TUV-certified quick release clamps.
ACL's clamp components are produced from 304 or 316 stainless-steel using the lost wax casting process. Quality and precision in manufacture, combined with the unique patented design of our groove profile, produce a clamp with the best joint efficiency for this type of connection.
All ACL's clamps exceed industry standards such as ASME BPE 2009 recommendations. They are designed to suit ferrule standards including BS4825, ASME BPE, DN32676 ISO1127 and SMS. Available clamp styles include:
S type clamp (13MHHM-H) – light duty, pressures up to 25bar
SH type clamp (13MHHM-D) – normal / heavy duty, pressures up to 50bar
SSH type clamp (13MHHS) – heavy duty, pressures up to 75bar
ASME VIII clamp – pressure vessel applications, pressures up to 167bar
SH safety clamp
The SH safety clamp improves operator safety, particularly in high-temperature steam applications. Accidental bumping of the wing nut will not allow the clamp to open and cause burns. If the nut loosens as a result of vibration and temperature cycling, the clamp's swing bolt cannot come off the fork of the clamp, avoiding any joint failure. A steam hiss or a process fluid leak will warn the operator that attention is needed at that connection.
Safety clamps can also be supplied with colour-coded wing nuts, making them easily identifiable and giving the operator a visual warning that they are dealing with a potentially hazardous / dangerous process line and joint.
Clamps are also available in a shrouded tamper proof style and can be supplied with a padlock, giving the option of completely locking the union shut.
In-line sight glasses
Precision bore in-line sight glasses are specifically developed for use in the pharmaceutical industry. The bore of the borosilicate glass element is precision sized to match precisely the bore of the flange ends / connecting pipe work.
The resulting smooth transition obtained by this, and by adopting the EHEDG guidelines regarding o-ring seal profile, is designed to give a hygienic CIP cleanable product.
Supplied as standard with hygienic ferrule ends to all the major European and American standards, EPDM USP class VI O-rings, and polished to ASME BPE SF4, the unit is available in two styles:
FVFI – full view flow indicator – enhanced viewing area
SVFI – sterile visual flow indicator – slender design and viewing windows