AGIERRE manufactures powder handling systems for pharmaceutical, food and chemical applications.
The company's products meet current good manufacturing practice (cGMP) guidelines, as well as Italian National Unification (UNI), European standard (EN), International Organization for Standardization (ISO), equipment for explosive atmospheres (ATEX), the US Food and Drug Administration (FDA) and 21 Code of Federal Regulations (CFR) Part 11.
Designed for efficiency, flexibility and safety, AGIERRE's systems are customisable according to unique client specifications, covering every aspect of powder handling.
Vacuum transfer systems for pharmaceutical applications
Fundamental elements of all AGIERRE products and systems include safety, productivity, containment and easy cleaning. The vacuum transfer system (VTS) is suitable for loading of reactors, mixers, mills, dryers, batching machines and fluid bed dryers, as well as bins and tanks, in production areas.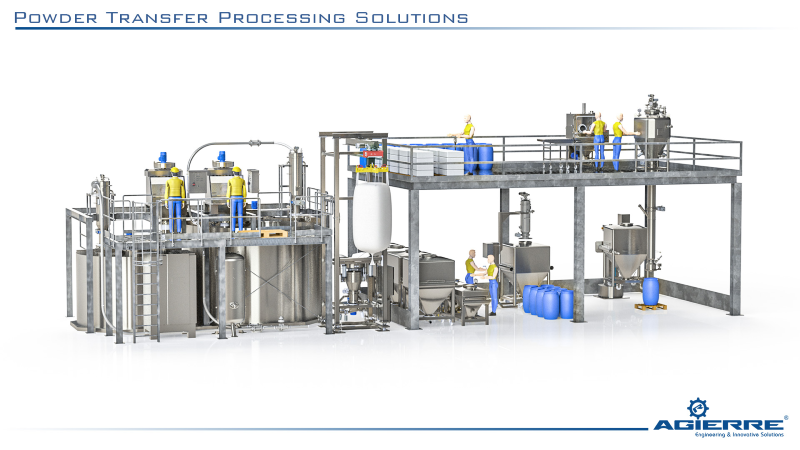 AGIERRE's products cover several applications such as loading with VTS in a nitrogen atmosphere.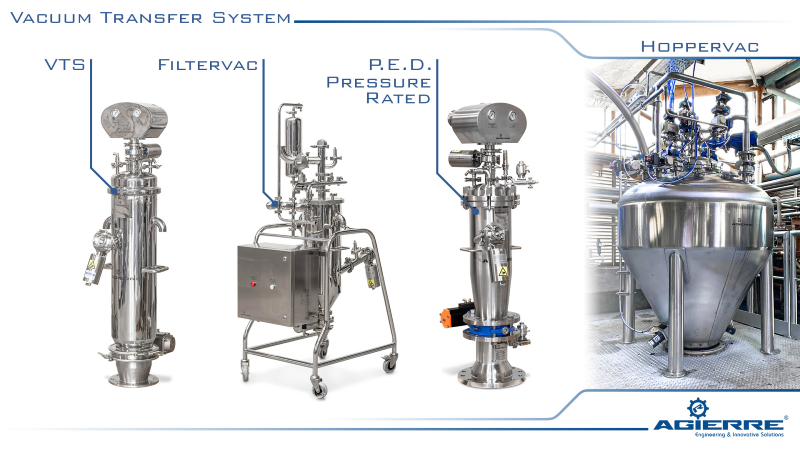 VTS can be applied in the production area for reactor, mixer, mill, bin and tank loading.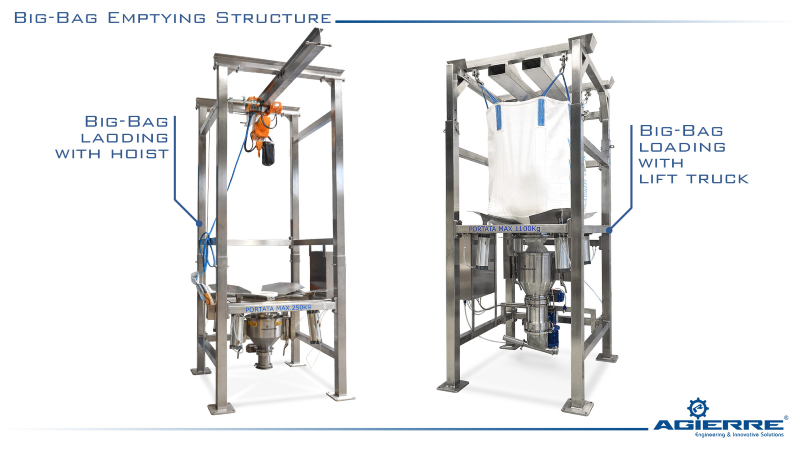 Products are discharged in dust absence by the bag-wrench.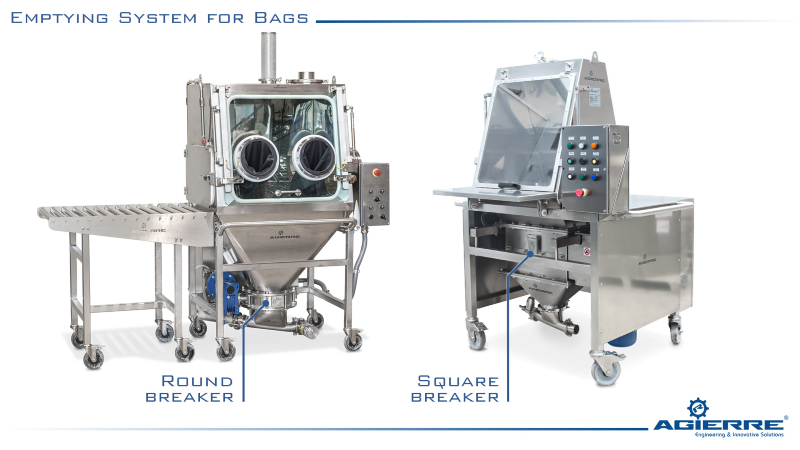 Our emptying system is used for clearing bags and drums in environments with dust complete absence.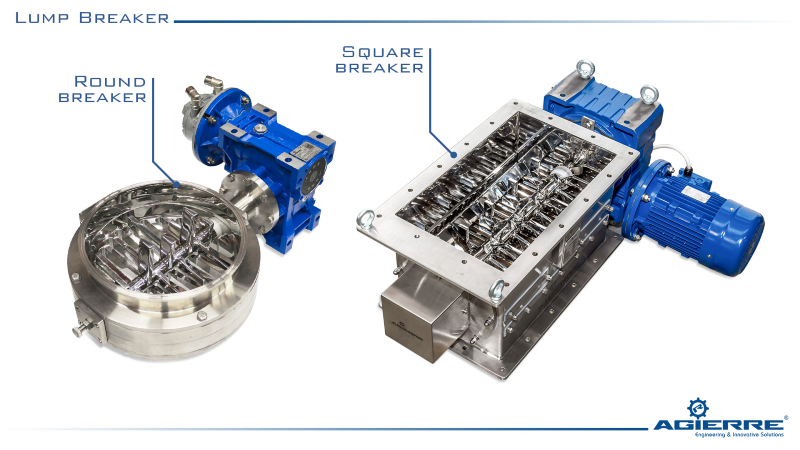 Our lump breaker crushes materials into hygroscopic powders, including those that tend to clog.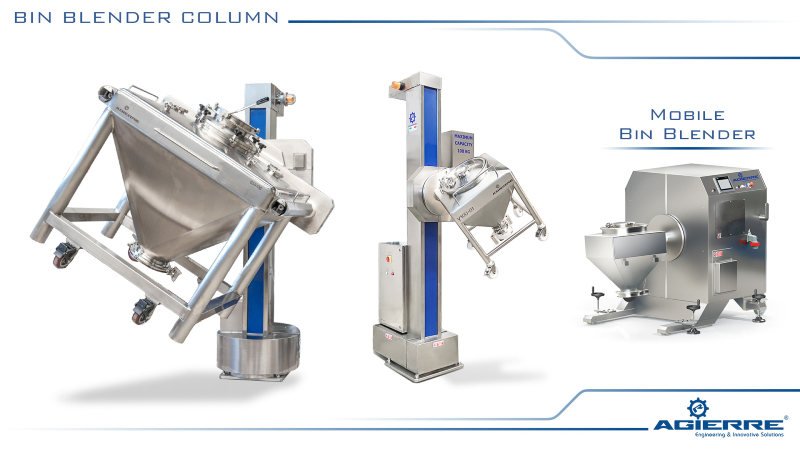 Bin blender allows the mixing of homogeneous powders.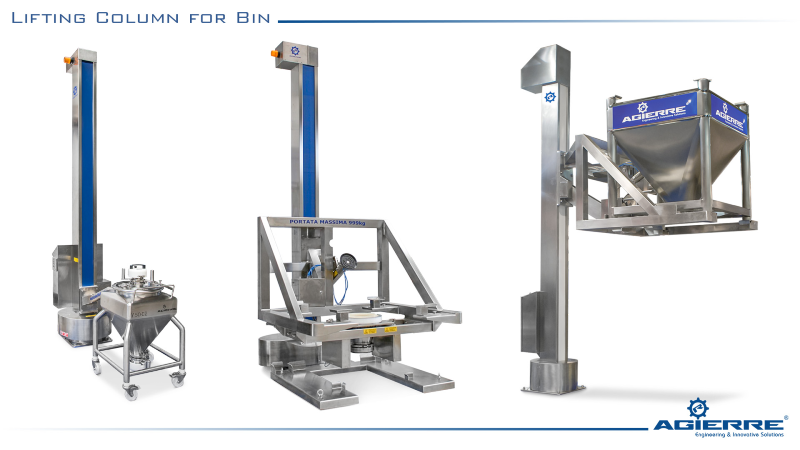 The gripping system can be customised according to bin type.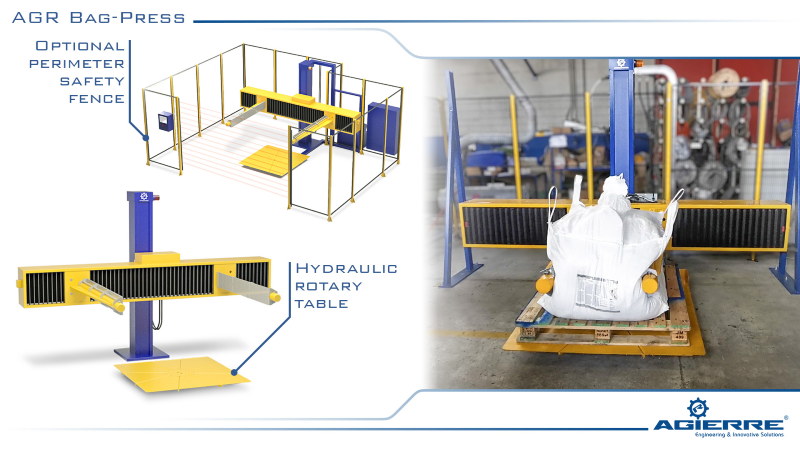 Our bag press is used to recondition a big-bag to bring its bulk solid materials into fine or granular powder.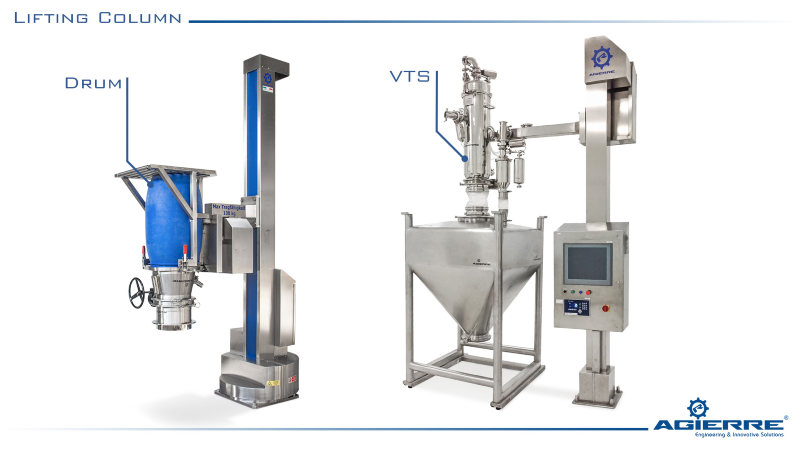 Lifting columns are designed for the handling and supporting of vacuum transfer systems and drums.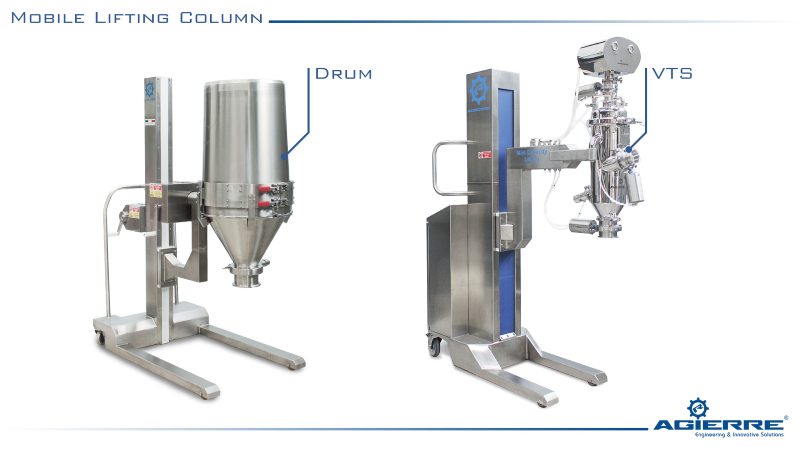 Mobile lifting columns are suitable for use within different production areas.
VTS is also available for the loading of filling and tabletting machines in the packaging division.
AGIERRE's product range covers a variety of applications, from loading with VTS in a nitrogen atmosphere, to the gravity loading process from different types of primary packaging such as bags, drums and big bags.
We can equip all VTS series, including standard, Filtervac, pressure equipment directive (PED) and Hoppervac, with a cGMP clean-in-place (CIP) system.
Dosing and weighing units for pharmaceutical powders
AGIERRE provides accurate dosing and weighing machines for bulk material handling, ensuring precise dosing due to rotary and dosing valves managed by an analogic electro-pneumatic system, which allows the powders to flow freely.
All customisable, high-performance systems enable continuous and accurate dosing of small to medium quantities.
Filling and emptying systems for pharmaceuticals
AGIERRE designs filling and discharge stations of pharmaceutical powders in super sacks, bags, drums, containers and cartons.
The big-bag emptying structure is a modular system with various combinations, creating product discharge with no powder emission due to a carefully designed closing and tightening system.
The system can be placed on load cells to check product transfer, as well as combined with VTS through a suction hopper for connection to other equipment.
AGIERRE's bag and drum emptying systems effectively empty bulk materials with no dust / powder emission, which ensures occupational exposure band (OEB)4 containment. We can also install a breaker under the machines, connected through a suction hopper, transferring powders into another system by a VTS.
The contained bag station combines the advantages of isolation technology with laminar flow technique to provide a high containment solution for emptying multiple bags.
Pharmaceutical powder blending systems
Our bin / drum blender column and tumbler systems come with a simplistic and integrated design; the machines homogeneously mix the powders directly inside the bin or drum, eliminating the loading, unloading and cleaning of the mixer and avoiding putting personnel in contact with toxic powder.
All bin blending systems have an electromechanical locking system, allowing homogenous powder mixing due to the double inclination of the rotation axis.
Containment solutions and engineering services
All AGIERRE's systems can be applied in production processes for optimisation, as well as operator protection, eliminating cross-contamination and cross pollution, reducing the clean-up phases and automating the manual operations.
The company's engineering department designs projects to offer the best solution for customer needs with steady support from initial phase to final assembly and commissioning.
Services provided include product analyses, process development, process optimisation, commissioning and training, assembly supervision, factory acceptance testing (FAT), site acceptance testing (SAT), installation and operation validation, and aftersales support.