ChargePoint Technology supplies split butterfly containment valves and docking systems for contained powder transfer throughout a full range of pharmaceutical, biotechnical, chemical and food manufacturing processes.
ChargePoint has become an industry standard for the safe transfer of potent compounds from process to process, meeting the most stringent operator exposure levels with performance down to <1µg/m³.
Contained powder handling valves and docking systems
ChargePoint Technology's split butterfly valves and docking systems offer a variety of advantages over other systems for contained powder handling, including: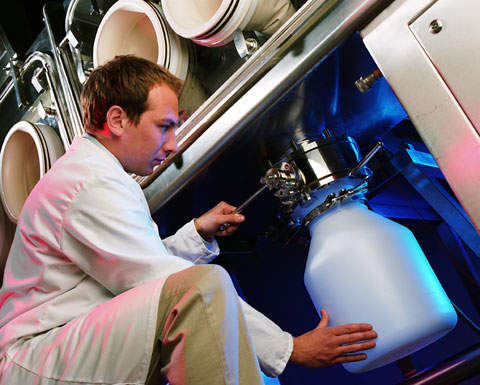 A manually operated, 100mm, non pressure-rated ChargePoint dispenses product from an isolator into a ChargeBottle container.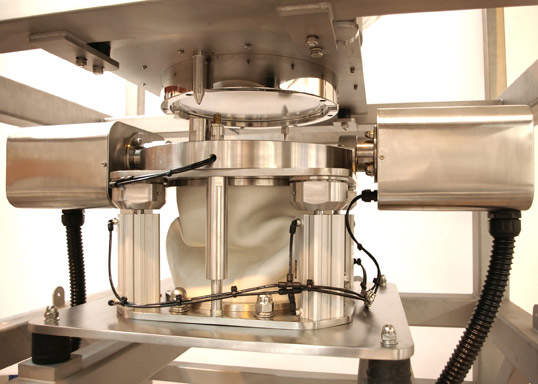 The ChargePoint DL (250mm) containment valve discharges product from an FIBC.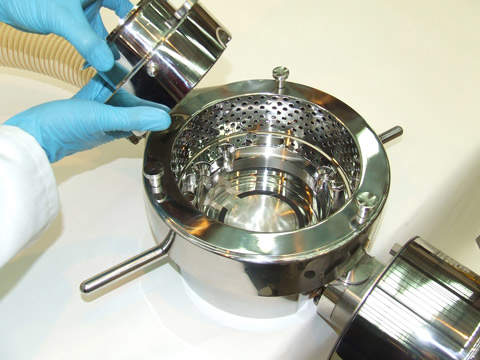 A stainless-steel extraction ring system coupled to a 100mm non-pressure-rated ChargePoint.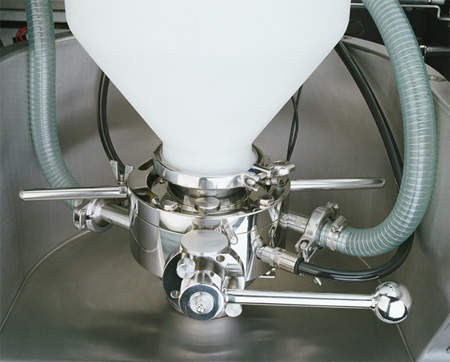 A 100mm EXCEL ChargePoint, charging product from a ChargeBottle to a mill contained within an isolator.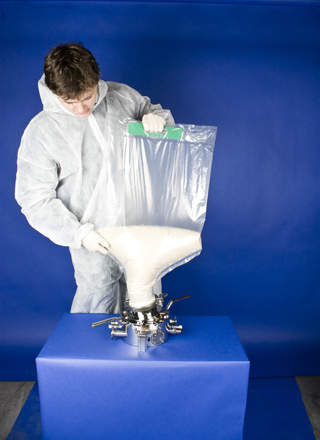 A 25l ChargeBag coupled to a 100mm EXCEL ChargePoint passive unit.
Metal-to-metal disc seal – reliable containment performance
Precision-machined seats – optimum operational performance and interchangeability
Robust fabrication – no fragile pins or connections for trouble-free performance
Simple manual or pneumatic operation
Efficient cleaning and maintenance
Secure pressure-rated system
Unique DiscLock™ technology
Bulk powder transfer docking system
The ChargePoint DL facilitates the bulk handling of potent formulation materials, setting new standards for the robustness and operability required for powder handling in large-scale production.
Ideal for IBC and big bag filling and dispensing, the DL is available in sizes of 200mm, 250mm and 300mm. The DL utilises unique DiscLock technology (patent pending), which is designed to maximise containment performance. The lowest profile valve has a minimum space requirement and demands less movement to dock/undock.
The addition of the PowerDock™ system ensures accurate automated docking of the valve, correcting any misalignment between the two units as they dock.
Potent compound handling – high-containment powder processing
The standard ChargePoint will offer a containment performance of <10µg/m³; however, for applications where higher containment is necessary the extraction ring system or the EXCEL ChargePoint are used to meet OELs of <1µg/m³.
The extraction ring system comprises of a circular plenum arrangement, which connects to the active half of a valve and is coupled to an extraction source. During operation the extraction is activated to ensure any potential airborne particles are taken into the extracted air stream. This system is able to retro-fit directly on to an existing ChargePoint valve for a cost-effective solution to increasing containment demands.
The EXCEL ChargePoint incorporates purge and extract connections on the active body. During the undocking process, an interlocked mechanism inhibits the passive removal to a point where a gap is achieved between the active and passive disc faces. At this point the purge and extraction process is carried out, removing traces of potentially airborne particles.
Powder charging under pressure / vacuum
The ChargePoint pressure / vacuum seal is achieved with an o-ring between the body of the passive and the active. By utilising this method of sealing the disc thickness is not increased, and as a result powder flow is not compromised. As a pressure seal is not dependent on the disc, when fitted with a suitable pressure-rated passive arrangement the valve can be opened up to pressures of 6barG or full vacuum.
Alternatively, the active half of the valve can be simply isolated for pressure or vacuum with the use of a solid pressure plug, which also inhibits the active half from opening when fitted.
Valve clean-in-place (CIP)
A CIP passive is available to provide local cleaning of the ChargePoint valve disc and sealing product contact areas. In order to clean not only the valve but also the container or vessel below, a CIP lance with penetrating dual sprayballs is utilised.
Packaging and containers
The ChargeBottle™ range of rigid polypropylene and stainless-steel bottles is available in various capacities with tri-clamp connections from 50mm to 150mm. A range of handle clamps, pneumatic hoists and product flow accessories are available to assist operators with the container and material handling.
The ChargeBag™ range of flexible LDPE bags is available in capacities from 2l to 40l. The ChargeBag with antistatic properties, clear construction and flexible nature is ideal for manual handling of poorly flowing powders as it allows manual manipulation of the product and visual inspection to ensure yield is maximised in each transfer. Each bag is individually packed and sterilised within a sealed liner.