If you are looking for a partner in pumps who perfectly understands the hygienic challenges encountered in the pharmaceutical, biotech and personal care industries, Grundfos is the perfect match. As a full-line supplier we offer thoroughly tried and tested sanitary solutions for every conceivable pump application, including upstream processes, downstream processes, water for injection systems and CIP / SIP systems.
Sanitary pumps
Common to all Grundfos solutions is highly reliable performance that guarantees peace of mind in even the most delicate and critical processes. The electro-polished interiors of our unique sanitary pumps are free from edges, seams and screw-heads to prevent bacteria particles from accumulating, which in turn safeguards your product quality and brand reputation.
Grundfos pumps are easily configured to accommodate specific requirements in terms of strict hygienic standards and gentle product handling, including that of highly viscous media. Just tell us what you need to pump and we will provide you with a fully documented solution, ensuring that your product standards are maintained, batch after batch.
Aseptic pumps
For a reliable supply of, for example, water for injection, we have a range of aseptic pumps dedicated to pharmaceutical processes. We supply all relevant certification for your validation process.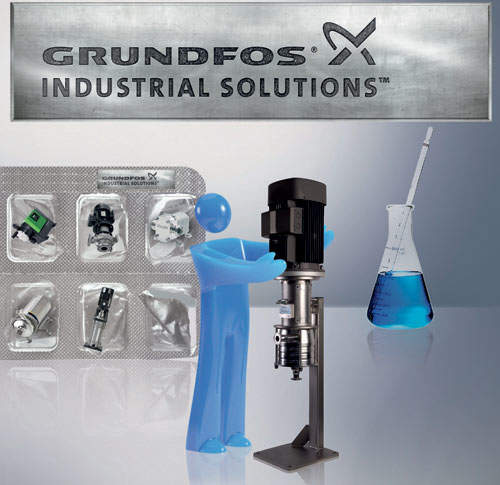 As a full-line supplier of premium pump solutions, Grundfos has a range of models suited to industrial pharmaceutical applications.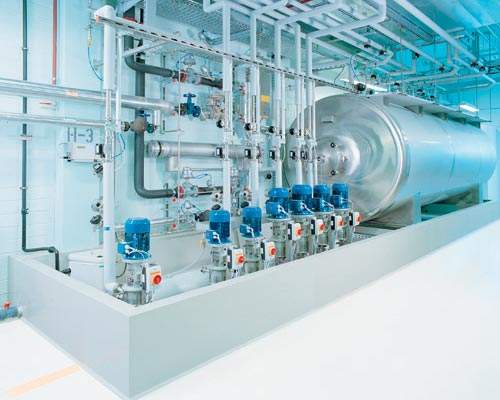 WFI installation with Grundfos Contra V pumps.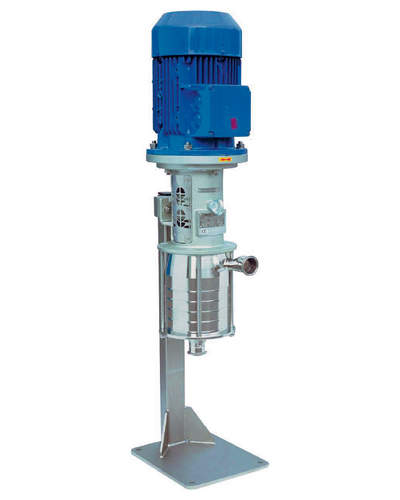 With its fully drainable design, the Grundfos Contra Vertical sanitary pump is ideal for water for injection systems.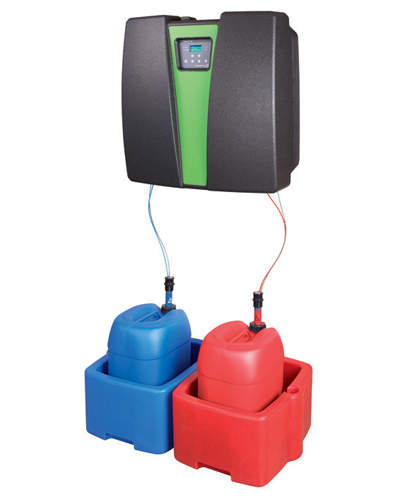 The easily installable Grundfos Oxiperm Pro system produces chlorine dioxide using diluted solutions of sodium chlorite and hydrochloric acid.
The premium Euro-HYGIA® single-stage, end suction centrifugal pump is designed for use in industries where hygiene and flexibility are top priorities.
Pumps for biotechnology applications
In upstream and downstream processes our range of pumps offers the highest aseptic standards and gentle product handling.
Pumps for the personal care industry
Lotions and creams benefit from the excellent viscosity handling capabilities of Grundfos's range of pumps for the personal care industry. Extremely viscous mixtures, crystallines and corrosive or abrasive media – there's nothing we can't move gently and reliably.
Sanitary pumps for industrial pharmaceutical applications
Our range of pumps for industrial pharmaceutical applications includes:
Sanitary pumps: Sipla, NOVAlobe, Euro HYGIA® and Contra Vertical
Utility pumps: CRN Magdrive, NB/NK, Hydro Booster system, SE, TP and CR
Disinfection pumps: DME and Oxiperm Pro
Global pharmaceutical pump supply
Grundfos is present in 45 countries worldwide with 56 sales companies and 12 production companies. In addition to this global network, Grundfos has more than 600 service partners so no matter where your business is located, Grundfos is nearby.