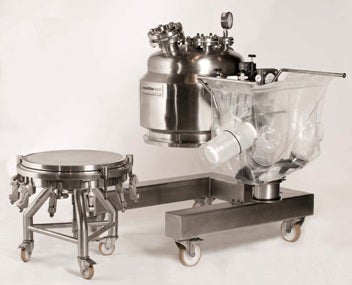 As a simplified alternative to more complex and costly technologies, the simplefilter is designed for many pharmaceutical and chemical applications such as: hydrogenation, carbon filtration, catalyst recovery, pre-filter for micro-filtration, APIs and intermediate filtration.
The simplefilter consists of a heated insulated vessel with a filtration media attached to a heated base and a side discharge hatch for efficient drying and uncomplicated removal of the product through a purged GloveBag.
Combined filtration and drying equipment such as the simplefilter provides a more ergonomic and efficient answer to pharmaceutical, biopharmaceutical, chemical and laboratory industry requirements, where safe heel removal is vital as the intermediate or end product is often of great value.
To suit all process requirements, the simplefilter is available in two standard sizes 0.125m² (50L) and 0.3m² (130L), and is in PFA coated carbon steel as standard or available in 316L stainless steel and Alloy 22 as options.
The simplefilter presents numerous design features and benefits:
Agitation capability with high level of safety with an agitator ergonomically designed to smooth and plough the cake with raise/lower system
High containment discharge is available for active or sensitive product through a nitrogen purged GloveBag including airlock
Continuous liner discharge chute can be incorporated providing fully contained discharge
Discharge plug sample port option is available for simple contained sampling
The compact unit is mobile as standard for easy use anywhere within the plant
Removable base for easy cleaning
Internal cleaning spray balls are available for increased cleaning requirements
The filtration media is easily replaceable, therefore no need for filter bags or cartridges providing lower operating cost. Furthermore the heel removal GloveBag mounted on the discharge hatch of the simplefilter allows higher yield. The heel is recovered using the product rake from within the GloveBag maximising product recovery in a contained manner.
Today drug discoveries are leading to more effective potent drugs, which also require greater worker protection. Powder Systems Ltd (PSL) supported Helsinn Advanced Synthesis set-up...
Why do reliable and efficient high containment systems continue to challenge the pharmaceutical industry? This article considers the reasons for this, highlighting possible working methods...