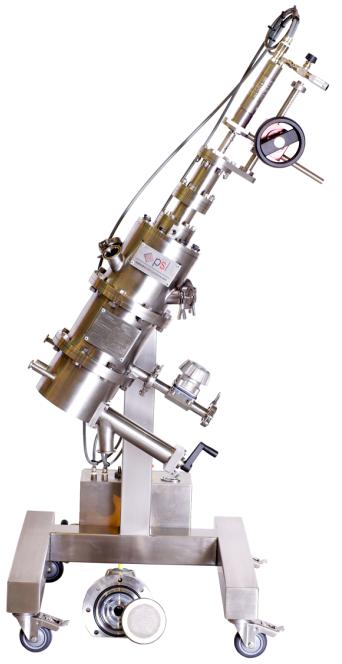 How can new technology improve the productivity of your microsphere formulation process? Powder Systems Limited (PSL) is hosting a free webinar on 13 February, presenting new technologies and process solutions for microsphere formulation.
The featured event called 'A refined solution for microsphere Formulation' is sponsored by PSL with focus on manufacturing, processes and new technologies. With key speakers from the industry and PSL's own team of experts, the challenges encountered by pharma manufacturers when formulating microsphere drugs will be reviewed and discussed on 13 February at 3pm London/10am New York. Attendees can register online to attend the event organised by Business Review Webinars.
Microsphere production is experiencing a fast growing demand due to its revolutionary characteristics and applications. Pharmaceutical drug manufacturers are facing new challenges during process scale-up from R&D stage to commercial formulation of microsphere drugs.
Suspended microspheres obtained from various micro encapsulation processes require unique aseptic handling that differs from typical challenging sieving and nitrogen drying operations.
After a brief review of the market and potential opportunities of new medicines, Remy Wattiaux will review the different manufacturing processes and new technologies recently developed for microsphere formulation from the upstream stage of the microsphere creation (emulsification, droplet formation) to the downstream operations of harvesting the microspheres in a sterile manner with control size distribution.
Michael Siegel will develop further the downstream technologies by presenting the Microsphere Refiner technology developed for small to pilot scale classification, washing, filtration and drying of micro particles. He will also explain the feasibility test that can be performed with an illustrating video. This case study will give a practical insight to the product and process. The webinar will then be concluded by an interactive Q&A session where attendees will have the opportunity to receive advice on their current process challenges.
This webinar is intended for manufacturers who are currently facing challenges with their microsphere drugs formulation process or planning to start manufacturing such products. The detailed presentation will give the necessary technologies overview to implement a more efficient formulation process when manufacturing microsphere drugs.
Key learning objectives:
To review and discuss the challenges encountered by pharma manufacturers when formulating microsphere drugs
The best way to implement a more efficient formulation process when manufacturing microsphere drugs
Learn how to increase yield productivity of microsphere sterile harvesting
Understand the key milestones from feasibility studies to production scale of microsphere formulation
Audience:
Drug delivery
Formulation
Pharmaceutical development
Pre-formulation
Product development
Project management
Strategic planning and development
Technology development
PSL is celebrating 25 Years of Innovation in 2014 and will be hosting several events throughout 2014 part of their celebration. The company is currently working on many new exciting projects such as the opening of a 6th overseas office, World Corporate Games, launch of new technologies, Open Day… Stay informed by visiting the PSL blog and receiving the company's newsletter.
Today drug discoveries are leading to more effective potent drugs, which also require greater worker protection. Powder Systems Ltd (PSL) supported Helsinn Advanced Synthesis set-up...
Why do reliable and efficient high containment systems continue to challenge the pharmaceutical industry? This article considers the reasons for this, highlighting possible working methods...