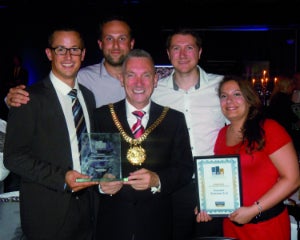 PSL has won two high-profile manufacturing awards in as many months.
In October, the company scooped the Best Manufacturing Business award at the Merseyside Independent Business awards ceremony.
The company said in a statement: "As an independent business based in the Merseyside for 25 years now, it seems more than appropriate that we joined this great opportunity of networking with other local businesses looking to raise their profile in the community."
In addition, the company won the Best Pharma Production Technology Provider at the Asian Manufacturing Awards 2013 in August.
Managing director Remy Wattiaux said: "I would like to thank all of our staff for their hard work and look forward to more awards in recognition of our continued success."
For more news from PSL and our events calendar click visit here: http://mediacentre.powdersystems.com/?cat=5.
Today drug discoveries are leading to more effective potent drugs, which also require greater worker protection. Powder Systems Ltd (PSL) supported Helsinn Advanced Synthesis set-up...
Why do reliable and efficient high containment systems continue to challenge the pharmaceutical industry? This article considers the reasons for this, highlighting possible working methods...