Promector
3D Swing Mixers Manufacturer for Combining Pharmaceutical Powders in Drug Development and Manufacturing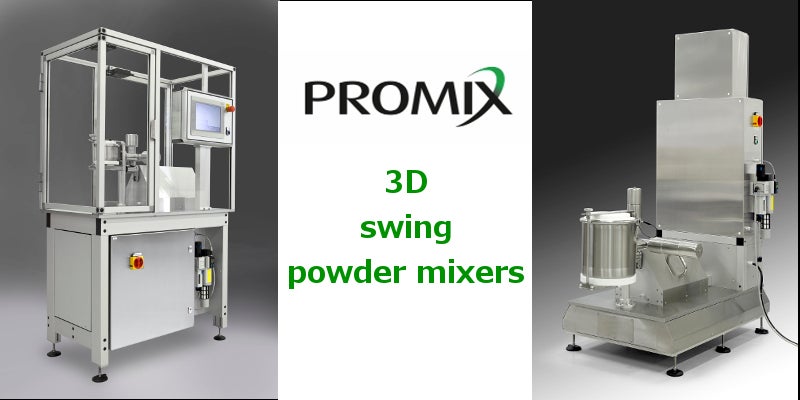 Promector is an equipment manufacturer delivering numerous pharmaceutical and diagnostics instruments, including 3D swing powder mixers.
The Promix uniquely mixes powders based on a continuous circulation in the mixing tank without the need for paddles or stirrers. Mixers are suitable for dry, powdery materials such as those used in the pharmaceutical, chemical, food, and metal powder industries.
Mixing powders without paddles or stirrers for the pharmaceutical industry
Promector offers three mixer sizes to increase suitability to a wide variety of powder applications on different scales. In all models, it is possible to use at least three different size mixing tanks.
As the tank is the only part that requires cleaning between mixing processes, acquiring more than one of the same size tank means time taken for sanitisation does not cause downtime in operations.
Replacing a mixing tank with another of the same size is easy. When exchanging one tank size for another of a different size, adapter parts of the tank must also be changed, which has also been made as easy as possible.
Array of mixing programmes for various quantities, substances, and filling levels
Promector's devices have up to 100 mixing programmes designed for different mixing quantities, substances, and levels of filling. These include the optimum mixing time and speed for each process.
Once mixing is complete, it is possible to print data about the speed of rotation and the time taken during the process.
Compact 3D swing powder mixer for small quantities of powder
The Promix Lab is specially designed for operators needing to mix small quantities of powder. Maximum filling weight for the mixing tank is 1.5kg.
The mixer can be used with five different sizes of mixing tank, with capacities between 100ml to 3l. Other volumes include 200ml, 500ml, and 1.0l.
Promix lab is a compact unit, with an aluminium frame. In this frame, the mixer, operating panel, and electrical cabinet are mounted. The unit also includes protective plastic walls.
Requiring a readout of less than one 1m² floor surface, the Promix lab device is 721mm wide, 1,048mm deep, and 1,800mm high. It weighs approximately 200kg. It is immediately ready-for-use when connected to the compressed air and power supply.
Medium 3D swing powder mixer for drug powders
A medium-sized mixer, the Promix 10 is intended to mix up to 4.5kg mass. It can be used with three different size mixing tanks ranging from 3l, to 10l.
Promix 10 requires a little more space than Promix Lab, being 29mm wider, 352mm deeper, and 150mm lower. Promix 10's dimensions are 750mm x 1,400mm x 1,650mm and it weighs approximately 300kg.
3D swing powder equipment for large-capacity mixing
The largest of Promector's models, the Promix 100 can be equipped with tanks up to a volume of 100l. In addition to this size, the mixer can also be used with 10l, 30l, and 50l tanks. The maximum filling weight is 55kg.
The dimensions of Promix 100 are 1,000mm x 1,700mm x 1,650mm and it weighs approximately 900kg.