For more than 50 years, Eaton has been a trusted business partner with pharmaceutical companies worldwide. Whether pre-filtration or sterilizing-grade filtration, fermentation broth, fine chemicals or filling of OTC products, Eaton filtration systems are installed around the world helping companies manufacture life-saving and life-enhancing products. Whatever the compound mixed, the chances are that Eaton has developed a filtration solution that can make operations more efficient and reduce labor demands and maintenance cost while significantly improving finished product quality.
Our portfolio of liquid / solid filtration products includes the most efficient mechanically cleaned filters on the market, disc cleaning filters, magnetically coupled filters and strainers, automatic self-cleaning strainers, strainer baskets, screens and elements, backwash / tubular self-cleaning filters, gas / liquid separators, filter bags and cartridges, and filter housings required by today's pharmaceutical and bio-technology companies. Eaton can custom-design housings and fabricate pipeline strainers for any application.
Services provided to the pharmaceutical industry include:
State-of-the-art testing lab facility
Long-term or short-term filtration equipment rental
Field service – inspections, start-up, repair, replacement and maintenance
Extensive network of manufacturer representatives and distributors
Worldwide technical support
Team of product specialists dedicated to providing filtration application engineering
Mechanically cleaned filters
Eaton's range of mechanically cleaned filters, the MCF 824 Series, dramatically reduces product loss, requires minimal operator intervention and improves flow consistency. The MCF features an innovative design driven by a magnetically coupled cleaning disc. Designed specifically for the most challenging process liquids and conditions, it features the fastest cleaning action of the mechanically cleaned family.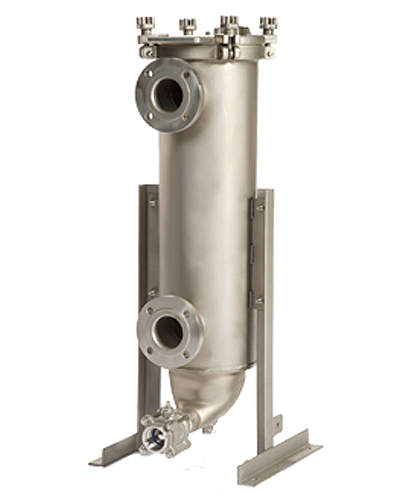 The MCF features an innovative design driven by a magnetically coupled cleaning disc. It delivers up to 200gpm throughput with virtually no downtime, designed specifically for the most challenging process liquids and conditions.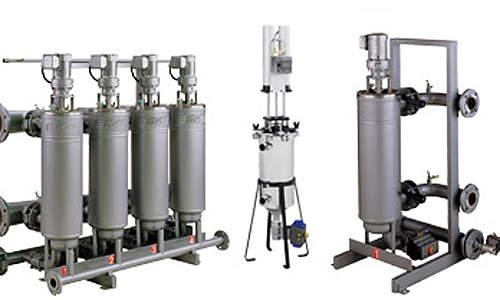 The DCF industrial self-cleaning filter system dramatically reduces product loss, requires minimal operator intervention, and improves flow consistency. It is considered the most efficient mechanically cleaned filter on the market.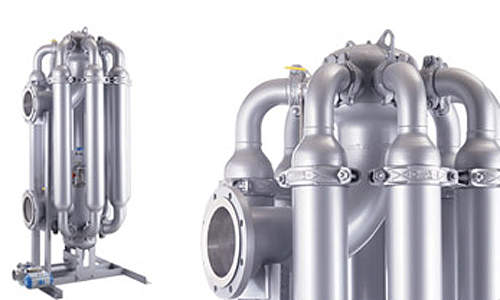 The AFR industrial filter is a unique, expandable circular design for increased capacity in a compact 1m² footprint. It is ideal for high-volume, low-viscosity applications with retentions as low as 2µm.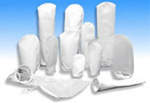 Eaton filter bags are available in multi-layer constructions, pleated extended surfaces, fully-welded constructions and pressure-activated seals. CLEARGAF is the first and only series of filter bags specifically designed for the requirements of the pharmaceutical industry.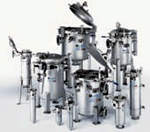 Manufactured under ISO 9001:2008 standards Eaton filter housings deliver the superior, long-lasting performance demanded by critical pharmaceutical filtration applications. A complete range of choices makes it easy to select the perfect housing.
Eaton's disc cleaned filter range, the DCF Series, operates at a consistently low differential pressure and delivers simple, reliable operation in which a low initial investment is a key driving factor.
Mechanically cleaned strainers
Eaton's range of mechanically cleaned strainers, the new patented High Flow MCS Series, is engineered to help conserve valuable process water while protecting costly equipment from debris. This new strainer design offers minimal purge volumes in fresh water applications, which saves on the cost of make up liquids and heating energy.
Automatic self-cleaning strainers
The Eaton automatic self-cleaning strainer is a motorized strainer designed for the continuous removal of entrained solids from liquids in pipeline systems. It has performed successfully in industrial, process water, and wastewater applications.
Filter bags
Eaton offers a full range of filter bags from economical sewn filter bags for standard applications to welded, multilayered bags for more demanding applications. Eaton filter bags meet the pharmaceutical industry's exacting requirements whether it is for high flow rates, high dirt holding capacity, and low-pressure drops. Eaton filter bags are used for initial filtration or FDA-grade filter media for final product. Brands: UNIBAG™, PROGAF™, ACCUGAF™, LOFCLEAR™, DURAGAF™, CLEARGAF™, SENTINEL®, HAYFLOW™.
Filter cartridges
Eaton liquid process cartridges offer high-quality, high-performance and cost-effective solutions for common and difficult bulk pharmaceutical and other pharmaceutical processes. Applications include filtering high-purity water, buffers, nutrients, sanitizing and cleaning agents, fermentor feeds, intermediates and bulk pharmaceutical chemicals. The brands available are: LOFMEM™, LOFPLEAT™, LOFTREX™, LOFSORB™, LOFCLEAN™, LOFMET™.
Filter housings
Eaton offers a complete line of single and multi-bag filter housing designs. Single-bag filter housings range from those suitable for exacting absolute filtration application to high-quality housings designed especially for cost-sensitive applications. Multi-bag housings can accommodate up to 36 individual filter bags for flow rates up to 4,500gpm. Depending on the application, sanitary or industrial-style filter housings are available. The brands available are: MAXILINE™, TOPLINE™, SIDELINE™, DUOLINE™, MODULINE™, POLYLINE™, FLOWLINE™.
Gas / liquid separators
Eaton gas / liquid separators remove +99% of all damage causing moisture and solid particles 10µm and larger from steam, compressed air, and compressed gas.